Desserts
Aunt Mariah's Lemon Sponge Cups recipe from Food52. Author Notes: I found the recipe for these lemon sponge cups in my Aunt Mariah's old-fashioned recipe box (an actual box), when I was visiting with her in my hometown, Galax, Virginia, to learn how to make her exquisite, feathery rolls.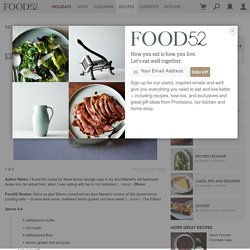 The rolls took lots of practice. The lemon sponge cups, though, were a breeze; also, they make you feel fancy, like a lady. Orange Ricotta Pillows with Lillet Kumquat Compote recipe from Food52. Author Notes: When I was in school a few years ago, one of my favorite desserts we made that took me completely by surprise was a ricotta pie topped with a tangle of candied kumquats.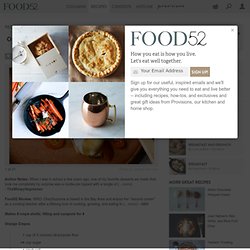 It was that perfect balance of sweet and well, not so sweet, for me. So when I taught a crepe - making class last winter I decided to turn it into a crepe. It's since gone through a few different permutations, and this is my favorite. The kumquats are simmered in a mixture of Lillet, honey, agave nectar, cardamom seeds and cinnamon, and perfectly set off the crepe and its ricotta orange filling. 4th of July Dessert Recipes : Chocolate-Dipped Rocky Road Ice Cream Bars. Rosemary and The Goat » Peanut Butter Filled Chocolate Dipped Strawberries. By Sherry on July 6th, 2010 Who doesn't like peanut butter, strawberries and chocolate!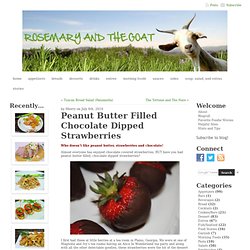 Almost everyone has enjoyed chocolate covered strawberries, BUT have you had peanut butter filled, chocolate dipped strawberries? I first had these at little berries at a tea room in Plains, Georgia. We were at one of Magnolia and Ivy's tea rooms having an Alice In Wonderland tea party and along with all the other delectable goodies, these strawberries were the hit of the dessert tray. Peanut Butter Covered Strawberries. Forget chocolate.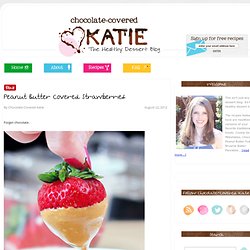 Okay, no wait. I didn't say that! Peanut Butter Covered Strawberries | Easy Food. Posted by admin on Sep 12, 2012 in Recipes | 0 comments For a long time Strawberries are great inspiration for deserts.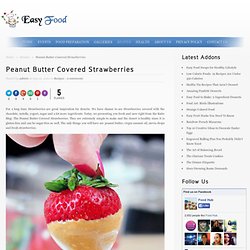 We have chance to see Strawberries covered with the chocolate, nutella, yogurt, sugar and a lot more ingridients. Today, we presenting you fresh and new right from the Katie Blog: The Peanut Butter Covered Strawberries. They are extremely simple to make and the desert is healthy since it is gluten-free and can be sugar-free as well. The only things you will have are peanut butter, virgin coconut oil, stevia drops and fresh strawberries. How To Make Whipped Cream from a Can of Coconut Milk. Previous image Next image Whipped cream, made from coconut milk!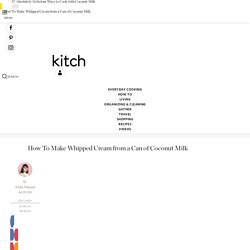 If you love having something whipped and creamy with your summer cobbler or fruit pie but are avoiding dairy, then I have a sweet little trick for you. Salted Caramel Sauce Recipe : Kelsey Nixon. The Best Caramel Sauce. Ever. A few days ago, when we were checking-out at the super market, I noticed that my husband (it still feels a bit weird calling him that) slipped in a bottle of caramel sauce, which actually was nothing more than an overdose of corn syrup with artificial vanilla and half a dozen chemicals.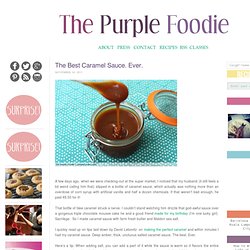 If that weren't bad enough, he paid €6.50 for it! That bottle of fake caramel struck a nerve. I couldn't stand watching him drizzle that god-awful sauce over a gorgeous triple chocolate mousse cake he and a good friend made for my birthday (l'm one lucky girl). Sacrilege.
Ice Cream. Pies. Cakes. Red Velvet Bread Pudding Recipe : Paula Deen. Directions Bread Pudding Mix: Preheat the oven to 350 degrees F.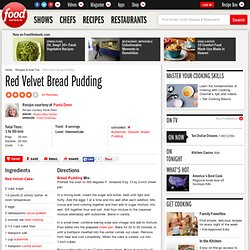 Chocolate Croissant Bread Pudding with Bourbon Ice Cream Sauce Recipe : Michael Chiarello. Photo 1- What Diet? 4 Decadent Dessert Recipes From NYC Pastry Masters. Buche de Noel Benoit Restaurant, Pastry Chef Jerome Husson Don't tell us.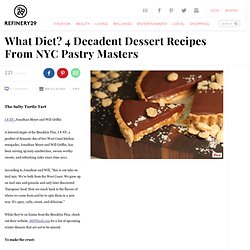 The last time you attempted at making a buche de noel yule log, it tasted so horrible, you might as well have thrown it in the fire. Old-School Recipe: Make Your Own Strawberry Milk! | Apartment Therapy The Kitchn. Previous image Next image After I made this crazy hot pink Valentine's confection, one of the comments on the strawberry milk required for the cake was, "Why not make your own?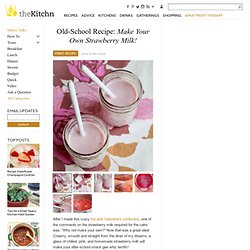 " Now that was a great idea! Creamy, smooth and straight from the diner of my dreams, a glass of chilled, pink, and homemade strawberry milk will make your after-school snack gee whiz terrific! While preparing that cake I mentioned, I thought I fell in love with the bottled (eek, super artificially flavored!) Fresh Strawberries in a Pink Cloud - Blog - food52 - food community, recipe search and cookbook contests. - Jenny That's right, I used all caps! But isn't that how all of you feel in the markets now, eyeballing these expensive little baskets of berries after a rainy and cold spring that was a bit too long on beets? Here in the D.C. area I have seen at least two varieties: a small wonderfully-sweet one that tastes so much of Los Angeles that I can see the mountains from Olympic Blvd. when I bite into them, and larger ones that are less flavorful but none the less very welcome in my kitchen.
---