Cookies, Brownies, etc
How to Make Badass Brownies with Kir Jensen - You're Doing It All Wrong. Samoa Tartlets Recipe : Food Network Kitchens. Salted Caramel Brownies Recipe : Paula Deen. I'm rich, I'm rich! Thousand Dollar Bars. Have you ever baked something that made you do the Daffy Duck?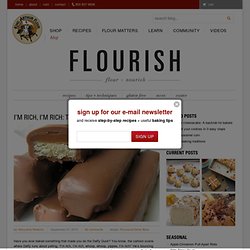 You know, the cartoon scene where Daffy runs about yelling, "I'm rich, I'm rich, whoop, whoop, yippee, I'm rich!" He's bouncing around on his head, feet, hands, and rump in a spastic outpouring of sheer joy. Yep, the Daffy Duck. Not everything we bake here in the kitchen gets us to do the Daffy Duck. Sometimes we do the swoon, the table grip (hold me Ralphie, I've died and gone to heaven).
---