Guilt-free and Healthy
Vegetarian Recipes. Vegetarian Recipes. Crispy Potato Roast Recipe. Hey Guys!
So…it's still really hot out…wtf! I'm totally ready for fall…forget this, "I just don't want summer to end" BS…I'm OVER IT! Okay, I apologize for being aggressive right there, but man does this weather make me grumpy. There are a few things that get my mood up during weather like this: 1) My Dog (always) 2) Frequent Fro-Yo and Hawaiian Ice trips with the boyfriend 3) This Roasted Onion Dip. Remember when you were a kid and sleepovers were still the best thing ever? Asian Turkey Meatballs with Lime Dipping Sauce. Halloween was a major success.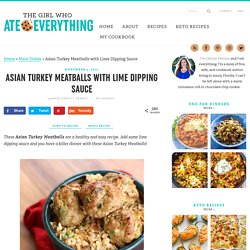 I trained my kids well. They know what chocolate I like and tried to get it for me (Twix, Almond Joy, Butterfinger Snackers). My three boys can easily be categorized according to their candy consuming behavior: My oldest son rarely eats candy, he just likes to collect it. Healthy Baked Chicken Nuggets. Chunks of all white meat chicken breasts coated in breadcrumbs and parmesan cheese then baked until golden.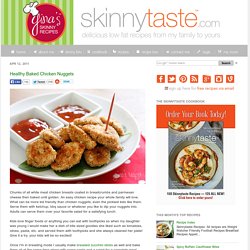 An easy chicken recipe your whole family will love. What can be more kid friendly than chicken nuggets, even the pickiest kids like them. Serve them with ketchup, bbq sauce or whatever you like to dip your nuggets into. Adults can serve them over your favorite salad for a satisfying lunch. Salmon Burgers with Barbeque Hoisin Sauce. I got on another dessert roll, didn't I?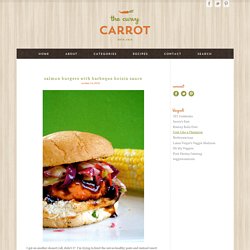 I'm trying to limit the not-so-healthy posts and instead insert some deliciously-healthy posts. Let's be honest. Sometimes it's a losing battle. I'm noticing that since my birthday is next week, I am (for pretty much the entire month of October) using the "well, my birthday is coming up, and I deserve it" excuse. And, a million cookies and cakes and calorie-laden drinks later….I'm looking for something to relieve a little of the guilt from my trip last week where I definitely over-indulged.
Easy Light Broccoli Cheese Stuffed Chicken Recipe. Caramelized Chicken with Jalapeno Cream. Want to know how to make one heck of a delicious chicken dish?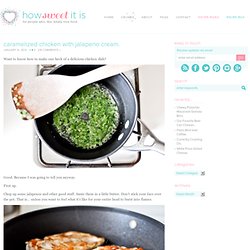 Good. Because I was going to tell you anyway. First up. Chop up some jalapenos and other good stuff. Saute them in a little butter. Crispy Baked Chili Squash Fries | Food Doodles. Apparently I've been hoarding recipes.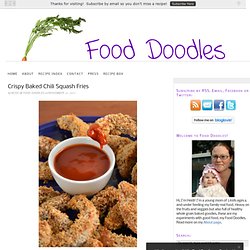 I honestly thought I had nothing to post and I just checked my "to be posted" file on my computer and found a ton of pictures waiting for me to sift through. So here I am. I also didn't just check it, as it's been a couple hours of sorting, editing and organizing and nap time is almost over now, so I'll get right to it! Strawberry Pineapple Frozen Yogurt : Baltic Maid. Posted on | June 12, 2011 | No Comments Healthy is usually not a word I associate with ice cream.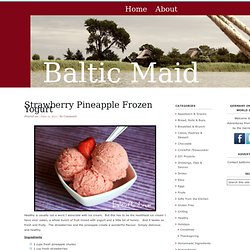 But this has to be the healthiest ice cream I have ever eaten, a whole bunch of fruit mixed with yogurt and a little bit of honey. And it tastes so fresh and fruity. Recipe: low-cal peach frozen yogurt. It's still felt like summer this week in Manhattan, so I'm posting one last warm-weather recipe before admitting it's really fall.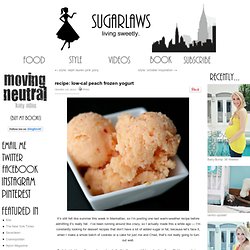 I've been running around like crazy, so I actually made this a while ago — I'm constantly looking for dessert recipes that don't have a lot of added sugar or fat, because let's face it, when I make a whole batch of cookies or a cake for just me and Chad, that's not really going to turn out well. So I decided to go the very low-cal route for this fro yo, and it turned out really well! Homemade ice creams are definitely better the first day after making them — although they won't spoil for a quite while if properly frozen, it's really difficult to get the right temperature or consistency once they've frozen solid. When you're not adding a lot of sugar or fat, you're not doing much to lower the freezing point of the yogurt, so eat it quickly!
That shouldn't be a problem — especially when we're talking about a recipe that's easy, healthy and totally delicious. Kung Pao Chicken (or Tofu) December 8, 2011 at 9:13 pm I have two rooms left to unpack in our little house; I am making progress :) I've made it a point to go through one room a day to avoid feeling overwhelmed.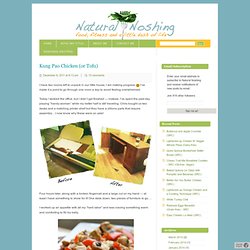 Today I tackled the office, but I didn't get finished — instead, I've spent the past day playing "handy-woman" while my better half is still traveling. Chris bought us two desks and a matching printer shelf but they have a zillions parts that require assembly…I now know why these were on sale! Four hours later, along with a broken fingernail and a large cut on my hand — at least I have something to show for it! Rustic Tuscan Vegetable Soup | Simply Love Food. It's finally "winter" here in the desert.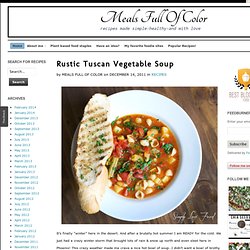 And after a brutally hot summer I am READY for the cold. We just had a crazy winter storm that brought lots of rain & snow up north and even sleet here in Phoenix! This crazy weather made me crave a nice hot bowl of soup…I didn't want a bowl of brothy soup, but one that was rather hearty, yet filling AND healthy. This Tuscan style vegetable soup does not disappoint. It is a very rustic soup and is LOADED with fresh veggies and if you don't have fresh on hand use canned or frozen.
Cooking with Jax: Kale Chips. I've always wanted to try kale chips, so when I saw bunches for sale at my local farmers market, I jumped at the chance to try it. I wasn't really sure what to expect. Generally when any type of leafy vegetable gets warm, it wilts. I was pleasantly surprised when the kale did in fact crisp up in the oven almost immediately. Everyday Food's Chicken & Lentil Burger with my sping. Earlier this month my friend Stacey gave me the latest Everyday Food magazine.
I paged through it and ripped out three different recipes that appealed to me. Today, I'd like to share with you a recipe for Chicken and Lentil Burger.
---