Against
The Truth About Water Fluoridation – FREE Report. Is Your Drinking Water Safe?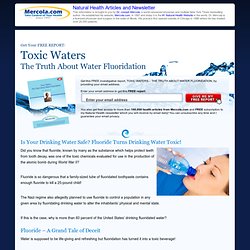 Fluoride Turns Drinking Water Toxic! Did you know that fluoride, known by many as the substance which helps protect teeth from tooth decay, was one of the toxic chemicals evaluated for use in the production of the atomic bomb during World War II? Fluoride is so dangerous that a family-sized tube of fluoridated toothpaste contains enough fluoride to kill a 25-pound child! The Fluoride Conspiracy. Information Liberation | Aug 25, 2006 "Tell a lie loud enough and long enough and people will believe it." - Adolf Hitler "Fluoridation is the greatest case of scientific fraud of this century." - Robert Carlton, Ph.D, former EPA scientist, 1992.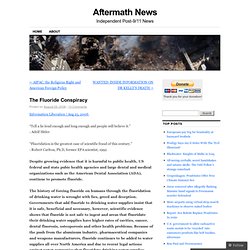 Water Flouridation. By Dr.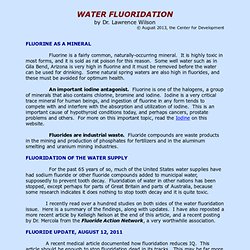 Lawrence Wilson © August 2013, the Center for Development Fluorine is a fairly common, naturally-occurring mineral. Fluoride Action Network. Joint Pain? It Could be Fluorosis. Dr. Hardy Limeback: Why I am now officially opposed to adding fluoride to drinking water. April, 2000 To whom it may concern: Since April of 1999, I have publicly decried the addition of fluoride, especially hydrofluosilicic acid, to drinking water for the purpose of preventing tooth decay.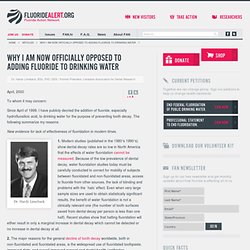 The following summarize my reasons. New evidence for lack of effectiveness of fluoridation in modern times. Why I'm Suing Canada Over Public Water Fluoridation. "Why I'm suing Canada over public water fluoridation" By, Kevin James Millership #6-206 Nicola Street Kamloops, British Columbia V2C 2P4 Canada dentalfluorosis@hotmail.com NOTE: corrections for current data are in "[ ]"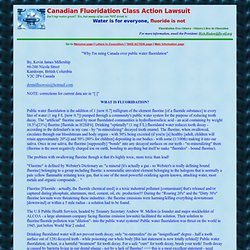 ---