Flipped Classroom
FC: Myths vs. Reality. Editor's Note: On the heels of our viral posts in over 100 countries about the flipped classroom earlier this year (links below), we asked Jon Bergmann if he could share some of the feedback he was receiving in light of the notable interest about this topic.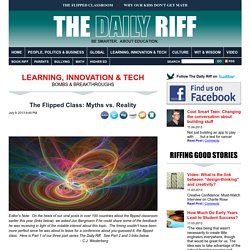 The timing couldn't have been more perfect since he was about to leave for a conference about you-guessed-it, the flipped class. Here is Part 1 of our three part series The Daily Riff. See Part 2 and 3 links below. - C.J. Flipping the Classroom. Learn from FC. The idea of the flipped classroom materialized in 2008 with two Colorado chemistry teachers, Aaron Sams and Jon Bergmann.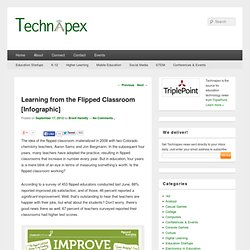 In the subsequent four years, many teachers have adopted the practice, resulting in flipped classrooms that increase in number every year. But in education, four years is a mere blink of an eye in terms of measuring something's worth. Is the flipped classroom working? According to a survey of 453 flipped educators conducted last June, 88% reported improved job satisfaction, and of those, 46 percent reported a significant improvement. 5 Learning Ideas for Flipping. Buoyed by the confidence of the 'flipped' class results I have started the new academic year with fresh ideas for my classroom activities.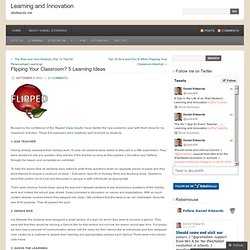 These five examples were relatively well received by students. Having already assessed their holiday work 16-year-old students were asked to take part in a little experiment. They were allowed to ask any question they wanted of the teacher so long as they passed a Socrative quiz halfway through the lesson and completed an exit ticket. To help the lesson flow all students were asked to write three questions down on separate pieces of paper and they were themed to ensure a modicum of value – Education, Specific to Holiday Work and Anything Goes.
Educators Evaluate 'Flipped Classrooms' Posted by Andrew K.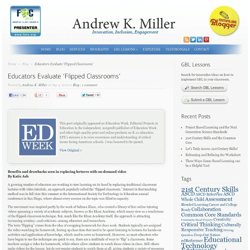 Miller on Sep 4, 2012 in Blog | 0 comments This post originally appeared on Education Week. Editorial Projects in Education Is the independent, nonprofit publisher of Education Week and other high-quality print and online products on K-12 education. EPE's mission is to raise awareness and understanding of critical issues facing American schools. I was honored to be quoted. 5 Best Practices for FC. Ok, I'll be honest.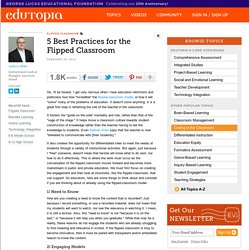 I get very nervous when I hear education reformists and politicians tout how "incredible" the flipped classroom model, or how it will "solve" many of the problems of education. It doesn't solve anything. 7 Things You Should Know About FC. Turning a classroom upside down. Roshan, her AP Calculus teacher at the private Bullis School in Potomac, told students that they would be learning their lessons at home with help from videos and other materials that she had made, and then would do "homework" problems in class.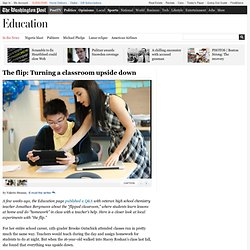 Roshan had "flipped" her class — a trend in teaching and classroom management that has been adopted by thousands of teachers across the country for a variety of different subjects. It is a reimagination of life in a classroom. The philosophy behind the flip is that teachers can spend time working with students who need their help in the classroom — and students can work together to solve problems — rather than sitting home alone with work they might not understand and with nobody to ask for help.
'Flip This Lesson' From TED-Ed. Tired of all those interesting and thought-provoking TED Talks?
Me neither. But never one to rest on its laurels, TED-Ed is launching a new way to make these talks a bit more, well, perfect for you. Flip This Lesson It's called 'Flip This Lesson' and it's basically a video editing tool that lets you create lessons from the vast array of TED Talks. The Curious Case of the Flipped-Bloom's Meme. (This is the sequel to 'Anatomy of a (Flipped) Meme') rss / email subscribe / follow Steve Last post I dug up the history of the Flipped Classroom idea.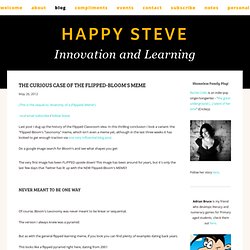 In this thrilling conclusion I look a variant: the "Flipped Bloom's Taxonomy" meme, which isn't even a meme yet, although in the last three weeks it has looked to get enough traction via one very influential blog post. The Flipped Class Manifest. Photo: Document with Red Line by Dukeii (Editor's Note: The conversation and interest in the flipped class continues . . .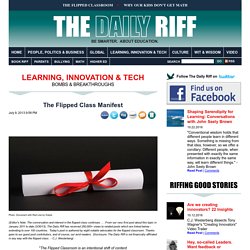 From our very first post about this topic in January 2011 to date (3/30/13), The Daily Riff has received 250,000+ views to related posts which are linked below - extending to over 100 countries. FC: A Full Picture. Due to Khan Academy's popularity, the idea of the flipped classroom has gained press and credibility within education circles.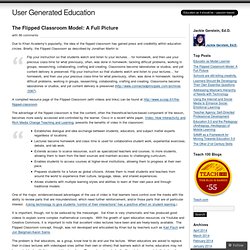 Briefly, the Flipped Classroom as described by Jonathan Martin is: Flip your instruction so that students watch and listen to your lectures… for homework, and then use your precious class-time for what previously, often, was done in homework: tackling difficult problems, working in groups, researching, collaborating, crafting and creating. Classrooms become laboratories or studios, and yet content delivery is preserved. Flip your instruction so that students watch and listen to your lectures… for homework, and then use your precious class-time for what previously, often, was done in homework: tackling difficult problems, working in groups, researching, collaborating, crafting and creating. The Flipped Classroom.
FC Management Practices. Naima Khandaker, Battelle for Kids Human Capital Specialist, contributed to this post. Naima is a former teacher and current education policy nerd who believes that one day soon, education will be great for all kids. Most school districts across the country operate under a similar organizational structure. How to Flip Your Classroom. How FC Works. What happens when the students have more control in the classroom? Flipped classrooms are being tested out around the world and we've featured a few examples in case you wanted to see who is flippin' out.
Until now, we didn't have an in-depth look at the effects of a flipped classroom or answers to the big questions it raises. Thanks to Susan Murphy of Algonquin College (check out her awesome blog suzemuse.com !) , we have our answers. Catalogue of Flipped Resources.
---