Daily Riff
How the Flipped Classroom Is Radically Transforming Learning. Editor's Note:Posts about the flipped class on The Daily Riff beginning in January 2011 have generated over 240,000 views to-date - thanks contributors and readers . . .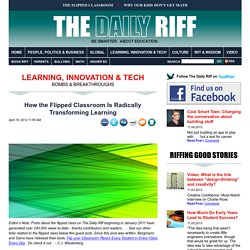 See our other links related to the flipped class below this guest post. Since this post was written, Bergmann and Sams have released their book, Flip your Classroom: Reach Every Student in Every Class Every Day. The Flipped Class: Shedding light on the confusion, critique, and hype. ". . . he is a voice of the Flipped Classroom, not the voice of the Flipped Classroom.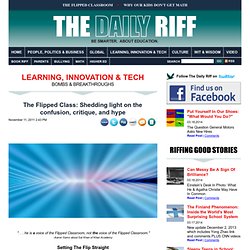 " -Aaron Sams about Sal Khan of Khan Academy Setting The Flip Straight by Aaron Sams. The Flipped Class: Myths vs. Reality. Editor's Note: On the heels of our viral posts in over 100 countries about the flipped classroom earlier this year (links below), we asked Jon Bergmann if he could share some of the feedback he was receiving in light of the notable interest about this topic.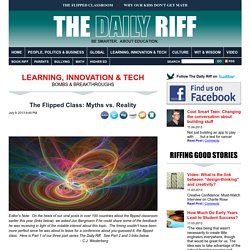 The timing couldn't have been more perfect since he was about to leave for a conference about you-guessed-it, the flipped class. Here is Part 1 of our three part series The Daily Riff. See Part 2 and 3 links below. - C.J. Westerberg.
---