Financiele statistieken
I just want to organize the web.
Demonocracy.info - Economic Infographics. Daily chart. TradingEconomics.com - Free Indicators for 231 Countries. Eurostat Home. - Country Infobase. Homepage Statistieken. De onderwerpen links – steekproefsgewijs geïllustreerd met onderstaand mozaïek van grafieken - bestrijken een groot aantal deelgebieden.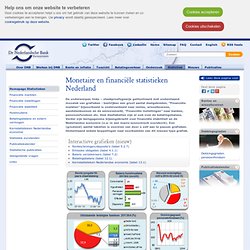 "Financiële markten" bijvoorbeeld is onderverdeeld naar rentes, wisselkoersen, aandelenkoersen en de emissiemarkt, "Financiële instellingen" naar banken, pensioenfondsen etc. Veel deeltabellen zijn er ook over de betalingsbalans. Banking on the World Bank. Lijst van landen naar staatsschuld.
---