Finanzierung
Stiftung - Stipendien
FFA - Filmförderungsanstalt
Kuratorium junger deutscher Film
MEDIA | Deutschland - Förderbereiche
» So funktioniert MEDIA (PDF) » Häufig gestellte Fragen » Produzentenförderung Für Film- und TV-Produzenten. Verleih & Vertrieb Für Kinoverleiher, Weltvertriebe und Video-On-Demand-Dienste.
| Berlinale | Professionals | World Cinema Fund | WCF Profile
Together with the Federal Foundation for Culture and in cooperation with the Goethe Institute, the Foreign Ministry and German producers, the World Cinema Fund works to develop and support cinema in regions with a weak film infrastructure, while fostering cultural diversity in German cinemas. The World Cinema Fund supports films that could not be made without additional funding: films that stand out with an unconventional aesthetic approach, that tell powerful stories and transmit an authentic image of their cultural roots. The World Cinema Fund has an annual budget of approximately € 350,000 and supports exclusively the production and distribution of feature films and feature-length documentaries. The support is focused on the following regions: Latin America, Central America, the Caribbean, Africa, the Middle East, Central Asia, Southeast Asia and the Caucasus.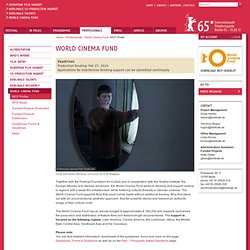 Focus Germany
Kulturstiftung des Bundes - Soziokultur
Kulturstiftung des Bundes - Offene Förderung ohne Eingrenzungen bei Sparten und Themen
Termine