To sort...
The Evolution of Banking and Financial Intermediation
"Orphan Ideas" by Luigi Zingales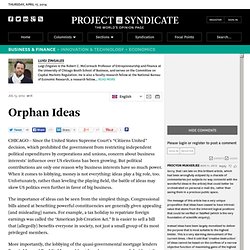 Exit from comment view mode. Click to hide this space
Understanding modern banking & finance
Last quarter, upon the release of the Q4 2011 Z.1 (Flow of Funds) report, we penned "The US Deleveraging Is Now Over", because, well, it was: all the categories tracked by the Fed's Credit Market Debt Outstanding series posted a sequential increase over Q3. Most importantly, there was an increase in the net debt held by the US Household Sector: this was only the first time after 14 quarters of declines, that US consumers had levered up. Sure enough, many took this as an indication that the economy was now fixed, and that with everyone levering up, inflation was sure to follow, and the virtuous cycle was back (also leading to the scare when the yield on the 10 year spiked, however briefly, to the mid 2% range).
The US Deleveraging Has Resumed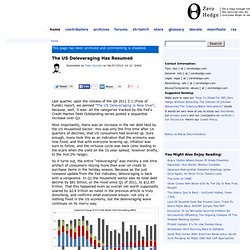 Forecasting. Doesnt. Work.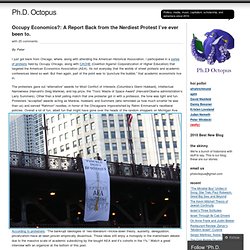 By Peter I just got back from Chicago, where, along with attending the American Historical Association, I participated in a series of protests held by Occupy Chicago, along with CACHE (Coalition Against Corporatization of Higher Education) that targeted the American Economics Association (AEA). Its not everyday that the worlds of street protests and academic conferences blend so well. But then again, part of the point was to "puncture the bubble," that academic economists live in.
Occupy Economics?: A Report Back from the Nerdiest Protest I've ever been to. « Ph.D. Octopus
MF's Missing Money Makes You Wonder About Goldman: Jonathan Weil
Illustration by Nick Lu Close Close Related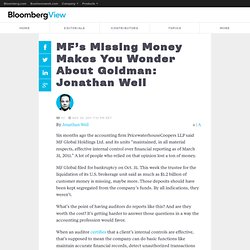 Do Investors Stifle Innovation? (Part II) : Planet Money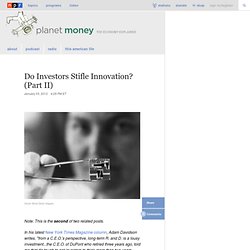 Istvan Bara/Getty Images Note: This is the second of two related posts.
Debates: Inflation: Statements
Is Any CEO Worth $189,000 Per Hour?
The Destruction of Economic Facts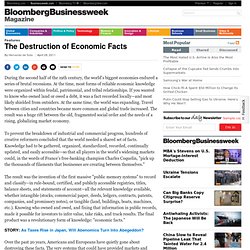 During the second half of the 19th century, the world's biggest economies endured a series of brutal recessions.
Recipe for Disaster: The Formula That Killed Wall Street
Rational Irrationality: Inside George Soros's "Monstrous Monkey House"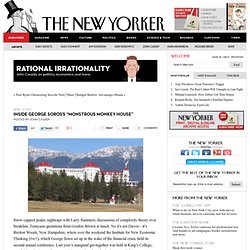 Snow-capped peaks; nightcaps with Larry Summers; discussions of complexity theory over breakfast; Tennyson quotations from Gordon Brown at lunch.
Amar Bhidé: In Defense of Human Judgment
In a recent highly publicized game of Jeopardy, two of the game's greatest past champions were beat by Watson, an IBM computer whose intelligence was based on algorithms. It was hailed as the latest example of how software could outperform human beings. In the latest INET interview, Amar Bhidé, the author of the new book A Call for Judgment, counters that argument with a strong defense of the primacy of human judgment – at least when it comes to overseeing the economy and navigating the world of finance.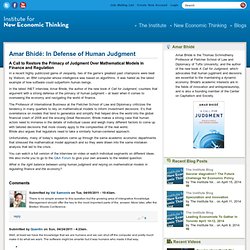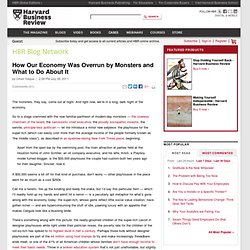 by Umair Haque | 2:36 PM July 28, 2011 The monsters, they say, come out at night. And right now, we're in a long, dark night of the economy.
How Our Economy Was Overrun by Monsters and What to Do About It - Umair Haque
cgasmediatvdrama.blogspot.comThis is a lengthy, highly provovative article illustrating in explicit detail my thoughts on how America's inferior education system made the Great Recession not only a foregone conclusion of indoctrinated GroupThink, but prevents a true recovery from recovery due to the abject fear of price clearing.
How Inferior American Education Caused The Credit/Real Estate/Sovereign Debt Bubbles and Why It's Preventing True Recovery