"free-market" fundamentalism
Thing 1: There is No Such Thing as a Free Market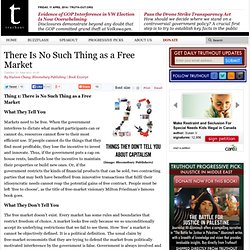 There Is No Such Thing as a Free Market | Truthout
Pt 2.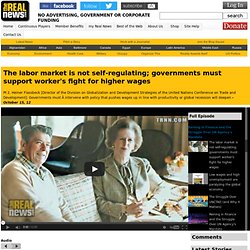 The labor market is not self-regulating; governments must support worker's fight for higher wages
There Is No Invisible Hand - Jonathan Schlefer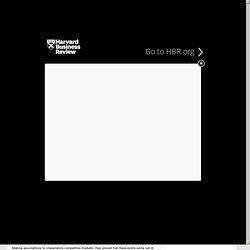 by Jonathan Schlefer | 10:06 AM April 10, 2012
Neoliberalism - perspectives...
The politics and economics of Austerity
debating the future of capitalism - perspectives...
Freedom versus free markets - macrobusiness.com.au | macrobusiness.com.au
Probably the most wicked intellectual subterfuge of the last three decades — and goodness knows there have been many — has been the pretence that democracy and markets are two sides of the same coin. Both have been extolled under the banner of "liberty". "Free markets" are somehow the hallmark of democracy and they should be allowed to roam free, untrammeled by evil governments who never doing anything right.
The world is awash with books that claim to explain the global financial meltdown.
23 Things They Don't Tell You About Capitalism by Ha-Joon Chang | Book review | Books | The Observer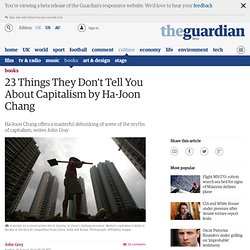 It is widely believed today that the free market is the best mechanism ever invented to efficiently allocate resources in society.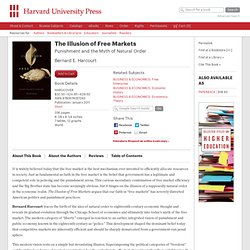 Stranger than Friction
Barry Schwartz argues in this morning's New York Times that capitalism is all about efficiency, and the problem is that too much efficiency can be a bad thing. A more profitable company, he says, is a more efficient one, and capitalists are right to pursue profit, but maybe we should slow them down a bit—add some friction to the process. I am reminded of the students I have every year, and there are a lot of them, who just can't accept the idea that "equilibrium" in a market does not necessarily imply "good".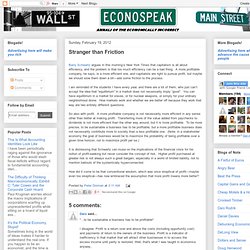 from Ian Fletcher
Why Free-Market Economics is a Fraud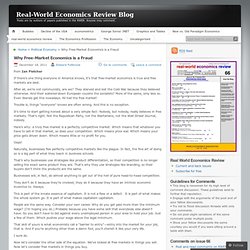 Processed food and coronary capitalism
Frankfurt, Germany - A systematic and broad failure of regulation is the elephant in the room when it comes to reforming today's Western capitalism.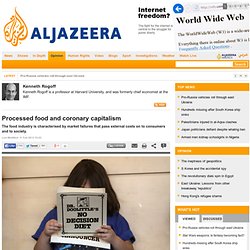 The meat would be shoveled into carts, and the man who did the shoveling would not trouble to lift out a rat even when he saw one—there were things that went into the sausage in comparison with which a poisoned rat was a tidbit. There was no place for the men to wash their hands before they ate their dinner, and so they made a practice of washing them in the water that was to be ladled into the sausage.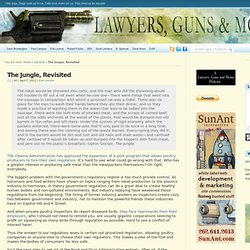 The Jungle, Revisited
The End of Loser Liberalism: Making Markets Progressive
By Dean Baker (2011)
Mind over Market"
Michael Spence surprises me by making many of the points about markets I've been trying to emphasize lately (and help making these points is more than welcome), in particular that markets are not very good at addressing stability, distributional equity, and sustainability issues: Mind over Market, by Michael Spence, Commentary, Project Syndicate: In the 66 years since World War II ended, virtually all centrally planned economies have disappeared, largely as a result of inefficiency and low growth.
Exit from comment view mode.
Mind over Market - Michael Spence - Project Syndicate
Greenspan's Faith in Markets
Antonio Fatás: A matter of faith (in markets), by Antonio Fatás: Alan Greenspan contributed yesterday to the Financial Times debate about Capitalism in Crisis.
perspectives on the limits of markets...
Milton Friedman's Magical Thinking - Dani Rodrik - Project Syndicate
Exit from comment view mode. Click to hide this space CAMBRIDGE – Next year will mark the 100th anniversary of Milton Friedman's birth.
Jungle Ethics Financialism vs. Free Market Capitalism
On Short-Termism and the Institutionalization of Rentier Capitalism
Short-termism and the risk of another financial crisis
The Myth of the Free-Market American Health Care System - Megan McArdle - Business
Economics in Crisis by J. Bradford DeLong - Project Syndicate