Fashion
dadanoias tumblr
Les producteurs se frottent les mains: personnage déjà célèbre, histoire et musique déjà écrite... le biopic musical a le vent en poupe. Une fois la vie du musicien adapté en scénario et les droits négociés, c'est le succès assuré! Après Cloclo sur Claude François, Control sur Ian Duris de Joy Division ou encore Ray sur Ray Charles, c'est toute la discographie des années 70 qui va finir par y passer! Allez, on ne va pas s'en plaindre, et on a hâte de voir le résultat de tout ces projets. Bonne lecture -et écoute- de ce passage en revue de tous les biopics sur les musiciens des années 70 actuellement dans les tuyaux! Jimi Hendrix - All is by My Side
LOST IN THE SEVENTIES
TEST: fashion, photography, film, design and music.
he Andersen & Lauth AW13 collection called "Timeless Passion" seeks inspiration in the art and cultural scene with a twist of vintage, romance and rock 'n roll. Proportions have a playful approach and are composed skillfully with traces of classical and modern influences. The Andersen & Lauth woman is modern and feminine.
Andersen & Lauth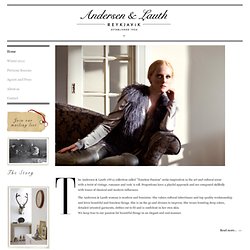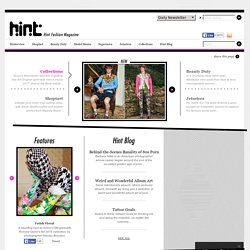 Hint Fashion Magazine
1 http://www.hintmag.com/?open=feature-2011128 {*style:<a href='javascript:open_2011128();'>*}Wallflower Power Assert your right to blend in. Photos by Adam Leon + Max Hirschberger 1 http://www.hintmag.com/?open=feature-1955639 {*style:<a href='javascript:open_1955639();'>*}Before I Go to Sleep Inspired by the film of the same name, here's the story of a woman who lost her memory and reclaims her identity through her fashion choices. By Marco Hülsebus 0 http://www.hintmag.com/shoots/video/futureofflesh/futureofflesh.html VIDEO The Future of Flesh Jane Fonda narrates an eerie vision of the future, when our bodies are altered to fit the style of the season.
Scissors
99? DREAMS
Look Look!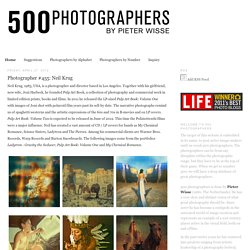 I have just arrived in Portland, Oregon where I am invited to review portfolio's in the next four days at the PhotoLucida Portfolio Reviews. Already I have had the pleasure to meet several photographers that are on this website. After the intense four days of reviewing I will be heading to Los Angeles. Mopla (Month of Photography Los Angeles) invited me to create a special projection to be shown on April 25 and 27, which is also the closing night party.