Fair Trade Electronics
Phildunn.amplify. Google Fashion Shopping Site Makes Debut. Google The site allows shoppers to use the choices of prominent style makers as inspiration.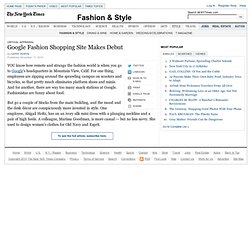 Its developers expect most users to find their "style twin" and shop in that individual's boutique. On Google's new fashion Web site, visitors can browse boutiques created by designers, celebrities, bloggers and other users. Deconstructing Foxconn. Real-Time News Curation: NewsMastering and NewsRadars. Web 2.0 Expo NY: Clay Shirky (shirky.com) It's Not Information Overload. It's Filter Failure. New report says Foxconn employees abused. Foxconn, the world's largest manufacturer of electrical components, is facing a leaked report that states the company abuses its employees.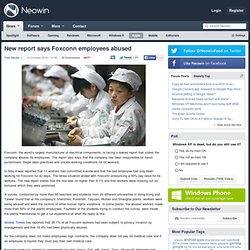 The report also says that the company has been responsible for harsh punishment, illegal labor practices and unsafe working conditions for its workers. In May,it was reported that 11 workers had committed suicide and that the last employee had only been working for Foxconn for 42 days. The tense situation ended with Foxconn announcing a 30% pay-raise for its workers. Killer Marketing: Spirited Vigil Outside Apple Store SF.
Posted by Tom Foremski - June 18, 2010 I went to the vigil for dead Foxconn workers outside the Apple store in San Francisco Thursday evening, organized by the Chinese Progressive Association.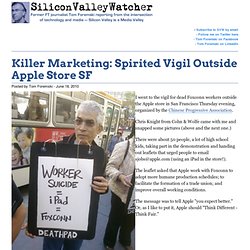 Chris Knight from Cohn & Wolfe came with me and snapped some pictures (above and the next one.) There were about 50 people, a lot of high school kids, taking part in the demonstration and handing out leaflets that urged people to email sjobs@apple.com (using an iPad in the store!). Revealed: Inside the Chinese suicide sweatshop where workers toi. By Andrew Malone and Richard Jones Updated: 22:14 GMT, 11 June 2010 When Apple boss Steve Jobs unveiled his latest creation this week, the event was given quasi-religious significance.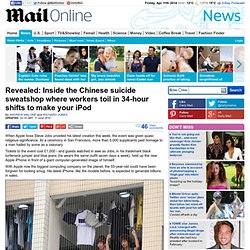 At a ceremony in San Francisco, more than 5,000 supplicants paid homage to a man hailed by some as a visionary. Tickets to the event cost £1,000 - and guests watched in awe as Jobs, in his trademark black turtleneck jumper and blue jeans (he wears the same outfit seven days a week), held up the new Apple iPhone in front of a giant computer-generated image of himself. With Apple now the biggest computing company on the planet, the 55-year-old could have been forgiven for looking smug. Foxconn suicides: Time for fair trade electronics? Would you buy. A Fair Trade notebook?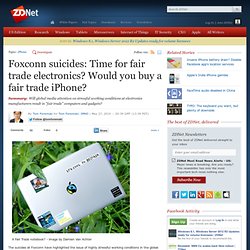 - image by Damien Van Achter The suicides at Foxconn have highlighted the issue of highly stressful working conditions in the global electronics industry. Foxconn has responded with psychologists, punch bags, swimming pools, and asking employees to promise not to kill themselves. But these moves do nothing to change the actual working conditions. Suicide numbers are a big red herring because even if they go down, huge numbers of workers will still suffer from low wages, long hours, and many other tough and unhealthy working conditions.
Must read by @tomforemski: Foxconn suicides: Time for. Who will be the first "Fair Trade" tech company? Moving beyond " There's a tremendous opportunity waiting to be grabbed.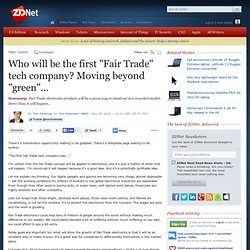 There's a Wikipedia page waiting to be written. "The first Fair Trade tech company was ... " I'm certain that the Fair Trade concept will be applied to electronics, and it's just a matter of when that will happen. I'm convinced it will happen because it's a good idea. And it's a potentially profitable idea. Search - fair trade electronics... Fair Trade Digital. 46 suicides at France Telecom, 9 at Foxconn - the human cost of. Foxconn, the Chinese manufacturer of electronics products for Apple and many others, has reported 9 suicides among its workforce and is fighting allegations of being a sweatshop.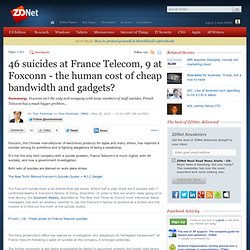 It's not the only tech company with a suicide problem, France Telecom's is much higher, with 46 suicides, and now a government investigation. Both sets of suicides are blamed on work place stress. The Real Truth Behind Foxconn's Suicide Cluster » M.I.C Gadget The Foxconn suicide mess is all started from job stress. Apple Providing Subsidies For Foxconn Workers ? » M.I.C Gadget. China faces new problems with cheap labor - latimes.com. Reporting from Beijing — They are the engine behind China's decades-long economic miracle: factory workers earning meager wages to ensure that the nation's exports are sold at unbeatable prices.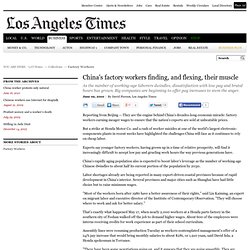 But a strike at Honda Motor Co. and a rash of worker suicides at one of the world's largest electronic-components plants in recent weeks have highlighted the challenges China will face as it continues to rely on cheap labor. Experts say younger factory workers, having grown up in a time of relative prosperity, will find it increasingly difficult to accept low pay and grueling work hours the way previous generations have.
China factory hit by suicides. 10 people have committed suicide this year at China's Foxconn factoryProducts assembled at factory include iPhones, Dell computers, Sony devicesFoxconn has brought in counselors, launched help line, opened stress roomWages of around $300 a month compare favorably with other factories Shenzhen, China (CNN) -- At first glance, Foxconn's factory complex in the southern Chinese city of Shenzhen seems like a heavily secure university campus.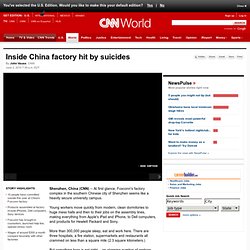 Young workers move quickly from modern, clean dormitories to huge mess halls and then to their jobs on the assembly lines, making everything from Apple's iPad and iPhone, to Dell computers, and products for Hewlett Packard and Sony. More than 300,000 people sleep, eat and work here. There are three hospitals, a fire station, supermarkets and restaurants all crammed on less than a square mile (2.3 square kilometers.) China finding out even cheap labor has limits - World business- SHANGHAI — Global manufacturers struggling with life-or-death pressures to control costs are finding that the legions of low-wage Chinese workers they rely on have limits.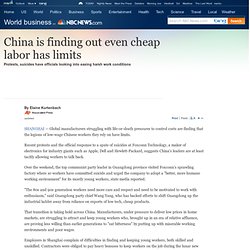 Recent protests and the official response to a spate of suicides at Foxconn Technology, a maker of electronics for industry giants such as Apple, Dell and Hewlett-Packard, suggests China's leaders are at least tacitly allowing workers to talk back. Over the weekend, the top communist party leader in Guangdong province visited Foxconn's sprawling factory where 10 workers have committed suicide and urged the company to adopt a "better, more humane working environment" for its mostly young workers, state media reported. Translate. Fair Trade iPods. What Would a Fair-Labor iPod Cost? - Umair Haque - Harvard Busin. By Umair Haque | 4:52 PM July 30, 2009 Just how much of a Constructive Capitalist is Apple? There's been a ton of discussion about Apple's Chinese suppliers, and their relatively poor labour conditions recently — along the lines of, "enjoy your sweatshop produced iPods, evil Americans."
What's more interesting is the counter-factual: how much would it cost to produce a "Good iPod"? One not produced in a sweatshop, but under decent labour conditions.
---