Facebook Tips
19+ Facebook Timeline Features and Resources You Should Know! For those of you who read my Facebook Page Changes earlier you will enjoy this article too!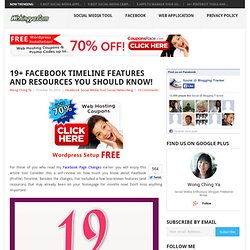 Consider this a self-review on how much you know about Facebook (Profile) Timeline. Besides the changes, I've included a few less-known features (and resources) that may already been on your homepage for months now! Don't miss anything important: Go through the list below ASAP! #1 Name List Preview for 'Likes' and 'Mutual Friends' Directory of Facebook Contacts - Report Issues, Bugs to Facebook, via these 100+ formsThe DNetWorks.
I've come across a situation where I need to either report a problem/SPAM on Facebook and I have to go ahead and Google out what is the most appropriate place to do so and maybe wander around Facebook Help Center, which is, Full of resources, but wouldn't it be great if you could get all the Contact information in form of a Facebook Directory, where all the forms etc., will be at one place and all you go to do is, click on the form and get your work done.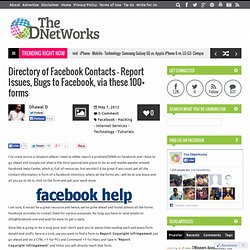 I am sure, it would be a great resource and hence, we've gone ahead and found almost all the forms Facebook provides to contact them for various purposes. No long you have to send emails to info@facebook.com and wait for eons to get a reply. Digital Marketing Tips For Engaging Facebook Fans. 26 April 2011 | Author: Stephen Smith If you are wondering why your Facebook fans are not engaging with your carefully crafted business page, here is one reason.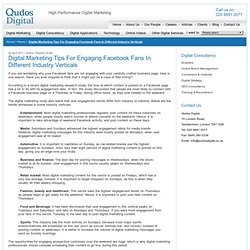 Have you ever stopped to think that it might just be a case of 'bad timing'? According to a recent digital marketing research study, the time at which content is posted on a Facebook page has a lot to do with its engagement ratio. Free PSD Facebook Timeline Covers. 21 Feb Facebook recently rolled out it's latest feature, the Facebook Timeline which gives you a new way to present your Facebook profile to the world.
Mark Zuckerberg decribed timeline as telling "the whole story of your life on a single page". 7 Unbelievably Cool Facebook Ad Tactics. Sponsored stories can counter a decline in organic impressions, while increasing engagement rates and amplifying your word of mouth.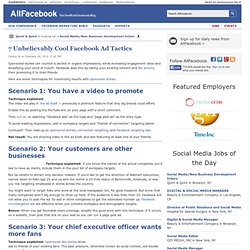 Facebook does this by taking your existing content and fan actions, then promoting it to their friends. Here are seven techniques for maximizing results with sponsored stories. Scenario 1: You have a video to promote Technique explained: The video will play in the ad itself — previously a premium feature that only big brands could afford. 9 Facebook Marketing Strategies to Build Super Fans. Are you looking to attract high-quality and loyal fans to your Facebook page?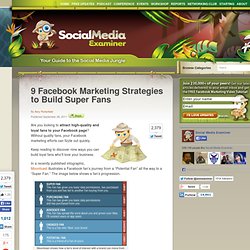 Without quality fans, your Facebook marketing efforts can fizzle out quickly. Keep reading to discover nine ways you can build loyal fans who'll love your business. In a recently published infographic, Moontoast illustrates a Facebook fan's journey from a "Potential Fan" all the way to a "Super Fan."
The image below shows a fan's progression. Facebook Chat: Emoticons, Tips & Tricks To Enhance Conversation - Flock. Ever since Facebook released its instant messaging application on its site in 2008, many of its users have been utilizing the chat function to keep in contact with their Facebook friends.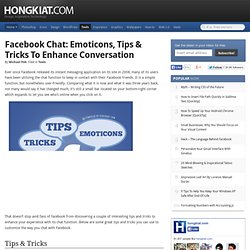 It is a simple function, but nonetheless user-friendly. Comparing what it is now and what it was three years back, not many would say it has changed much; it's still a small bar located on your bottom-right corner which expands to let you see who's online when you click on it. 30 Creative Facebook landing pages « INDEZINER - Flock. Designing a landing page or a facebook landing page is something most web designers have come across.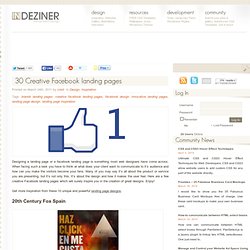 When facing such a task you have to think at what does your client want to communicate to it's audience and how can you make the visitors become your fans. Many of you may say it's all about the product or service you are presenting, but it's not only this. It's about the design and how it makes the user feel. 10 Insanely Creative Facebook Status Updates - Flock. Et's face it, most status updates are boring.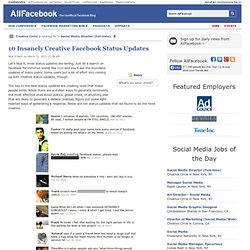 Just do a search on Facebook for common words like food and you'll see the mundane updates of many users. Some users put a lot of effort into coming up with creative status updates, though. 7 Tools That Monitor Your Children On Facebook - Flock. An ongoing debate continues on how to keep younger Facebookers safe on the site, which already enforces a rule that users be at least 13 years old.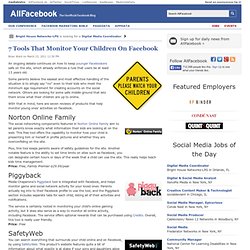 Some parents believe the easiest and most effective handling of the situation is to simply say "no" even to their kids who meet the minimum age requirement for creating accounts on the social network. Others are looking for some safe middle ground that lets them know what their children are up to online. With that in mind, here are seven reviews of products that help monitor young ones' activities on Facebook. The social networking components featured in Norton Online Family aim to let parents know exactly what information their kids are looking at on the web. Social networking hacks: Top 10 Facebook and Twitter security st. Facebook and Twitter use skyrocketed in 2009, and naturally the social networking sites became magnets for hacker attacks and sparked other types of privacy concerns. CIOs have expressed doubts about the social networking sites, (see related story, Facebook, Twitter becoming business tools, but CIOs remain wary) and these stories show there is good reason to be worried.
Here, in chronological order, are the top 10 security and privacy stories concerning Facebook and Twitter from the past year. Jan. 6: Hackers hijack Obama's, Britney's Twitter accounts. Facebook: Top 30 Blog Posts of 2009. Best tips and advice. | Win. Although I recently blogged that 2009 was, without doubt, the year of Twitter, Facebook had a similarly impressive year where we can say it became a truly mainstream social networking platform boasting over 350 million members.
It seems that every business now has a Facebook Fan Page, and it becomes harder and harder for us to avoid spending too much time on Facebook. After all, we now spend more time on Facebook than on any other website! Facebook will become an even more important place for businesses in 2010, and because of this I have placed an emphasis on finding resources from 2009 to help businesses with establishing and strategically managing their Fan Page. If you are looking for social media marketing information in utilizing Facebook, I believe you are in for a pleasant surprise with my list of Facebook for Business best posts of 2009 below. The Dangers of Clickjacking with Facebook | Social Hacking - Flo. Clickjacking is an admittedly difficult problem to solve entirely, though I question why invisible iframes are necessary. Still, a few techniques to combat the attack exist, such as frame-busting scripts. Twitter implemented this approach after a proof-of-concept attack circulated earlier this year, at the time, several researchers speculated on the ramifications for other sites, such as Facebook.
I've noted previously that authorizing a Facebook application requires only a single click, even if you've exempted your profile from the Facebook Platform. After noticing another possible clickjacking attack vector, I began compiling a list of single-click actions that should give any Facebook user pause. Jwz - How to use Facebook with a feed reader - Flock.
Semana do Facebook: como adicionar uma newsletter à sua página d. Partimos hoje para o nosso terceiro artigo dedicado em exclusivo à rede social do Facebook, depois de o termos ensinado a importar e promover o seu blog no Facebook e mais tarde a criar uma página de fãs do seu blog no Facebook. Atendendo ao potencial que sempre vimos naquela que é a maior rede social do mundo, com mais de 300 milhões de utilizadores activos, torna-se primordial para qualquer blogueiro alargar os horizontes de publicação e marketing do seu blog, interagindo através de outros meios com os seus leitores, mas também com o objectivo de captar cada vez mais subscritores e novos visitantes. Há algum tempo que me preocupo em analisar as diversas funcionalidades que o Facebook hoje oferece, e ao longo do tempo fui-me preparando para tentar retirar delas o máximo potencial possível.
Ferramentas gratuitas como esta são uma porta aberta para qualquer blogueiro atingir o sucesso que deseja. Facebook DIY – How to Customize your Facebook Page! - Flock. Recently, I have been trying to customize my own Facebook Page and have found this great tutorial on how to customize your Facebook Page! The author details the use of FBML Static Page App that helps you to add your own custom code: Do a search for "static FBML" on Facebook (or just click here), and click "Add to my Page" in the upper-left. A dialog pop-over will appear with a list of Pages you administer. Select the Page you want to customize by clicking the "Add to Page" button next to the Page, and when you click the button it will disappear from the list.
Now click "Close". Facebook Empresas: Marketing Facebook Para Empresas. 20 Excellent Facebook Scripts and Resources - Noupe - Flock. Blog – 31 façons d'utiliser Facebook en entreprise. The Digital Marketer : When Should You Unfollow and Unfriend? :: 20 Facebook Tips/Tricks You Might Not Know | How-To - Flock. 2 Cool Ways To Poke Someone On Facebook - Flock. How to build a Facebook community (14 "levers" you need to be pu. 3 Essential Tips for Safeguarding your Facebook Privacy - Flock. Six Outstanding Facebook Visualizations | dsgnWrld - Flock. 4 Cool Ways to Login to Facebook Without Going to the Site - Flo. Top 5 Coolest Facebook Tips, Tricks And Hacks – SoftSailor - Flo. 6 Facebook Hack Codes & Tips To Show Off Your Geeky Skills - Flo. Facebook for the Dead... - Flock. How To Create a Fanpage on Facebook With Custom HTML | Vital Des.
---