FB new design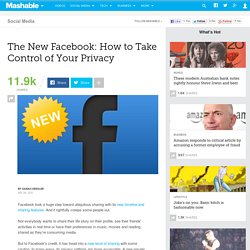 The New Facebook: How to Take Control of Your Privacy
Facebook took a huge step toward ubiquitous sharing with its new timeline and sharing features . And it rightfully creeps some people out. Not everybody wants to share their life story on their profile, see their friends' activities in real time or have their preferences in music, movies and reading shared as they're consuming media.
TimeLine : la machine à voyager dans le temps de Facebook - Web 1,2,3ElectronLibre
C'est le grand bouleversement chez Facebook qui a annoncé hier des nouveautés en pagaille lors de sa conférence f8. De nouvelles activités multimédia mais aussi une métamorphose totale des « profils » destinés à se muer en « Timelines » éternelles. On sait aujourd'hui que les neutrinos sont capables d'aller plus vite que la lumière. Et bien, au rayon surprise cosmogonique, voici maintenant la machine à remonter le temps de Facebook !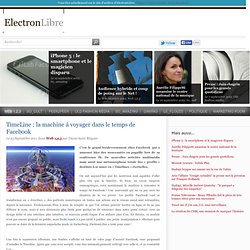 Op-Ed: Stop Feeding Facebook, It's Time for Moderation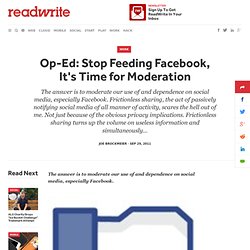 The answer is to moderate our use of and dependence on social media, especially Facebook. Frictionless sharing, the act of passively notifying social media of all manner of activity, scares the hell out of me. Not just because of the obvious privacy implications.
YIia1.png (PNG Image, 1047x593 pixels) - Scaled (97
With 'frictionless sharing,' Facebook and news orgs push boundaries of online privacy
Facebook again may have gone too far in its quest to make privacy obsolete, and this time some news organizations could get burned by going along with it.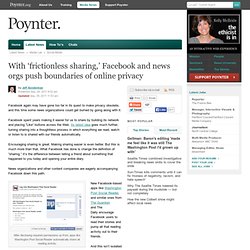 Does Facebook know what you are up to,
Privacy groups ask FTC for Facebook investigation too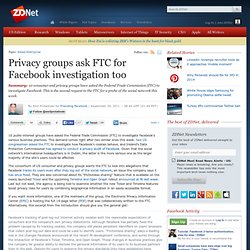 10 public-interest groups have asked the Federal Trade Commission (FTC) to investigate Facebook's various business practices. This demand comes right after two similar ones this week: two US congressmen asked the FTC to investigate how Facebook's cookies behave, and Ireland's Data Protection Commissioner has agreed to conduct a privacy audit of Facebook. Given that the social network's international headquarters is in Dublin, the latter is the more serious one as the larger majority of the site's users could be affected.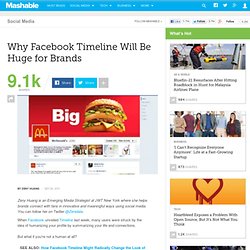 Zeny Huang is an Emerging Media Strategist at JWT New York where she helps brands connect with fans in innovative and meaningful ways using social media. You can follow her on Twitter @Zenidala. When Facebook unveiled Timeline last week, many users were struck by the idea of humanizing your profile by summarizing your life and connections.
Why Facebook Timeline Will Be Huge for Brands
Posted at 04:09 PM ET, 09/29/2011 Sep 29, 2011 08:09 PM EDT
Privacy advocates ask FTC to investigate Facebook - Post Tech
Europeans to Facebook: Where's My Data? - Digits
Hide the Past Before Opening your Facebook Profile to Subscribers
The Meaning Machine - Alexis Madrigal - Technology
Internet users once stalked off into the cyberfrontier looking for transcendence.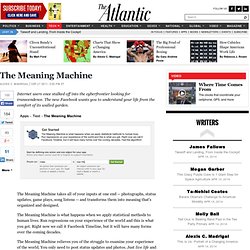 Facebook isn't known for respecting the privacy or rights of its users, this is nothing new, but it looks like Zuckerberg may have to anticipate a kick in the teeth. That would be courtesy of European Data Protection, forcing Facebook to become a little more transparent over how much it holds on individuals. Many people probably think that Facebook is immune from having to abide by the EU data laws.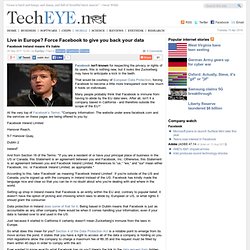 Live in Europe? Force Facebook to give you back your data - Facebook Ireland means it's liable
The New Facebook: A Timeline for Personal Discovery and Storytelling Brian Solis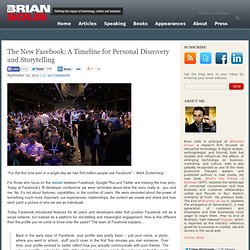 inShare244
Tips
When you click a Facebook "Like" button on other Web sites to tell your friends about a cool band, favorite political candidate or yummy cake recipe, you may know that you are also giving intelligence to Facebook the company, which makes money through targeted advertising. But did you know that even if you don't hit the button, Facebook knows you were there? That's because the "Like" and "Recommend" buttons Facebook provides to other Web sites send information about your visit back to Facebook, even if you don't click on them. Since these buttons are now all over the Web — about 905,000 sites use them, the privacy-software maker Abine estimates — Facebook can find out an awful lot about what you do online even when you're not on Facebook. Facebook says data from the buttons is used to personalize Web content, improve its services, fix bugs and implement certain security features.
As 'Like' Buttons Spread, So Do Facebook's Tentacles
Facebook tracks you even after you've logged out
Amongst the recent new changes to appear on Facebook, there is a "ticker" (a rolling real time list of what your friends are doing).
Facebook's ticker privacy scare, and what you should do about it
How to Enable the New Facebook Timeline NOW
The Facebook Timeline is now available for all, and it's remarkably easy to enable it for your account. This old method doesn't work any more, so for the easy new way to make it happen!
The New Facebook: How to Take Control of Your Privacy
Facebook took a huge step toward ubiquitous sharing with its new timeline and sharing features. And it rightfully creeps some people out.
Is Facebook Trying to Kill Privacy? [OPINION]
Facebook New Changes 2011
Grow My Company
What The New Facebook Changes Mean For Businesses
Whoops, I didn't mean for you to read this Brian Solis