America del Norte
October 06, 2011 Out with the X-Acto knife, in with the latest technology. With the Art and Architecture Fabrication Laboratory, or A² Fab Lab, students and faculty alike have more opportunities to explore new ways of creating. Located in the Architecture Building, the lab currently houses three primary technologies – laser cutters, 3D printing and 3D scanning, each of which provides different ways of bridging between physical and digital realm. "The students can push the boundaries in terms of visualizing their models," said Lee-Su Huang, assistant professor of architecture.
Fab Lab: Connecting physical and digital realms - University of Florida Design, Construction and Planning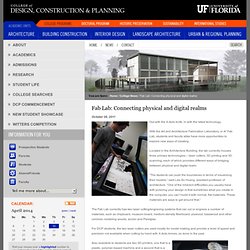 Fab Labs Carolinas
Flowerpot RingFlowerpot RingDesigner: Kenji KondoDesign Year: 2011Size: 7″ w x 10″h x 9.5″dMaterials: powdercoated steelnotes: flowerpot includedavailable at: http://www.etsy.com/listing/70937106/flower-pot-ring Where the Wild Things Are…Made!This Halloween costume-head for the character Carol, from Maurice Sendak's beloved children's story Where the Wild Things Are, needed to be big! But at the same time, wearable….
FabLab Abq
De retour du FAB9 En août 2013 se tenait à Yokohama, au Japon, la 9e conférence internationale des Fab Labs (FAB9). Cette rencontre annuelle permet aux makers du monde entier de se réunir pendant une dizaine de jours afin d'échanger sur les projets qui sont mis en place dans leur fab lab respectif et de prendre contact avec tout ces gens impliqués à co-créer de nouveaux modèles de fabrication. C'est un temps d'inspiration et de partage très enrichissant pour la continuité de nos processus de création. Je représentais le DèmosLab et j'étais accompagné de Marc-Olivier Ducharme et Raphaël Demers du Fab Lab de Montréal, l'échofab.
Discovery Center - UW Stout, Wisconsin's Polytechnic University
The Fab Lab Welcome to the workshop of the future designed to connect people and their ideas to the world! Along the way, you will create, collaborate, learn and build just about anything you can imagine. Your journey starts at Fox Valley Technical College—from there we open your portal to the world and to making your dreams reality.
FAB LAB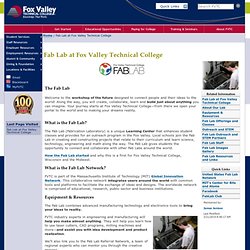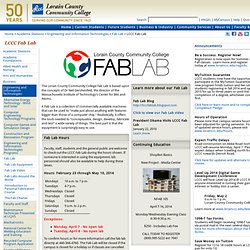 LCCC Fab Lab
The Lorain County Community College Fab Lab is based upon the concepts of Dr Neil Gershenfeld, the director of the Massachusetts Institute of Technology's Center for Bits and Atoms. A Fab Lab is a collection of commercially available machines that can be used to "make just about anything with features bigger than those of a computer chip." Realistically, it offers the tools needed to "conceptualize, design, develop, fabricate and test" a wide variety of things. The best part is that the equipment is surprisingly easy to use.
mcstemhs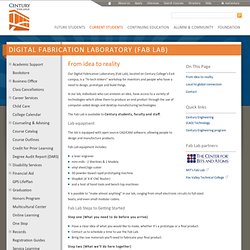 From idea to reality Our Digital Fabrication Laboratory (Fab Lab), located on Century College's East campus, is a "hi-tech tinkers" workshop for inventors and people who have a need to design, prototype and build things. In our lab, individuals who can envision an idea, have access to a variety of technologies which allow them to produce an end product through the use of computer-aided design and desktop manufacturing technologies. The Fab Lab is available to Century students, faculty and staff. Lab equipment The lab is equipped with open source CAD/CAM software, allowing people to design and manufacture products.
Fab Lab : Century College
Welcome to Mott Community College
mtelliottmakerspace
I am sorry that I never had a chance to give weekly updates for Youth Earn-A-Bike, but it is because it was CRAZY!!! We gave away 16 bikes in the 8 week session!! We learned a lot on how to run up to 8 youth a week with limited tools and bike stands, but it was a blast and we could not be more happy with the outcome.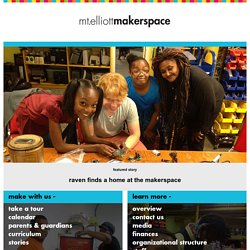 Created by a group of dedicated professionals at MIT, the Fab Lab is a place where ideas become reality. Using a small configuration of machines, anyone with any level of experience can create anything. Through the online Fab Lab community, you can then share those ideas with people half the world away and collaborate on ways to tweak, improve, or polish your designs. Click on one of the links below to hear stories about some amazing things that people have done with Fab Lab: A home created using only Fab Labs
Fab Lab
SETC
CCBC closed for spring break April 13-21 Classes resume and offices reopen Tuesday, April 22. Register now for CCBC's summer sessions Registration for the first summer session classes is underway. Classes start June 2. Get your child's summer off to the best start ever at CCBC's Summer Learning Adventures Camps Register now at 443-840-4700.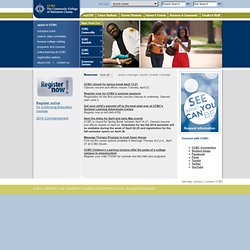 The Community College of Baltimore County
That's right, we've been booming lately and are happy to see such interest in the lab, but we need more help to keep up with the demand. We will give preference to existing, active volunteers, so don't be afraid to get involved. Here's the description: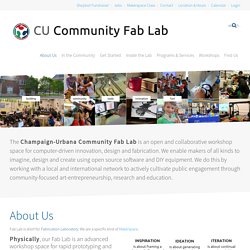 Champaign-Urbana Community Fab Lab
Fab Lab San Diego — A place where you can make almost anything
Fab Lab Tulsa | MIT Fabrication Laboratory within Tulsa's Kendall-Whittier Neighborhood