Turkey
Accession of Turkey to the European Union. Turkey's application to accede to the European Economic Community, a predecessor of the European Union (EU), was made on 14 April 1987.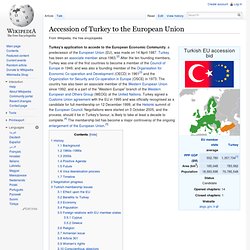 Turkey has been an associate member since 1963.[2] After the ten founding members, Turkey was one of the first countries to become a member of the Council of Europe in 1949, and was also a founding member of the Organisation for Economic Co-operation and Development (OECD) in 1961[3] and the Organization for Security and Co-operation in Europe (OSCE) in 1973. The country has also been an associate member of the Western European Union since 1992, and is a part of the "Western Europe" branch of the Western European and Others Group (WEOG) at the United Nations. Turkey signed a Customs Union agreement with the EU in 1995 and was officially recognised as a candidate for full membership on 12 December 1999, at the Helsinki summit of the European Council. Egemen Bagis: 'Europe needs Turkey' - Talk to Al Jazeera.
There is a change going on in the European political landscape.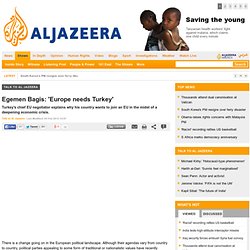 Although their agendas vary from country to country, political parties appealing to some form of traditional or nationalistic values have recently garnered significant footholds in the parliaments of Finland, Norway, Holland, Hungary, Sweden and Italy. There is often one common concern that unites these parties: Can Turkey, a predominantly Muslim country, join the European Union? Turkey is at the doorstep of Europe and it wants to come in. Despite growing anti-Muslim sentiments and a deepening economic downturn in Europe, Turkey is still negotiating to become a full member of the European Union.
Fifty Years On, Turkey Still Pines to Become European. This summer, Turkey celebrated a dubious anniversary: it was 50 years ago that the country first asked to join the European Union — or, as it was then known, the European Economic Community.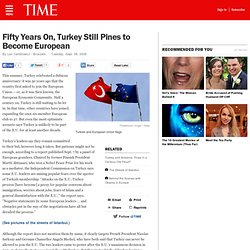 Half a century on, Turkey is still waiting to be let in. In that time, other countries have joined, expanding the once six-member European club to 27. But even the most optimistic scenario says Turkey is unlikely to be part of the E.U. for at least another decade. Is Turkey appeasing the EU? - Inside Story. The Turkish government led by Recep Tayyip Erdogan, the prime minister, has decided to return properties confiscated from religious minorities 75 years ago.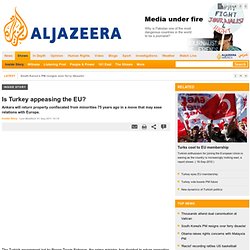 According to a decree issued this week, property taken away from minority religious foundations under a 1936 declaration will be returned to them. The Turkish government says it will pay compensation for properties that were seized and later sold. Minority foundations will have 12 months to apply to Turkish authorities to reclaim their property. The World Factbook. 81 provinces (iller, singular - ili); Adana, Adiyaman, Afyonkarahisar, Agri, Aksaray, Amasya, Ankara, Antalya, Ardahan, Artvin, Aydin, Balikesir, Bartin, Batman, Bayburt, Bilecik, Bingol, Bitlis, Bolu, Burdur, Bursa, Canakkale, Cankiri, Corum, Denizli, Diyarbakir, Duzce, Edirne, Elazig, Erzincan, Erzurum, Eskisehir, Gaziantep, Giresun, Gumushane, Hakkari, Hatay, Igdir, Isparta, Istanbul, Izmir (Smyrna), Kahramanmaras, Karabuk, Karaman, Kars, Kastamonu, Kayseri, Kilis, Kirikkale, Kirklareli, Kirsehir, Kocaeli, Konya, Kutahya, Malatya, Manisa, Mardin, Mersin, Mugla, Mus, Nevsehir, Nigde, Ordu, Osmaniye, Rize, Sakarya, Samsun, Sanliurfa, Siirt, Sinop, Sirnak, Sivas, Tekirdag, Tokat, Trabzon (Trebizond), Tunceli, Usak, Van, Yalova, Yozgat, Zonguldak.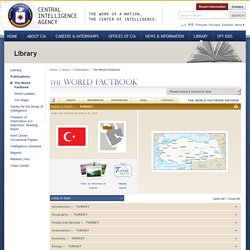 ---