3D simulations Worlds Serious Games
Play-Mod | Mods et Jeux Vidéos indépendants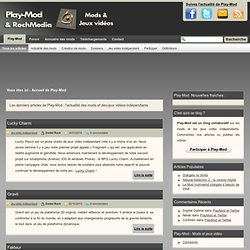 Lucky Pencil est un jeune studio de jeux vidéo indépendant crée il y a moins d'un an. Nous avons terminé il y a peu notre premier projet appelé « Fragment » qui est une application en réalité augmenté et gamifiée. Nous entamons maintenant le développement de notre second projet sur smartphone (Android, iOS et windows Phone) : le RPG Lucky Charm.
Euclideon - Home
Unlimited Detail Technology - Home
UPDATE: A PDF version of the tutorial is now available for download. Useful for offline viewing. Click the image above. Well, it's seems as though there has only been a few people able to figure out the entire process of using the new ocean sim tools along with the foam mask option.
Save The Ocean Sim – Project News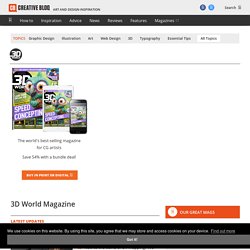 3D World is the best-selling international magazine for CG artists, covering the fields of animation, VFX, games, illustration and architecture. Our team of CG artists and professionals provide analysis of latest trends in the market, artistic and technical advice, impartial product reviews, and exclusive behind-the-scenes articles on the making of key projects in this fast-paced industry. 3D World's unique Advisory Board, which includes ILM's Tim Alexander, Pixar's Andrew Gordon and Ubisoft's Pascal Blanche are on hand every issue to help with CG advice and career support. With over 10 years at the forefront of the CG industry, reporting on the latest movie VFX, with enviable studio access and in-depth video and step-by-step training, 3D World offers unrivalled inspiration and training every issue. Editorial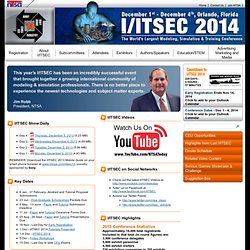 Welcome to I/ITSEC
2013 Conference Statistics Approximately 14,000 total registrantsIncluded in that total (in round figures) are:3,500 conference delegates5,600 exhibit personnel4,900 exhibit visitors 526 exhibiting companies in 395 exhibits (185,000 NSF)1,900 International registrants from 70 countries I/ITSEC Videos Go to www.youtube.com/NTSAToday to view videos from I/ITSEC Papers available Online All I/ITSEC papers from 1973 through the current year are available online!
The National Center for Simulation (NCS) is a not-for-profit trade association with government, academic and industry members operating as an open consortium. The vision of NCS is to be the internationally recognized leader in supporting and expanding the modeling and simulation community. As an organization, NCS is committed to promoting modeling and simulation technology expansion, supporting education and workforce development and providing business development support to its members. NCS is working to create synergy for the advancement of simulation for training, bringing together the newest technologies in training and simulation and the industries that can benefit from them.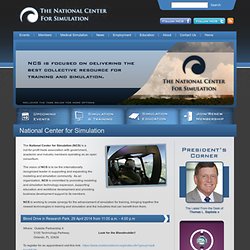 National Center for Simulation | Orlando, Florida Simulation
Pandromeda
Rhonda Forever 2003-2010
3D furnitures models free
A physics engine is computer software that provides an approximate simulation of certain physical systems, such as rigid body dynamics (including collision detection), soft body dynamics, and fluid dynamics, of use in the domains of computer graphics, video games and film. Their main uses are in video games (typically as middleware), in which case the simulations are in real-time. The term is sometimes used more generally to describe any software system for simulating physical phenomena, such as high-performance scientific simulation.
Physics engine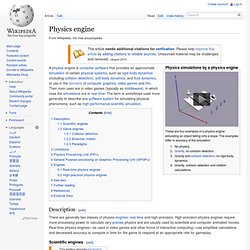 ★ 5.0 Stars (1) 8 Downloads (This Week) Last Update: Download Scythe_1-15.zip Browse All Files Windows A physics editor, for physics based games and applications.
Scythe Physics Editor | Free Graphics software downloads at SourceForge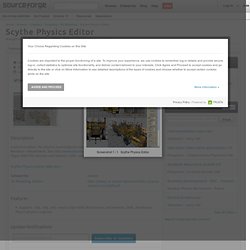 Scythe Physics Editor: Help
Scythe Physics Editor: Open Discussion
Bullet 2.69 Physics SDK is released from revision 1175. See a YouTube movie of the latest demos + Added split impulse support, penetration recovery won't add momentum+ cloth/soft body improvements: picking (pick and drag), tearing (click and release without mouse move), preliminary support for btSoftBody versus compound and concave trimesh+ Added new btDbvtBroadphase, based on dynamic AABB tree. It has the capability to do view frustum culling and front-to-back traversal. See Extras\CDTestFramework for view frustum culling sample.+ Enabled new btGjkEpa2 penetration depth solver, thanks to Nathanael+ Provide access to all persistent manifolds for a given btBroadphasePair, see CharacterDemo for sample usage
Physics Simulation Forum • View topic - Bullet 2.69 SDK released: split impulse, tear/pick soft body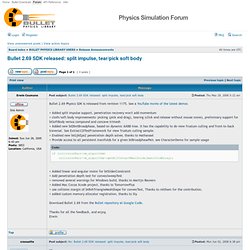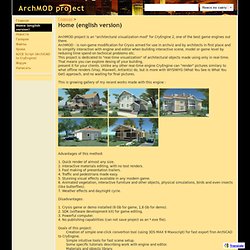 Home (english version) - ArchMOD project
ArchMOD project is an "architectural visualization mod" for CryEngine 2, one of the best game engines out there. ArchMOD - is non-game modification for Crysis aimed for use in archviz and by architects in first place and to simplify interaction with engine and editor when building interactive scene, model or game level by redusing time spend on technical problems etc. This project is dedicated to "real-time visualization" of architectural objects made using only in real-time.
Welcome to Microsoft Flight from the Microsoft Games Studio!
3D TUTos basis engines modelers