3D simulations Worlds Serious Games
Play-Mod | Mods et Jeux Vidéos indépendants
Euclideon - Home
Unlimited Detail Technology - Home
UPDATE: A PDF version of the tutorial is now available for download.
Save The Ocean Sim – Project News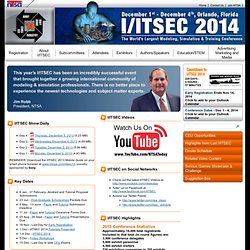 Welcome to I/ITSEC
2013 Conference Statistics Approximately 14,000 total registrantsIncluded in that total (in round figures) are:3,500 conference delegates5,600 exhibit personnel4,900 exhibit visitors 526 exhibiting companies in 395 exhibits (185,000 NSF)1,900 International registrants from 70 countries
National Center for Simulation | Orlando, Florida Simulation
Pandromeda
Rhonda Forever 2003-2010
3D furnitures models free
A physics engine is computer software that provides an approximate simulation of certain physical systems, such as rigid body dynamics (including collision detection), soft body dynamics, and fluid dynamics, of use in the domains of computer graphics, video games and film. Their main uses are in video games (typically as middleware), in which case the simulations are in real-time. The term is sometimes used more generally to describe any software system for simulating physical phenomena, such as high-performance scientific simulation.
Physics engine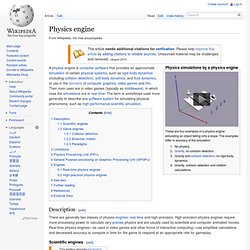 voir en bas la liste des moteurs 3D _ see down page for links to 3D physic engine ... by sizolabarchitecture Jan 10
Scythe Physics Editor | Free Graphics software downloads at SourceForge
Scythe Physics Editor: Help
Scythe Physics Editor: Open Discussion
Bullet 2.69 Physics SDK is released from revision 1175.
Physics Simulation Forum • View topic - Bullet 2.69 SDK released: split impulse, tear/pick soft body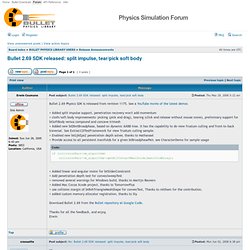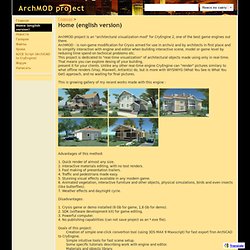 Home (english version) - ArchMOD project
ArchMOD project is an "architectural visualization mod" for CryEngine 2, one of the best game engines out there. ArchMOD - is non-game modification for Crysis aimed for use in archviz and by architects in first place and to simplify interaction with engine and editor when building interactive scene, model or game level by redusing time spend on technical problems etc. This project is dedicated to "real-time visualization" of architectural objects made using only in real-time.
Welcome to Microsoft Flight from the Microsoft Games Studio!
3D TUTos basis engines modelers