Human
Jaw-dropping theory of human evolution : Nature News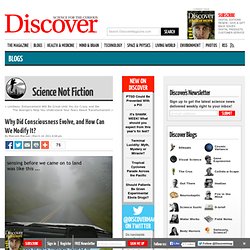 Why Did Consciousness Evolve, and How Can We Modify It? | Science Not Fiction
Update 5/24/11: The conversation continues in Part II here . I recently gave a talk at the Directors Guild of America as part of a panel on the "Science of Cyborgs" sponsored by the Science Entertainment Exchange. It was a fun time, and our moderators, Josh Clark and Chuck Bryant from the HowStuffWorks podcast , emceed the evening with just the right measure of humor and cultural insight. In my twelve minutes, I shared a theory of how consciousness evolved. My point was that if we understand the evolutionary basis of consciousness, maybe this will help us envision new ways our consciousness might evolve further in the future. That could be fun in terms of dreaming up new stories.
Rare Neurons Found In Monkeys' Brains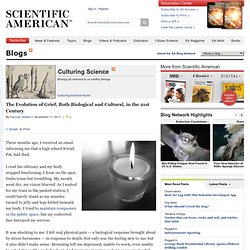 Three months ago, I received an email informing me that a high school friend, Pat, had died. I read his obituary and my body stopped functioning. I froze on the spot, limbs tense but trembling. My mouth went dry, my vision blurred. As I waited for my train in the packed station, I could barely stand as my muscles turned to jelly and legs folded beneath my body.
The Evolution of Grief, Both Biological and Cultural, in the 21st Century | Culturing Science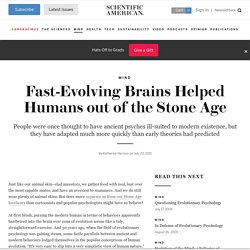 Mind & Brain :: News :: July 20, 2011 :: :: Email :: Print People were once thought to have ancient psyches ill-suited to modern existence, but they have adapted much more quickly than early theories had predicted By Katherine Harmon
Fast-Evolving Brains Helped Humans out of the Stone Age
One gene helped human brains become complex - life - 03 May 2012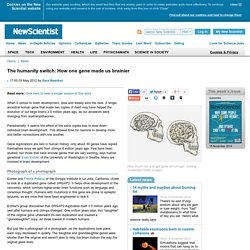 Read more: Click here to read a longer version of this story When it comes to brain development, slow and steady wins the race. A single ancestral human gene that made two copies of itself may have helped the evolution of our large brains 2.5 million years ago, as our ancestors were diverging from australopithecines.
Climate and Human Evolution
Missing Lincs
Missing Lincs Lesser-known genetic material helps explain why humans are human By Tina Hesman Saey Web edition: December 2, 2011 Print edition: December 17, 2011; Vol.180 #13 (p. 22) The material you are trying to access is available to subscribers only.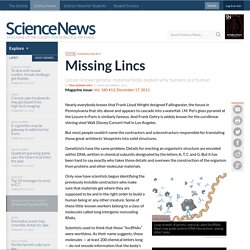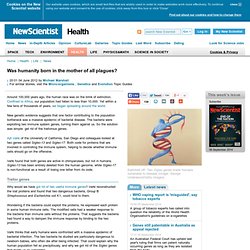 Around 100,000 years ago, the human race was on the brink of extinction. Confined to Africa , our population had fallen to less than 10,000. Yet within a few tens of thousands of years, we began spreading around the world . New genetic evidence suggests that one factor contributing to the population bottleneck was a massive epidemic of bacterial disease. The bacteria were exploiting two immune system genes, turning them against us. So the solution was simple: get rid of the traitorous genes.
Was humanity born in the mother of all plagues? - health - 04 June 2012
Chinese human fossils unlike any known species - life - 14 March 2012
And so it begins. For years, evolutionary biologists have predicted that new human species would start popping up in Asia as we begin to look closely at fossilised bones found there . A new analysis of bones from south-west China suggests there's truth to the forecast. The distinctive skull (pictured, right) was unearthed in 1979 in Longlin cave, Guangxi Province, but has only now been fully analysed. It has thick bones, prominent brow ridges, a short flat face and lacks a typically human chin. "In short, it is anatomically unique among all members of the human evolutionary tree," says Darren Curnoe at the University of New South Wales in Sydney, Australia.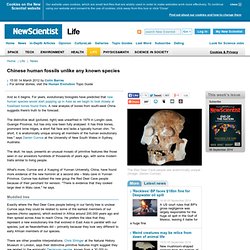 Evolution Takes Asian Refuge
Ancient Human Had Feet Like an Ape [Video]
Evolution :: News :: March 29, 2012 :: :: Email :: Print A recently discovered fossil foot hints that tree-dwellers lived alongside species built for walking By Brian Switek and Nature magazine Researcher Stephanie Melillo holds the fourth metatarsal of the Burtele partial foot right after its discovery.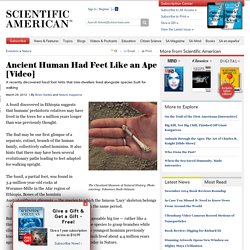 New Ancestor Grasped At Walking
Evolution :: Web Exclusives :: March 20, 2012 :: :: Email :: Print Could a recently discovered species from South Africa be the ancestor of us all? By Kate Wong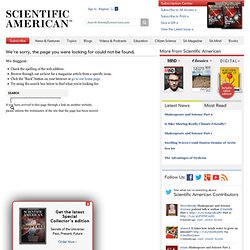 Field Notes: A Visit to an Early Human Death Trap [Videos and Slide Show]
First of Our Kind: Could Australopithecus sediba Be Our Long Lost Ancestor?
Evolution :: Feature Articles :: March 20, 2012 :: :: Email :: Print See Inside Sensational fossils from South Africa spark debate over how we came to be human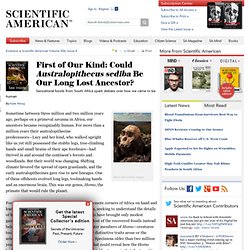 Fossils from two human ancestors suggest diversity in gait, stance By Bruce Bower Web edition: April 16, 2012 Print edition: May 19, 2012; Vol.181 #10 (p. 14) Enlarge
Ancient Walking Gets Weirder
You Have Grandpa's Chromosome Tips