Evolution vs Creationism
Get flash to fully experience Pearltrees
Creationists argue that evolution is "only a theory and cannot be proven." As used in science, a theory is an explanation or model based on observation, experimentation, and reasoning, especially one that has been tested and confirmed as a general principle helping to explain and predict natural phenomena. Any scientific theory must be based on a careful and rational examination of the facts. A clear distinction needs to be made between facts (things which can be observed and/or measured) and theories (explanations which correlate and interpret the facts. A fact is something that is supported by unmistakeable evidence. For example, the Grand Canyon cuts through layers of different kinds of rock, such as the Coconino sandstone, Hermit shale, and Redwall limestone.
The new year is bringing new controversy over teaching evolution in public schools, with two bills in New Hampshire seeking to require teachers to teach the theory more as philosophy than science. Meanwhile, an Indiana state senator has introduced a bill that would allow school boards to require the teaching of creationism . New Hampshire House Bill 1148 would "require evolution to be taught in the public schools of this state as a theory, including the theorists' political and ideological viewpoints and their position on the concept of atheism ."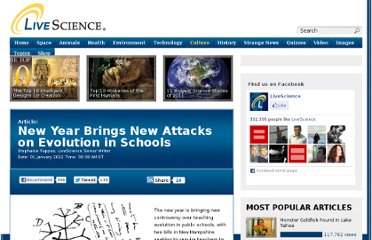 Introduction to Evolutionary Biology Version 2 Copyright © 1996-1997 by Chris Colby [Last Update: January 7, 1996] volution is the cornerstone of modern biology. It unites all the fields of biology under one theoretical umbrella.
Copyright © 1993-2002 [Last Update: January 22, 1993] hen non-biologists talk about biological evolution they often confuse two different aspects of the definition.