Atom Z60 Media Coverage
Intel Wrestles ARM For Smartphone Markets With Latest Atom. Posted by Tom Foremski - May 5, 2010 Intel today announced a new Atom processor with lower platform power use with support for high performance graphics targeted at smartphone and tablet use.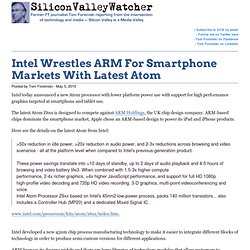 The latest Atom Z6xx is designed to compete against ARM Holdings, the UK chip design company. Intel Launches Atom CPU For Smartphones -- Processors -- Informa. The Z6 low-power processor was released alongside Intel's Moorestown smartphone platform.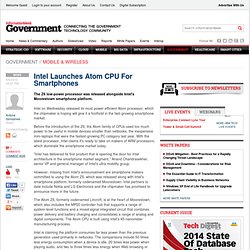 Intel on Wednesday released its most power-efficient Atom processor, which the chipmaker is hoping will give it a foothold in the fast-growing smartphone market. Before the introduction of the Z6, the Atom family of CPUs used too much power to be useful in mobile devices smaller than netbooks, the inexpensive mini-laptops that were the fastest-growing PC category last year.
With the latest processor, Intel claims it's ready to take on makers of ARM processors, which dominate the smartphone market today. New Intel Atom Z6xx To Power Handheld and Tablets. Intel has announced its new platform includes an Intel Atom Processor (Z6xx Series), the Controller Hub MP20 and a dedicated Mixed Signal IC (MSIC).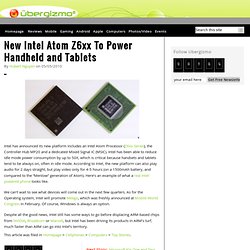 Intel has been able to reduce idle mode power consumption by up to 50X, which is critical because handsets and tablets tend to be always on, often in idle mode. According to Intel, the new platform can also play audio for 2 days straight, but play video only for 4-5 hours (on a 1500mAh battery, and compared to the "Menlow" generation of Atom). Here's an example of what a real Intel-powered phone looks like. Intel takes on ARM with Atom chips for smartphones - V3.co.uk - Inside Intel's Atom Z600 series. The Atom processor was something of a surprise success for Intel.
The company expected its product to succeed, of course, but perhaps not in the manner it did. When we first visited the Atom's Austin, Texas-based design team, the spotlight was firmly affixed on the low-power Menlow platform. Intel expected Menlow to find its way into several different sorts of handheld mobile devices, including GPS receivers and portable game players. Most notably of all, it hoped to see a new category of Atom-based products, variously called ultra-mobile PCs (UMPCs) and mobile Internet devices (MIDs), become a consumer favorite. Intel's Powerful New Atom: Can it Beat ARM or Topple Apple? Will. This week Intel brought out a powerful new Atom processor that, according to them, could fit into an iPhone form, is vastly more powerful with similar battery life, and is priced competitively.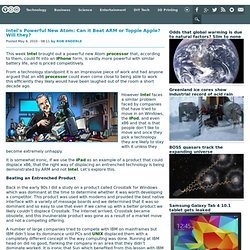 From a technology standpoint it is an impressive piece of work and had anyone argued that an x86 processor could even come close to being able to work this efficiently they likely would have been laughed out of the room a short decade ago. However Intel faces a similar problem faced by companies that have tried to move in on Windows, the iPod, and even x86 and that is that people don't like to move and once they pick a technology they are likely to stay with it unless they become extremely unhappy. It is somewhat ironic, if we use the iPad as an example of a product that could displace x86, that the right way of displacing an entrenched technology is being demonstrated by ARM and not Intel.
Intel Takes on ARM for Mobile Processor Market - PCWorld Busines. Intel is virtually synonymous with processor technology.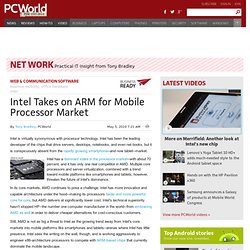 Intel has been the leading developer of the chips that drive servers, desktops, notebooks, and even net books, but it is conspicuously absent from the rapidly growing smartphone--and now tablet--market. Intel has a dominant stake in the processor market--with about 70 percent, and it has only one real competitor in AMD. New Intel Atom is aimed at tablets and smartphones | Technology. The new Intel Atom Processor Z6xx Series Family (formerly "Lincroft" SoC) and Intel Platform Controller Hub MP20 (formerly "Langwell") Photograph: Nick Knupffer Intel has launched a new version of its Atom processor that uses far less power and "prepares the company to target a range of computing devices, including high-end smartphones, tablets and other mobile handheld products," said Intel.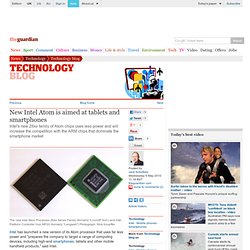 Belli Kuttanna, chief Intel Atom processor architect, said: "After we delivered the first-generation Intel Atom processor with 10x thermal power reduction, we challenged ourselves to achieve 50x power reduction at the platform level. " Intel Introduces Ultra-Low-Power Processor for Smartphones | Gad. After a few false starts, Intel is making yet another attempt to get inside smartphones by launching a new Atom processor designed specifically for mobile devices.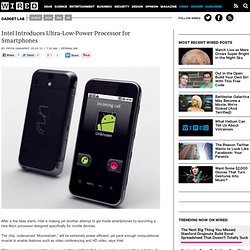 The chip, codenamed "Moorestown," will be extremely power efficient, yet pack enough computational muscle to enable features such as video conferencing and HD video, says Intel. "This is our second-generation, low-power Atom platform that can exceed our competition in terms of power and performance," says Anand Chandrasekher, Intel senior vice president and general manager of the Ultra Mobility Group. Intel launches chip for smartphones, tablets | Nanotech - The Ci. Intel on Tuesday announced its long-awaited Atom chip for smartphones and tablets, a crowded market populated by a host of formidable rivals--unlike the PC market where it dominates.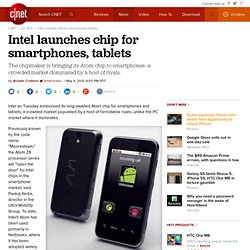 Previously known by the code name "Moorestown," the Atom Z6 processor series will "open the door" for Intel chips in the smartphone market, said Pankaj Kedia, director in the Ultra Mobility Group. To date, Intel's Atom has been used primarily in Netbooks, where it has been adopted widely by all major PC makers and been an unqualified hit. "The specific focus of Moorestown is entering the smartphone segment but it also does very well, it scales very well in the tablet segment," Kedia said. The entire package of chips is composed of the Atom Z6 series system-on-a-chip and two accompanying pieces of silicon. Intel takes aim at mobile devices with Atom update. By Benjamin Pimentel, MarketWatch SAN FRANCISCO (MarketWatch) - Intel Corp. on Wednesday unveiled a new version of its Atom chip, raising the stakes in its bid to establish a bigger footprint in smartphones and tablets, the hottest segments of the consumer tech arena.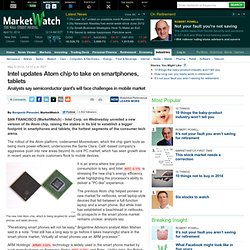 The rollout of the Atom platform, codenamed Moorestown, which the chip giant touts as being more power-efficient, underscores the Santa Clara, Calif. -based company's aggressive push into new areas beyond its core PC market, which has seen growth slow in recent years as more customers flock to mobile devices. Intel The new Intel Atom chip, which is being targeted for smart phones and tablet devices. Intel Atom Z600 promises 1080p for smartphones, tablets | Electr. Intel Moorestown finally launches as Atom Z600 Intel today at last launched its first Atom processor designed for smartphones and tablets. Once known as Moorestown, the Z600 and its companion MP20 hub are much more power efficient than regular Atom chips, especially in low-demand situations. It gets a strictly average 4-5 hours of battery life for cellular browsing or video viewing but over 10 days of standby and about 2 days of audio.
The chipmaker also claims much better performance than a typical smartphone, with about 1.5 to 3 times more raw computing power as well as a GMA 600 graphics core that supplies more visual details through OpenGL ES 2.0 and hardware video acceleration. It can record video at 720p and play it back at 1080p. New Intel Atom smashes ARM; Moorestown SoC unveiled - Computerwo. By Richi Jennings. May 5, 2010. Intel has pulled the wraps off its second generation Atom platform. Codenamed Moorestown, it's a speedy, yet ultra-low power system-on-a-chip design, aimed at smartphones and tablets. New Atom Z6 Positions Intel for Phone, Tablet Push | News & Opin. Intel's Atom processor revolutionized the computer industry a few years ago when it essentially created a new category of systems: the netbook. Lightning can't strike twice today with Intel's announcement of its new Atom Z6 processor and supporting platform, as the kinds of systems they're designed to drive—smartphones and tablets—are already well established in the market.
But the CPU does signal Intel's serious intention to dominate mobile the way it does traditional PCs.
---