Evernote
Web. Considering the Creative Use of Evernote | Static Made. Considering the Creative Use of Evernote There's been quite a bit of attention thrown the way of Evernote during the past few days.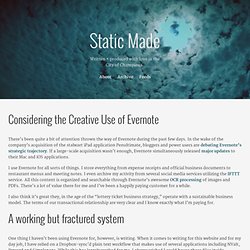 In the wake of the company's acquisition of the stalwart iPad application Penultimate, bloggers and power users are debating Evernote's strategic trajectory. If a large-scale acquisition wasn't enough, Evernote simultaneously released major updates to their Mac and iOS applications. I use Evernote for all sorts of things. I store everything from expense receipts and official business documents to restaurant menus and meeting notes. Evernote For Dummies Cheat Sheet. Cheat Sheet Increase productivity with Evernote software; it's an easy and efficient way to organize your home, work, or school life.
Regardless of the computer or portable device you use, whether Windows or Mac, Evernote enables you to turn text, pictures, audio messages, checklists, scanned documents, and just about anything else you can imagine into stored notes. Evernote's Keyboard Shortcuts for Windows PCs Evernote handily organizes your information, but you can do it even faster with keyboard shortcuts. Here are some basic Evernote shortcut keys to speed up your organization. Evernote for Dummies: Kidmin Edition | Just Frank Talk. I've been using Evernote for two years and I'm a believer.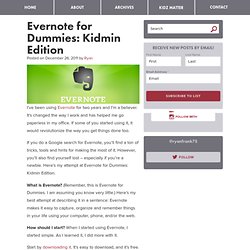 It's changed the way I work and has helped me go paperless in my office. If some of you started using it, it would revolutionize the way you get things done too. 10 Tips On How to Use Evernote To Its Fullest « The Solopreneur Life® This is a guest post written by Claudine Motto, who is a business coach, productivity consultant, and owner of Business in Blossom.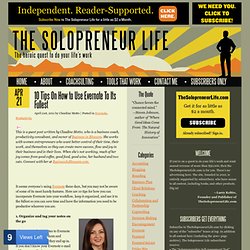 She works with women entrepreneurs who want better control of their time, their work, and themselves so they can create more success, flow and joy in their business and in their lives. When she's not working, much of her joy comes from good coffee, good food, good wine, her husband and two cats. Jamie Todd Rubin. Digitize instruction manuals and use QR codes to find them in context. Now that I've described the tools I use to go paperless, discussed my process for spending 10 minutes/day going digital, and talked about ways to secure and protect your digital file cabinet, I thought it would be useful for some practical tips that makes use of some or all of the above.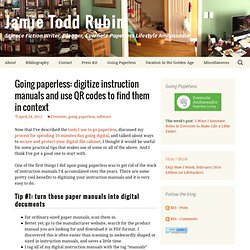 And I think I've got a good one to start with. One of the first things I did upon going paperless was to get rid of the stack of instruction manuals I'd accumulated over the years. There are some pretty cool benefits to digitizing your instruction manuals and it is very easy to do. 3 tools of the trade. This is the first post in my new series of weekly tips on going paperless.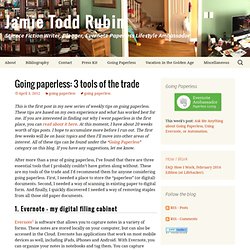 These tips are based on my own experience and what has worked best for me. If you are interested in finding out why I went paperless in the first place, you can read about it here. At this moment, I have about 20 weeks worth of tips posts. ScanNote.com. Evernote tips, tricks and how to's. 100 Different Evernote Uses - Andrew Maxwell. Take a photo of your contacts measurements and save them to your personal notebook.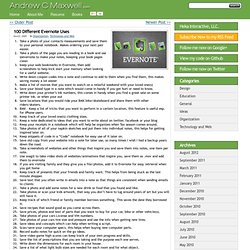 Seven Deadly Sins: Evernote Tips You Should Avoid. Evernote provides a cloud-based note taking and clipping service that lets you store information for access from any Web-connected device.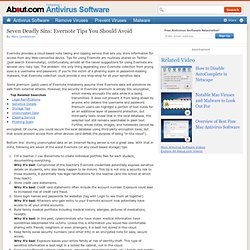 Tips for using Evernote are routinely shared on Twitter (just search #evernotetip). Unfortunately, amidst all the clever suggestions for using Evernote are several very risky tips. The problem: the only thing separating your Evernote collection from prying eyes is a username and password. HP Photosmart D110A All in One Printer and Evernote | Carlos M Bedia. Meeting Over Coffee to Get Organized With Evernote | SOHO Tech Training.
Last week, I facilitated a live variation of my virtual "Coffee Talk" and Meetup about Evernote.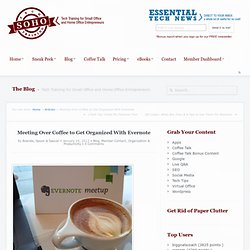 I am asked about this awesome product a lot, and recommend it to clients on a regular basis. For solopreneurs, this is one of the most powerful information organization tools available. I am a user, and the "Organization Ambassador". They really should include "Evangelist" in that title. ;) Twitter = Instant Memories. Now you can send your tweets directly into Evernote.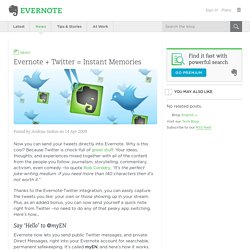 Why is this cool? Because Twitter is chock-full of great stuff. Evernote. Clearly. Evernote Meetups Everywhere. 10 Great Ways to Use Evernote. Advertisement Evernote is a free tool for your computer, cell phone, iPhone and online that allows you to collect and store information from just about anywhere and access it from just about everywhere. Your information is synced across platforms, too. It is easy to look at Evernote and wonder, "What am I going to do with all of this white space!" But, I believe if you think of Evernote like a regular notebook, you can make great use of it and begin to improve your life. Let's find out the best ways to use Evernote to get the most out of it. Ten Steps Evernote Can Take Toward Perfection. After Google announced the demise of their awesome Notebook product, I was pretty bummed.
In the aftermath, I looked at a few other tools, but I've mostly been using Evernote. I haven't been totally happy about it, though. As I said my earlier post reviewing Evernote's Google Import utility: Overall, I think Evernote has done a nice job … and it's definitely a strong contender to replace Google Notebook as my app of choice. Next week, I'll let you know why I'm withholding my full endorsement.
Evernote News. Evernote Alternatives and Similar Software. Simplenote. An easy way to keep notes, lists, ideas, and more. How to Organize Your Life with Springpad. Hmmm. Their Terms of Use states... "Springpad does not claim ownership of any Content you submit or make publicly available for inclusion in Springpad ("User Submitted Content") and you retain all of the rights you had in your User Submitted Content before you submitted it.
" iPad Apps That Work With Evernote. How to Organize Evernote for Maximum Efficiency. How to Get Your Stuff into Evernote. How to Get Your Kindle Highlights into Evernote. Evernote welcomes Google Notebook users with import utility. 7 Evernote Resources You May Not Know About. Using a Traditional Paper Notebook with Evernote.
A Better Filing System for Public Speakers (and Writers) How to Email Your Documents Directly to Evernote. How to Use Evernote with an iPad to Take Meeting Notes. Evernote templates apps iPhone, iPad APP. How to Scan Documents Directly into Evernote. How To Export Your Data Out Of Evernote. Exporting your stuff from Evernote | Ben Stewart. How to configure your HP Photosmart Printer to scan directly to Evernote? Is Your Data Safe in Evernote? How to Use Evernote as a Blogger.
How to Find Your Stuff in Evernote. Colorstache | Search Your Evernote Archives by Color, with Style. Ron's Evernote Tips.
---