2011
As Welfare State Collapses, Greeks Suffer and Fear Future. Eirini Vourloumis for The New York Times Boxes of papers in the tax office in the Pireaus district of Athens.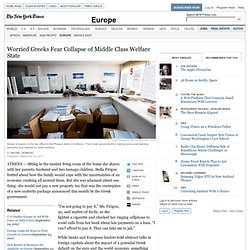 The Greek government is raising taxes and slashing pensions and salaries for state workers. "I'm not going to pay it," Ms. Firigou, 50, said matter-of-factly, as she lighted a cigarette and checked her ringing cellphone to avoid calls from her bank about late payments on a loan. Greece under pressure as finance ministers put brakes on bailout payment | Business. European finance ministers on Friday heaped pressure on the Greek government to accelerate its privatisation programme and implement deeper spending cuts, after they told Athens a crucial €8bn (£6.9bn) bailout payment would be delayed until next month.
Luxembourg prime minister Jean-Claude Juncker, who chaired a meeting of the eurogroup of single currency finance ministers in Poland on Friday, said officials recognised the renewed efforts by Greece to meet its fiscal targets, but a decision on releasing the next tranche of cash would not be taken until October. The move was met with incredulity by Greek officials. They have already warned they will be out of money by mid-October and are reported to be making contingency plans to lay off public sector workers. The US treasury secretary, Tim Geithner, who flew to Poland on Friday to emphasise Washington's fears of a second financial meltdown, urged eurozone countries to expand their bailout fund to better tackle the debt crisis.
Greek despair over further cuts sees suicide and crime rates on the rise | World news | The Observer. It is 11pm.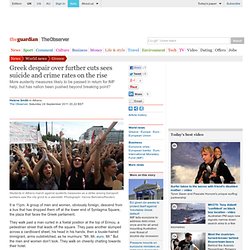 A group of men and women, obviously foreign, descend from a bus that has dropped them off at the lower end of Syntagma Square, the plaza that faces the Greek parliament. They walk past a man curled in a foetal position at the top of Ermou, a pedestrian street that leads off the square. They pass another slumped across a cardboard sheet, his head in his hands, then a tousle-haired immigrant, arms outstretched, as he murmurs: "Mr, Mr, euro, Mr. " But the men and women don't look. Greeks feel drip-drip torture of austerity. Keiser Report: The Greek Depression (E190) Protest sit-in blocks Greece bailout meeting - Europe. A protest sit-in by civil servants at the Greek transport ministry in Athens has forced international debt inspectors to reschedule a meeting where they were due to discuss reforms, including new licensing laws for taxis.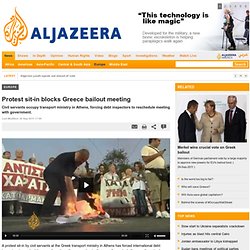 Yannis Ragoussis, the transport minister, was due to hold a meeting with inspectors from the European Central Bank, the International Monetary Fund and the European Union [collectively known as the troika] on Friday morning, but found the building under occupation by protesting employees. A similar meeting with Evangelos Venizelos, the Greek finance minister, was moved to a different government building on Thursday after that venue was also occupied. Protesting civil servants continued to guard the entrance to the finance ministry on Friday morning, spraying the words "They shall not pass" across drawn-down metal shutters. The inspectors' meeting at the transport ministry was pushed back to 6:00pm local time (15:00GMT), a ministry official told the Reuters news agency. Greece due to unveil plan to sack state workers. Hit by crisis, Greeks turn to barter networks. Greece Approves $8.8 Billion in Austerity. The Greek government said it passed a new budget backed by its international creditors, including larger deficits than previously forecast, as the country moves closer to securing an 8 billion-euro ($10.7 billion) aid payout needed to avoid default.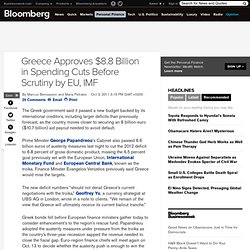 Prime Minister George Papandreou's Cabinet also passed 6.6 billion euros of austerity measures last night to cut the 2012 deficit to 6.8 percent of gross domestic product, missing the 6.5 percent goal previously set with the European Union, International Monetary Fund and European Central Bank, known as the troika. Finance Minister Evangelos Venizelos previously said Greece would miss the targets. The new deficit numbers "should not derail Greece's current negotiations with the troika," Geoffrey Yu, a currency strategist at UBS AG in London, wrote in a note to clients.
Pain of debt crisis felt on Greek streets - Europe. Greece has enough money to pay pensions, workers' salaries and bondholders through mid-November, the country's finance minister said on Tuesday.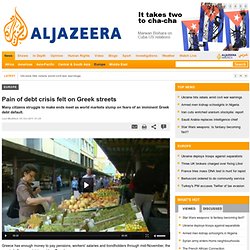 The statement came as world stock markets slumped on fears of an imminent Greek debt default, which could bring down European banks and trigger another global recession. The Athens Stock Exchange general index tumbled by 6.3 per cent, while the main Europe markets fell almost three per cent. Jonah Hull reports from Athens, Greece's capital, on how ordinary Greeks are feeling much of the economic pain of the debt crisis. Greece paralyzed by 24-hour strike by civil servants. Updated 2011-10-05 1:57 PM Police detain a demonstrator during a protest rally marking the 24-hour general strike today in Athens, Greece.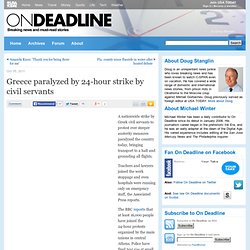 By Louisa Gouliamaki, AFP/Getty Images A nationwide strike by Greek civil servants to protest ever steeper austerity measures paralyzed the country today, bringing transport to a halt and grounding all flights. World financial crises visualised: how does Greece's debt restructuring compare? | News. Meanwhile Greece Just Bought 400 Tanks From The US. 5 October, 2011, 19:39.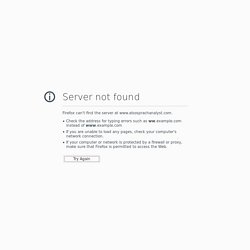 Posted by ZarathustraTags: Economy, Europe, Greece, Military, United States, WTF While the sickeningly bored European debt crisis continues with Greece possibility running out of money within weeks, and with the European banking system on the brink of collapse, and European politicians having no idea what they are doing, there is a small piece of comedy. Although probably a dark one. General strike brings Greece to a standstill as public sector closes down | Business. Greece edged deeper into chaos as workers brought the country to a standstill with a general strike.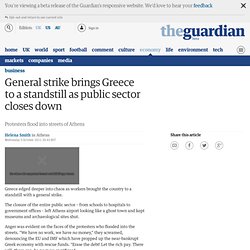 The closure of the entire public sector – from schools to hospitals to government offices – left Athens airport looking like a ghost town and kept museums and archaeological sites shut. Anger was evident on the faces of the protesters who flooded into the streets. Merkel wins crucial vote on Greek bailout - Business.
German Chancellor Angela Merkel has won a major vote in the Bundestag after deputies approved new powers for the European Union's bailout fund.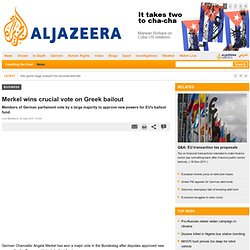 The vote in the lower house on expanding the $599bn bailout fund had been seen as a crucial test of Merkel's authority amid fears of a major backbench rebellion. Among the 611 deputies present, 523 approved the measure, 85 voted against it and three abstained. Only 15 deputies from her centre-right coalition voted against the measure or abstained after threats of a major backbench rebellion which would have delivered a stinging blow to her political authority.
Traders and European partners had been on tenterhooks before the vote as Germany, the eurozone paymaster, became the 11th country among the 17 using the euro to agree to boost the scope and size of the fund, called the EFSF. Most European and US stock markets rose on Thursday in response to the Bundestag vote. Greece's Urgency Challenges European Union Efforts.
---