ESS
You can create your own Social Ribbons with Social Ribbon Generator . These created social ribbons can be embedded on your site which will be visible to your visitors. This is surely going to help you to be more social.
Create your own Twitter, Facebook, MySpace or YouTube Ribbons with Social Ribbon Generator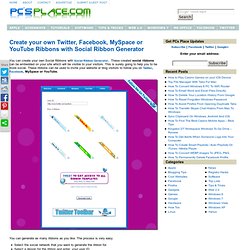 Festivals et Appels à Projets
nautes cinéphiles
Pourquoi ce blog? « . . . . .Léa point com' solidaire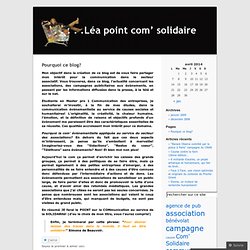 Mon objectif dans la création de ce blog est de vous faire partager mon intérêt pour la communication dans le secteur associatif. Vous trouverez, dans ce blog, l'actualité concernant les associations, des campagnes publicitaires aux évènements, en passant par les informations diffusées dans la presse, à la télé et sur le net. Etudiante en Master pro 1 Communication des entreprises, je souhaiterai m'investir, à la fin de mes études, dans la communication évènementielle au service de causes sociales et humanitaires!
E-changeons
Le Blog de David Gau
Réseau Eco-Génération
Cress Centre
Gmail - Liste emplois de Coordination SUD - manuella.rubio