Environmental Sustainability
Get flash to fully experience Pearltrees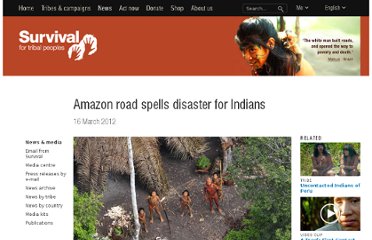 The proposed road threatens some of the world's last uncontacted tribes in Brazil and Peru. © Survival Peru's largest protected area is on the verge of being invaded by a road, which threatens to destroy the lives of thousands of indigenous people . The proposed project would cut through two indigenous reserves and a national park, exposing thousands of Indians to the risks of drug trafficking, illegal logging and unwanted contact. It would also place some of the world's last uncontacted tribes , who live in the government-protected area, in direct and immediate danger.
Ron Swenson, President, EcoSystems Contact The world is about to experience a real "energy crisis," likely to be a calamity unparalleled in human history. As global environmental crises mount, increasing the demand for energy resources, we will be confronted with a rapid decrease in availability of oil, the cheap resource which has fueled the rise of the modern economy and the information age. We will be forced, in a very short time, to abandon the oil economy. Like communities all around the world, Santa Cruz has urgent needs for better transportation, and the choices are to begin again using the existing rail line or to expand the roadways.
The United States Department of Agriculture's Council for Native American Farming and Ranching (CNAFR) was created to advise the Secretary on ways to eliminate barriers to participation for Native American Farmers and Ranchers in USDA programs.