Alternative financing
How I Raised $350k as a Solo Founder using these 4 Email Templates. Bootstrapped, Profitable and Proud. Our Bootstrapped, Profitable, & Proud series profiles companies that have over one million dollars in revenues, didn't take VC, and are profitable.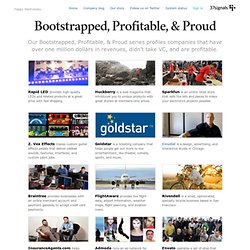 Rapid LED provides high-quality LEDs and related products at a great price with fast shipping. Huckberry is a web magazine that introduces you to unique products with great stories at members-only prices. Sparkfun is an online retail store that sells the bits and pieces to make your electronics projects possible. Z. Guest post: On Bootstrapping (yes, it exists) This is a guest post by Duane Jackson.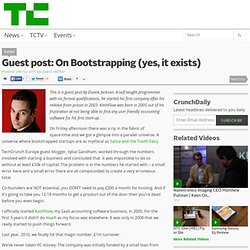 A self-taught programmer with no formal qualifications, he started his first company after his release from prison in 2003. KashFlow was born in 2005 out of his frustration at not being able to find any user friendly accounting software for his first start-up. On Friday afternoon there was a rip in the fabric of space-time and we got a glimpse into a parallel universe. A universe where bootstrapped startups are as mythical as Santa and the Tooth Fairy.
---