CompstoWorkFor
Staples' Successful, Uncomplicated Strategy
The Happiest Companies For Young Professionals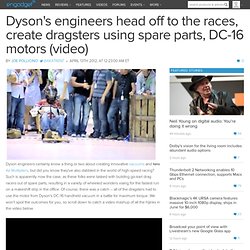 Dyson engineers certainly know a thing or two about creating innovative vacuums and fansAir Multipliers, but did you know they've also dabbled in the world of high-speed racing? Such is apparently now the case, as these folks were tasked with building go-kart drag racers out of spare parts, resulting in a variety of wheeled wonders viaing for the fastest run on a makeshift strip in the office. Of course, there was a catch -- all of the dragsters had to use the motor from Dyson's DC-16 handheld vacuum in a battle for maximum torque. We won't spoil the outcomes for you, so scroll down to catch a video mashup of all the hijinks in the video below. Comments
Dyson's engineers head off to the races, create dragsters using spare parts, DC-16 motors (video)
Ford to set up shop in Silicon Valley
Recently Ford announced it will make the trek out west and set up a research facility in Palo Alto, California. The new Silicon Valley Lab will represent a brand new adventure for Ford. While the American automaker has similar research facilities across the globe, including Germany, China, and Israel, this will mark the first to be located on the West Coast. "We're delighted to announce that we've identified a location in downtown Palo Alto, a city that is clearly at the center of technological innovation," said Paul Mascarenas, Ford's chief technical officer and vice president of Research and Innovation. According to Mascarenas, the new Silicon Valley Lab will "help us innovate even faster as emerging ideas and technologies are a key part of the culture." The new lab will serve as a hub for independent technology projects, as well as provide an opportunity to develop and establish new research opportunities and partnerships along the West Coast.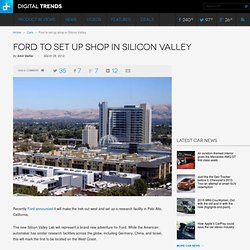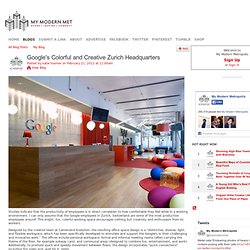 Studies indicate that the productivity of employees is in direct correlation to how comfortable they feel while in a working environment. I can only assume that the Google employees in Zurich, Switzerland are some of the most productive employees around! This bright, fun, colorful working space encourages nothing but creativity and enthusiasm from its workers. Designed by the creative team at Camenzind Evolution, the resulting office space design is a "distinctive, diverse, light, and flexible workspace, which has been specifically developed to stimulate and support the Googlers in their challenging and innovative work." The offices include personal workspace, formal and informal meeting rooms (often carrying the theme of the floor, for example subway cars), and communal areas (designed to combine fun, entertainment, and work).
Google's Colorful and Creative Zurich Headquarters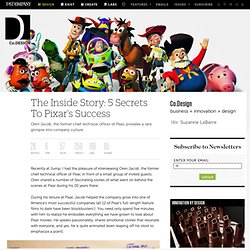 Recently at Jump, I had the pleasure of interviewing Oren Jacob, the former chief technical officer of Pixar, in front of a small group of invited guests. Oren shared a number of fascinating stories of what went on behind the scenes at Pixar during his 20 years there. During his tenure at Pixar, Jacob helped the company grow into one of America's most successful companies (all 12 of Pixar's full-length feature films to date have been blockbusters!). You need only spend five minutes with him to realize he embodies everything we have grown to love about Pixar movies. He speaks passionately, shares emotional stories that resonate with everyone, and yes, he is quite animated (even leaping off his stool to emphasize a point).
The Inside Story: 5 Secrets To Pixar's Success
Beyond the Best Buy Outcry
Starbucks Shouldn't Take Customers For Granted