EnergyRevolution
Top 50 VC-Funded Greentech Startups
Venture capital firms have invested almost $20 billion into hundreds of greentech startups since 2005. All of these firms are looking to launch a disruptive force into their target markets, scale rapidly and grow quickly. Very few of these firms will actually make it. We put our energy analysts, reporters and editors to the task of picking fifty VC startups in greentech that have at least a fighting chance of succeeding as VC-funded start-ups and making an impact on our energy-intensive lives. Selection criteria: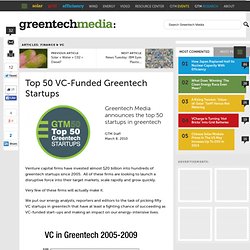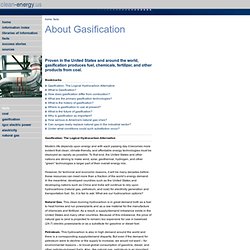 facts about gasification
Modern life depends upon energy and with each passing day it becomes more evident that clean, climate-friendly, and affordable energy technologies must be deployed as rapidly as possible. To that end, the United States and other nations are striving to make wind, solar, geothermal, hydrogen, and other "green" technologies a larger part of their overall energy mix. However, for technical and economic reasons, it will be many decades before these resources can meet more than a fraction of the world's energy demand. In the meantime, developed countries such as the United States and developing nations such as China and India will continue to rely upon hydrocarbons (natural gas, petroleum, and coal) for electricity generation and transportation fuel. So, it is fair to ask: What are our hydrocarbon options? Natural Gas.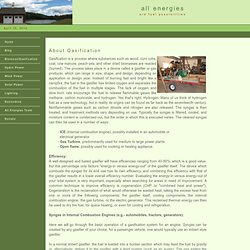 Gasification is a process where substances such as wood, corn cobs, coal, cow manure, peach-pits, and other dried biomasses are reacted (burned). The process takes place in a device called a gasifier or gas producer, which can range in size, shape, and design, depending on application or design year. Instead of burning fast and bright like a campfire, the fuel in the gasifier has limited oxygen and separates the combustion of the fuel in multiple stages.
About Gasification and Wood Gas
Biomass Energy Foundation: Gasification
2.4 Gasification fuels
2.4.1 Need for selection of the right gasifier for each fuel 2.4.2 Energy content of the fuel 2.4.3 Moisture content of the fuel 2.4.4 Volatile matter content of the fuel 2.4.5 Ash content and ash chemical composition 2.4.6 Reactivity of the fuel 2.4.7 Particle size and size distribution 2.4.8 Bulk density of the fuel 2.4.9 Charring properties of the fuel 2.4.10 Assessment of the suitability of various types of biomass as gasifier fuel 2.4.1 Need for selection of the right gasifier for each fuel Biomass fuels available for gasification include charcoal, wood and wood waste (branches, twigs, roots, bark, woodshavings and sawdust) as well as a multitude of agricultural residues (maize cobs, coconut shells, coconut husks, cereal straws, rice husks, etc.) and peat.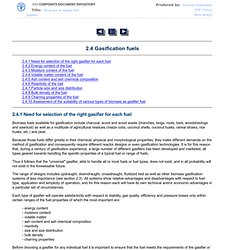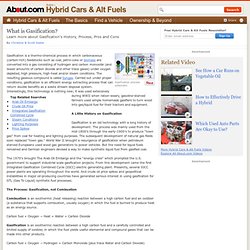 Gasification - What is Gasification - Gasification systems
Gasification is a thermo-chemical process in which carbonaceous (carbon-rich) feedstocks such as coal, petro-coke or biomass are converted into a gas consisting of hydrogen and carbon monoxide (and lesser amounts of carbon dioxide and other trace gases) under oxygen depleted, high pressure, high-heat and/or steam conditions. The resulting gaseous compound is called Syngas. Carried out under proper conditions, gasification is an efficient energy extracting process that can return double benefits as a waste stream disposal system.
Israeli desalination technology creates green energy in China - April 2011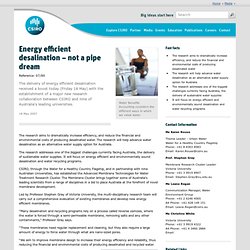 Energy efficient desalination – not a pipe dream (Media Release)
Water Benefits Accounting considers the different ways in which we value water. The delivery of energy efficient desalination received a boost today (Friday 18 May) with the establishment of a major new research collaboration between CSIRO and nine of Australia's leading universities. The research aims to dramatically increase efficiency, and reduce the financial and environmental costs of producing desalinated water. The research will help advance water desalination as an alternative water supply option for Australia.
Everyday grass could provide green fuel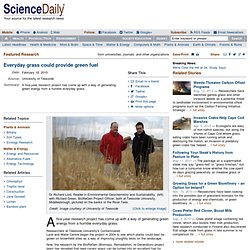 A five-year research project has come up with a way of generating green energy from a humble everyday grass. Researchers at Teesside University's Contaminated Land and Water Centre began the project in 2004 to see which plants could best be grown on brownfield sites as a way of improving unsightly blots on the landscape. Now, the research by the BioReGen (Biomass, Remediation, re-Generation) project team has revealed that reed canary grass can be turned into an excellent fuel for biomass power stations and, on a smaller scale, boilers in buildings like schools. The native British grass is turned into bricks and pellets.
NPR has a good, quick introduction to switch grass, which snuck its way into this week's State of the Union address as an example of a new energy technology available to help replace oil imports. Thus far, it has been far enough under the radar that TreeHugger hasn't covered it; so what is it, and how does it work? David Bransby, a Professor of Energy Crops at Auburn University, enlighted us. Here are the highlights: it grows eight or nine feet tall, native to the US. Generally, it's very hearty and will grow in nearly any climatic variation, from the Gulf Coast into Canada.
Switch Grass: Fuel for the Future?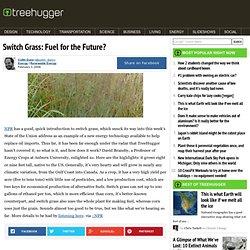 "Grass Gas" Shows Promise as Superefficient, Clean Fuel
Ethanol made from a prairie grass shows promise as a viable fuel that could be much more environmentally friendly and energy-efficient than corn ethanol, a new study says. Ethanol is often touted as a cleaner-burning gasoline alternative that lessens dependence on oil. ( Get the basics on greenhouse gases and global warming. ) But a key criticism of the biofuel is that large amounts of fossil fuels are required to farm and refine it.
Turning Seaweed into the Fuel of the Future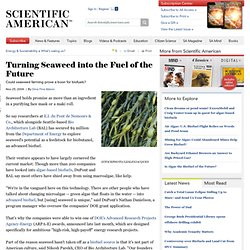 Seaweed holds promise as more than an ingredient in a purifying face mask or a maki roll. So say researchers at E.I. du Pont de Nemours & Co., which alongside Seattle-based Bio Architecture Lab (BAL) has secured $9 million from the Department of Energy to explore seaweed's potential as a feedstock for biobutanol, an advanced biofuel. Their venture appears to have largely cornered the current market. Though more than 200 companies have looked into algae-based biofuels, DuPont and BAL say most others have shied away from using macroalgae, like kelp. "We're in the vanguard here on this technology.
Turning seaweed into a fuel source could help ease competition on land for growing crops. Kelp and other seaweeds could be used for biofuel production. Kelp grows quickly and doesn't compete with food production like land-based biofuel crops do. So far, the difficulties of cultivating and harvesting kelp make it cost ineffective. Kelp and other seaweed could be biofuels of the future, avoiding competition with food crops for land and scarce freshwater resources -- limitations that plague land-based biofuel prospects.
Seaweed in the Fuel Tank?
UK | Scotland | Seaweed farms 'could fuel future'
Pilot seaweed and algae farms are needed to assess Scotland's marine biomass potential, experts have urged. The recommendation comes in a report on using biomass for heating and fuel while avoiding the use of valuable agricultural land. Scientists want to see pilot farms and research into the most energy-rich types of seaweed.
Clean and green: A Californian kelp forest. Credit: iStockphoto The dream of tackling climate change with biofuels has been tarnished by the rush to produce them on land. Not only are there serious environmental costs, including deforestation, water use, production of greenhouse gases, and energy-efficiency limitations, but there are also rising concerns about the effects on the world's poor. Already the price of food is being driven up as land is taken away from food production, increasing the cost of food and nutrition for those who can least afford it.
Let's use seaweed as fuel
'Green fuel' from seaweed could help solve energy crisis
Scottish Seaweed Offers Bio-Fuel Solution
Seaweed may fuel future energy demands › News in Science (ABC Science)
News in Science Friday, 15 July 2011 Jessica MarshallDiscovery News Aquatic biorefinery Kelp and other seaweed could be biofuels of the future, avoiding competition with food crops for land and scarce freshwater resources, say researchers. Researchers gathered at the Society for Experimental Biology meeting in Glasgow, Scotland heard how fast-growing cultivated kelp forests attached to offshore wind farms could provide the biofuels of the future.
Waste Management squeezes fuel from landfills | Green Tech
Trash collection giant Waste Management and the Linde Group petroleum engineering firm have partnered to create a plant that makes liquefied natural gas (LNG) from landfill gas, both companies announced this week. Linde designed and operates the plant which is located close to Waste Management's Altamont Landfill near Livermore, Calif. "The opening of the world's largest landfill-gas-to-LNG plant right here in California is a milestone and a testament to our commitment to reduce greenhouse gas emissions. Now that the technology has been proven, we look forward to seeing its adoption spread so more vehicles can run on garbage," Linda Adams, secretary of the California Environmental Protection Agency, said in a statement. Contrary to what might be inferred from Adams' enthusiastic sound bite, the project is not the utopistic dream of incinerating any old trash in a DeLorean for fuel, nor has either company claimed this.
American Recycler, July 2011 | Demand grows for natural gas waste hauling
Waste-to-Biofuels plant to make gas from garbage
Gas From Trash: Waste Management's Big Biofuel Play | BNET
From trash to gas: Waste gasification trumps incineration in Finland — Nordic Energy Solutions
Gas Waste Incinerators, Gas Flaring
Methane Fuel Gas from Livestock Wastes
Turning plant waste into fuel | The Uniter: Winnipeg's Weekly Urban Journal
Scotch whiskey waste fuels biomass plant
WASTE PLASTIC TECHNOLOGY
From Waste Biomass to Jet Fuel
Low-carbon aviation fuel comes from industrial waste gases
City power plant waste heat fuels district heating | Green Tech
Waste to Energy
U.S. Backs Plant to Make Fuel From Corn Waste
Food Waste is Fuel | InSource Energy Blog
Food waste: a new fuel for CHP in the US
Mayor unveils plans to turn London's food waste into eco-fuel | News | Sustainable Procurement | Action Sustainability
Fast Fuel from Food Waste in Six Days at New Tech Centre
Britain turning food waste into fuel
Fuel From Food Waste: Bacteria Provide Power
New facility to turn sludge into fuel for vehicles, speed up Lime Lake cleanup - Local
Israeli startup transforms sewage sludge into fuel | Environment
Piedmont Biofuels, Novozymes will turn sludge to fuel - Technology
From sludge to fuel
Sewage Sludge Biodiesel Costs Just 10¢ a Gallon More Than Petrol
BioPetrol Website
Sewage Sludge Turned into Biomass Fuel / Asia Biomass Energy Cooperation Promotion Office - Asia Biomass Office
Algae Could Solve World's Fuel Crisis
15 Algae Startups Bringing Pond Scum to Fuel Tanks — Cleantech News and Analysis
Magnetic Algae Will Reduce the Price of Biofuel
Ancient algae could become future biofuel source
Exploring Algae as Fuel
Oozing Biofuel: Algae Could Solve World's Fuel Crisis - SPIEGEL ONLINE - News - International
MIT persuades algae to make hydrogen fuel
Cultivating Algae for Liquid Fuel Production