OilExploration
Oilmen eye public lands far afield
"People are Dropping Dead" from BP Dispersants: Toxicologist (Treehugger) // Current
Florida Oil Spill Law
FRONTLINE: The Spill
Over the past decade, BP vaulted from an energy "also-ran" to one of the biggest companies in the world, gobbling up competitors in a series of mergers that delivered handsome profits for shareholders. But an investigation by FRONTLINE and the nonprofit newsroom ProPublica shows that BP's leadership failed to create a culture of safety in the massive new company.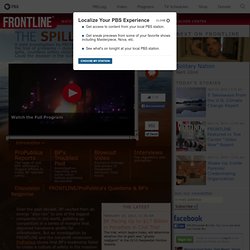 Visualizing the BP Oil Spill
Crude Awakening - USA
BP dispersants 'causing sickness' - Features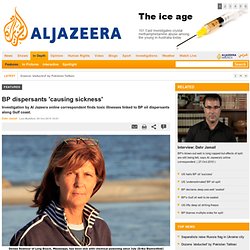 Two-year-old Gavin Tillman of Pass Christian, Mississippi, has been diagnosed with severe upper respiratory, sinus, and viral infections. His temperature has reached more than 39 degrees since September 15, yet his sicknesses continue to worsen. His parents, some doctors, and environmental consultants believe the child's ailments are linked to exposure to chemicals spilt by BP during its Gulf of Mexico oil disaster.