Elearning tools
Wisc online learning objects. Click on any of the category names on the left to see a list of sub-categories.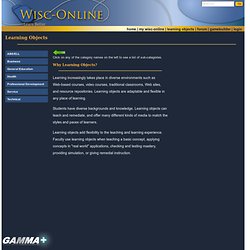 Why Learning Objects? Learning increasingly takes place in diverse environments such as Web-based courses, video courses, traditional classrooms, Web sites, and resource repositories. Learning objects are adaptable and flexible in any place of learning. The Resources - Paul's E-Learning Resources. LMS or CMS. SoundCloud - Share Your Sounds. Flexible Learning Toolboxes. Web2.0 tutorials. Other pages have been provided here for you to explore - just click on those from the navigation sidebar.
In some you'll find useful resources attached - scroll to the bottom of the page to access them. In each of the 'Lessons' you will find some information about the tools and some activities to help you practice how to use them. More of these will be added in 2011; access these from the navigation menu. New in March: Eportfolios. Hot Potatoes Home Page. eXe learning. The eXe project developed a freely available Open Source authoring application to assist teachers and academics in the publishing of web content without the need to become proficient in HTML or XML markup.
Resources authored in eXe can be exported in IMS Content Package, SCORM 1.2, or IMS Common Cartridge formats or as simple self-contained web pages. eXe grew out of the New Zealand Government Tertiary Education Commission's eCollaboration Fund and was led by the University of Auckland, The Auckland University of Technology, and Tairawhiti Polytechnic.
---