Google
Basic search help : Google search basics - Web Search Help. Learn a few tips and tricks to help you easily find information on Google.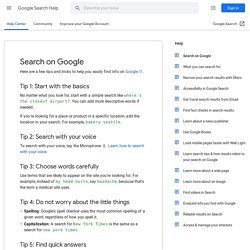 Tip 1: Keep it simple No matter what you're looking for, try to start with a simple search like [where's the closest airport?]. Search basics - Web Search Help. Rastreo, indexación y ranking - Ayuda de Webmasters. Technology overview ? Corporate Information ? About. Nous proposons une large gamme de services, aux particuliers comme aux entreprises.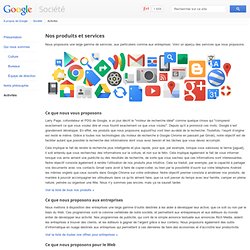 Voici un aperçu des services que nous proposons. Ce que nous vous proposons Larry Page, cofondateur et PDG de Google, a un jour décrit le "moteur de recherche idéal" comme quelque chose qui "comprend exactement ce que vous voulez dire et vous fournit exactement ce que vous voulez". Depuis qu'il a prononcé ces mots, Google s'est grandement développé. En effet, les produits que nous proposons aujourd'hui vont bien au-delà de la recherche.
---