Google
Learn a few tips and tricks to help you easily find information on Google. Tip 1: Keep it simple No matter what you're looking for, try to start with a simple search like [where's the closest airport?].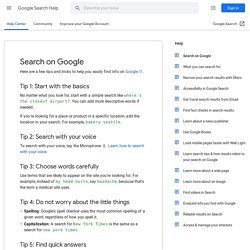 Rastreo, indexación y ranking - Ayuda de Webmasters
Forniamo una serie di servizi a persone e aziende. In questa sezione diamo un'idea di quello che offriamo. Cosa facciamo per te Larry Page, cofondatore e CEO, una volta ha descritto il "motore di ricerca perfetto" come qualcosa che "comprende esattamente cosa intendi e restituisce esattamente ciò che desideri". Da quando ha pronunciato queste parole Google è cresciuta offrendo prodotti che vanno oltre la ricerca, ma lo spirito di ciò che ha detto è sempre lo stesso. L'obiettivo di tutte le nostre tecnologie, dal servizio di ricerca a Chrome e Gmail, è semplificare il più possibile la ricerca delle informazioni che servono agli utenti e di consentire agli utenti di portare a termine ciò che desiderano.
Technology overview ? Corporate Information ? About