Google
Tip 1: Keep it simple No matter what you're looking for, try to start with a simple search. Add a few descriptive words if necessary.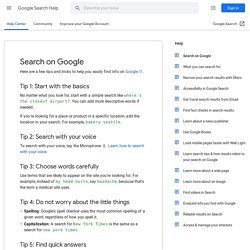 Rastreo, indexación y ranking - Ayuda de Webmasters
Forniamo una serie di servizi a persone e aziende. In questa sezione diamo un'idea di quello che offriamo.
Technology overview ? Corporate Information ? About