#Feb4
Dublin solidarity protest with the Egyptian people 4-02-2011. Rally in Marseille France #jan25 #egypt (Spartacus) [LIVE] Embarqués au Caire » Article » OWNI, Digital Journalism. En direct du Caire, Damien Spleeters suit l'évolution de la situation.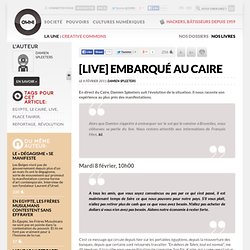 Il nous raconte son expérience au plus près des manifestations. Alors que Damien s'apprête à embarquer sur le vol qui le ramène à Bruxelles, nous clôturons sa partie du live. Nous restons attentifs aux informations de François Hien, ici. Cairo attacks continue; reporter dies from earlier shooting. AP photographer Khalil Hamra is injured in Tahrir Square on Thursday.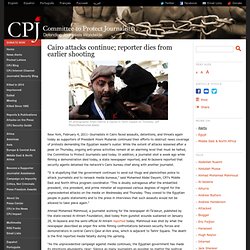 (AP Photo/Mohammed Abed) New York, February 4, 2011--Journalists in Cairo faced assaults, detentions, and threats again today as supporters of President Hosni Mubarak continued their efforts to obstruct news coverage of protests demanding the Egyptian leader's ouster. 2 Detained Reporters Saw Secret Police's Methods Firsthand. Reports-mubarak-granted-asylum-montenegro from rawstory.com. By David EdwardsFriday, February 4, 2011 12:11 EDT If Egyptian President Hosni Mubarak bows to pressure from demonstrators and leaves office immediately he may have a place to go.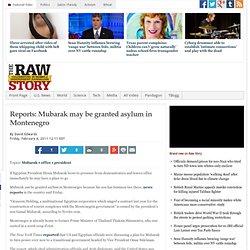 Mubarak can be granted asylum in Montenegro because his son has business ties there, news reports in the country said Friday. "Orascom Holding, a multinational Egyptian corporation which singed a contract last year for the construction of tourist complexes with the Montenegrin government" is owned by the president's son Gamal Mubarak, according to Novite.com. Montenegro is already home to former Prime Minister of Thailand Thaksin Shinawatra, who was ousted in a 2006 coup d'etat. The New York Times reported that US and Egyptian officials were discussing a plan for Mubarak to turn power over now to a transitional government headed by Vice President Omar Suleiman.
Images de la "journée du départ" à Alexandrie. Egypt unrest. Egypt (and Beyond) LiveBlog: A Big Day --- And Not Just in Cairo. 0107 GMT: Fox News reports that an assassination attempt on newly-appointed Vice President Omar Suleiman left two people dead this week.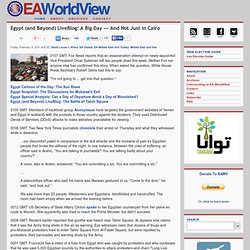 Neither Fox nor anyone else has confirmed this story. When asked the question, White House Press Secretary Robert Gibbs had this to say: "I'm not going to ... get into that question," Egypt Cartoon of the Day: The Sun Rises Egypt Snapshot: The Discussions for Mubarak's Exit Egypt Special Analysis: Can a Day of Departure Avoid a Day of Bloodshed? Egypt (and Beyond) LiveBlog: The Battle of Tahrir Square. Best_egypt_protest_signs_37.
Egypt's 'final push' protests begin - Middle East. Chants urging Hosni Mubarak, the Egyptian president, to leave office are reverberating across Cairo's Tahrir Square.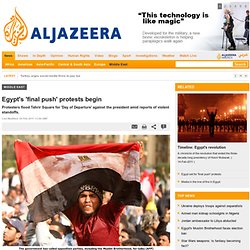 Hundreds of thousands of people have gathered at the square, the focal point of protests in Egypt, for what they have termed the "Day of Departure". As the country entered its eleventh day of unrest, mass demonstrations commenced after Friday prayers. Thousands also gathered in the city of Alexandria, holding up placards and chanting "He must go! " an Al Jazeera correspondent there reported. Worldwidetahrir. List of Egyptian embassies worldwide. Australia Egyptian Embassy 1 Darwin Avenue Yarralumla, Canberra, ACT 2600 Tel: (62) 273-4437/8 Egyptian Consulate -- Melbourne 124 Exhibition Street, 9th Floor Melbourne, Victoria 3000 Tel: (3) 654-8869 / 8634 Egyptian Consulate -- Sydney 335 New South Head Road Double Bay, Sydney NSW 2028 Tel: (2) 362-3482/8, 327-5538 Canada Egyptian Embassy 454 Laurier Avenue East Ottawa, Ontario KIN 6R3 Tel: (613) 234-4931 / 35/58 Egyptian Consulate -- Montreal 3754 Cote des Neiges Montreal, Quebec H3H 7V6 (514) 937-7781/2 France Egyptian Embassy 56, Avenue d'Iena 75116 Paris Tel: (1) 47 20 97 70 / 47 20 75 97 Egyptian Consulate -- Paris 58, Avenue Foch 75116 Paris Tel: (1) 45 00 84 64 / 45 00 49 52 /45 00 69 23 Egyptian Consulate -- Marseilles 166, Avenue de Hamburg 13008 Marseilles Tel: 91 25 04 04.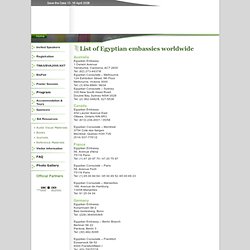 Lyse doucet's photos - Soldiers & protestors work together to move crowds into Tahrir Sq #jan25 #egypt | Plixi. Egypt set for 'final push' protests - Middle East. Protests demanding an end to Hosni Mubarak's 30-year rule is set to continue in Egypt.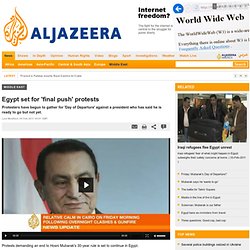 Protesters on Friday prepared for big demonstrations to mark the "Day of departure" for the beleaguered president. The developments come as the New York Times reports, quoting US officials and Arab diplomats, that the US administration is discussing with Egyptian officials a proposal for Mubarak to resign immediately and hand over power to a transitional government headed by Omar Suleiman, the newly appointed vice-president. The Egyptian president, for his part, says he has had enough and is ready to go but fears chaos if he resigns now. Mubarak's remarks, to an American TV network on Thursday, came as two days of clashes between protesters and his supporters on Cairo's streets left at least 13 people dead and hundreds injured.
Ahmed Shafiq, Egypt's new prime minister, said the interior minister should not obstruct Friday's peaceful marches. Égypte : Les manifestants investissent place Tahrir | International. Des manifestants sur la place Tahrir, au Caire, le 4 février 2011 Photo : PC/AP/Khalil Hamra La nuit est tombée sur la place Tahrir, au Caire, qui restait occupée en début de soirée par les 100 000 personnes qui se sont réunies toute la journée pour réclamer une nouvelle fois la démission du président Hosni Moubarak.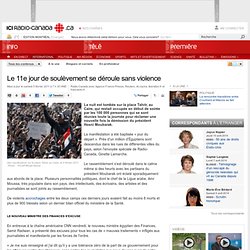 La manifestation a été baptisée « jour du départ ». Près d'un million d'Égyptiens sont descendus dans les rues de différentes villes du pays, selon l'envoyée spéciale de Radio-Canada, Ginette Lamarche. Égypte : Départ de Moubarak : Washington a un plan | International. Hosni Moubarak Photo : AFP/Attila Kisbenedek Selon le journal et des responsables américains, les États-Unis discutent avec des dirigeants égyptiens d'une proposition pour obtenir la démission immédiate du président Hosni Moubarak.
Les pourparlers porteraient aussi sur la passation du pouvoir à un gouvernement de transition dirigé par le vice-président Omar Soleimane avec l'appui de l'armée. | Headlines for February 04, 2011.
---