Other Teacher Lesson Places
Virtual Fieldtrips and Scavenger Hunts. Virtual Fieldtrips and Scavenger Hunts Virtual Internet fieldtrips are guided tours of web sites that have been selected by educators and arranged in a "thread" that students can navigate with just a click.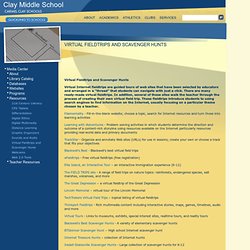 There are many ready-made virtual fieldtrips. In addition, several of these sites walk the teacher through the process of creating their own virtual field trip. These fieldtrips introduce students to using search engines to find information on the Internet, usually focusing on a particular theme chosen by a teacher. Gorzycki MS Tech Ed Wiki / FrontPage. Need to email Mr.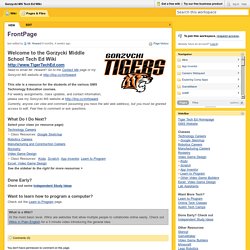 Howard? Go to the Contact Me page or my Gorzycki MS website at This site is a resource for the students of the various GMS Technology Education courses. Share My Lesson - Free K-12 Teacher Resources Aligned to Common Core State Standards. Teaching Resources, Classroom Resources & Lesson Plans - TES Resources.
Excel & Graphing Stuff. Digital Dialogue. The following sites have been selected to increase student interaction and collaboration in the Reading and Language Arts classroom, while generating a love for literacy.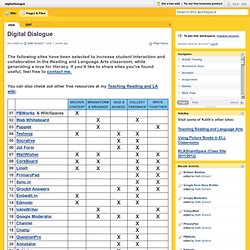 If you'd like to share sites you've found useful, feel free to contact me. You can also check out other free resources at my Teaching Reading and LA wiki. Brilliant Baubles A collection of sites which can inspire you with a lesson plan that is unique, exciting, or just very different from what you're doing in the classroom. CPinKS3.pdf. Amazing Web 2 Projects 2 online version.pdf. Have You Seen SketchUp?: Google's Answer to 3-D Drawing. Sure, everybody Googles, and Google Earth is de rigueur.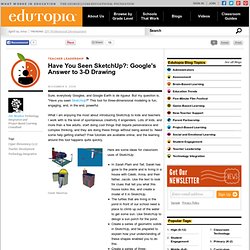 But my question is, "Have you seen SketchUp? " This tool for three-dimensional modeling is fun, engaging, and, in the end, powerful. What I am enjoying the most about introducing SketchUp to kids and teachers I work with is the level of spontaneous creativity it engenders. Lots of kids, and more than a few adults, start doing cool things that require perseverance and complex thinking, and they are doing these things without being asked to. Need some help getting started? Teacher Guide. Mr Drozd's Digital Media Studies.
IB ITGS Course at Springbrook High School. Lesson Plans Sem. 1. This course is no longer offered at The American International School - Riyadh.
As such this site and its content will no longer be maintained. However, you are free to access the resources and lessons here. The only thing I ask is that you give credit to Bradensitgs.com when using the materials herein. Education Exchange. Thank you for your interest in the Adobe Education Exchange.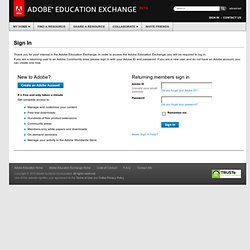 In order to access the Adobe Education Exchange, you will be required to log in. If you are a returning user to an Adobe Community area, please sign in with your Adobe ID and password. If you are a new user and do not have an Adobe account, you can create one now. New to Adobe?
---