Personal development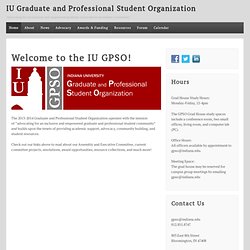 IU GPSO | Indiana University Graduate and Professional Student Organization
The Indiana University Graduate and Professional Student Organization (GPSO) and University Graduate School (UGS) congratulate our November student of the month, Erkin Kuru. Erkin is part of the Biochemistry Interdisciplinary Graduate Program. His research interests focus on analyzing bacterial cell walls in order to design much needed antibiotics.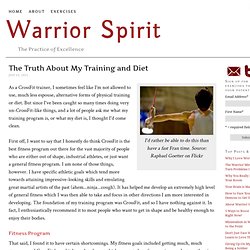 I'd rather be able to do this than have a fast Fran time. Source: Raphael Goetter on Flickr As a CrossFit trainer, I sometimes feel like I'm not allowed to use, much less espouse, alternative forms of physical training or diet. But since I've been caught so many times doing very un-CrossFit-like things, and a lot of people ask me what my training program is, or what my diet is, I thought I'd come clean. First off, I want to say that I honestly do think CrossFit is the best fitness program out there for the vast majority of people who are either out of shape, industrial athletes, or just want a general fitness program. I am none of those things, however.
The Truth About My Training and Diet | Warrior Spirit
The once was a tribe of people living in an ancient land. They chose from among their number one to lead them, a chief, who was the most skilled in hunting, diplomacy, and wisdom. He or she was to be a beacon for the tribe, a person to inspire a sense of belonging and security. One year, as the current chief was dying, there were two candidates to replace her. Both boys were truly skilled in the art of warriorship, and both possessed wisdom beyond their years. They were of the same age, at the cusp of manhood, but one still acted like a little boy.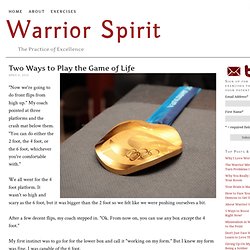 Warrior Spirit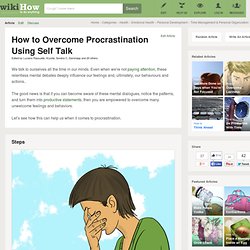 We talk to ourselves all the time in our minds.
How to Overcome Procrastination Using Self Talk: 9 steps - wiki How
Editors note - This is a guest post from Khaled Allen at Warrior Spirit. If you ask most people how to get stronger , they immediately recommend weight training, using barbells, dumbbells, or kettlebells .
The end of 2010 fast approaches, and I'm thrilled to have been asked by the editors of Psychology Today to write about the Top 10 psychology studies of the year. I've focused on studies that I personally feel stand out, not only as examples of great science, but even more importantly, as examples of how the science of psychology can improve our lives. Each study has a clear "take home" message, offering the reader an insight or a simple strategy they can use to reach their goals , strengthen their relationships, make better decisions, or become happier.