Méthodes
Mini-Schools. L'anglais, un jeu d'enfant! - Morbihan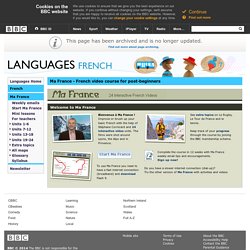 Bienvenue à Ma France ! Improve or brush up your basic French with the help of Stéphane Cornicard and 24 interactive video units. The films were shot around Lyons, the Alps and in Provence. See extra topics on Le Rugby, Le Tour de France and le tennis. Keep track of your progress through the course by joining the BBC membership scheme.
Reflets
Internet et la classe Internet est un formidable atout pour la classe de français : - il offre un accès démultiplié à toutes sortes d'informations, et notamment à des informations " professionnelles " utiles aux professeurs : consulter les programmes en vigueur, s'informer sur les formations existantes, les salons, les conférences, échanger avec d'autres professeurs de français...
Leçon de Weblínguas, Tâches, Études, Exercices
Cours FLE - Méthodes de FLE interactives - Exercices de français langue étrangère en ligne
Basile enquête - Chapitre 1 - Qui est Basile la Garrigue ?