Education
Team Education – explore, analyze, create and share how education can really work for personal improvement, cultural harmony and community growth. eoselitsa Mar 11
Howard Gardner, multiple intelligences and education. Howard Gardner's work around multiple intelligences has had a profound impact on thinking and practice in education – especially in the United States. Here we explore the theory of multiple intelligences; why it has found a ready audience amongst educationalists; and some of the issues around its conceptualization and realization.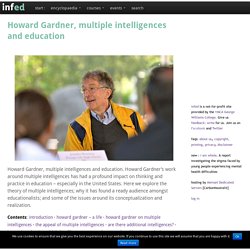 Independent Study into School Leadership
In November 2005, the School Teachers' Review Body (STRB) published its Fifteenth Report in which it recommended an independent study to examine the roles, responsibilities, structures and reward systems for school leaders in England and Wales.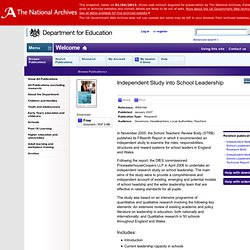 Choice Point was born of a passion and a vision of a better world through a collective humanity. It is a feature-length documentary film which probes the issues of transformational change and how when one person transforms his or her own life, that person can contribute in a positive way to the shaping of the world.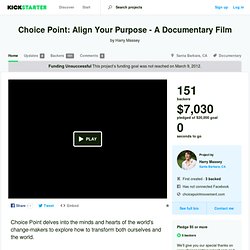 Choice Point: Align Your Purpose - A Documentary Film by Harry Massey
Motivating the unmotivated
njmetasem.pdf (application/pdf Object)
Deep and Surface learning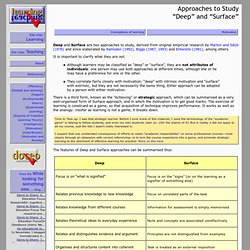 Deep and Surface are two approaches to study, derived from original empirical research by Marton and Säljö (1976) and since elaborated by Ramsden (1992), Biggs (1987, 1993) and Entwistle (1981), among others.
Framework for action on interprofessional education and collaborative practice
121147e.pdf (application/pdf Object)
EFA Goals | Education
Six internationally agreed education goals aim to meet the learning needs of all children, youth and adults by 2015.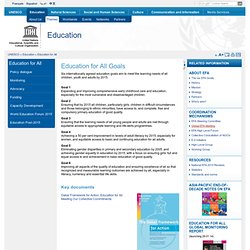 In 1990, in my role as a science reporter at The New York Times, I chanced upon an article in a small academic journal by two psychologists, John Mayer, now at the University of New Hampshire, and Yale's Peter Salovey. Mayer and Salovey offered the first formulation of a concept they called "emotional intelligence." Those were days when the preeminence of IQ as the standard of excellence in life was unquestioned; a debate raged over whether it was set in our genes or due to experience.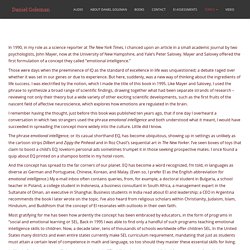 Emotional Intelligence
Art and music are key to student development. Credit: Getty Images "Art does not solve problems, but makes us aware of their existence," sculptor Magdalena Abakanowicz has said.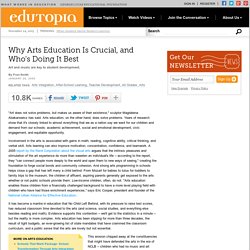 Why Arts Education Is Crucial, and Who's Doing It Best
» 9 Essential Skills Kids Should Learn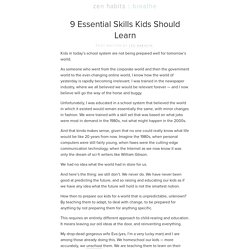 Post written by Leo Babauta.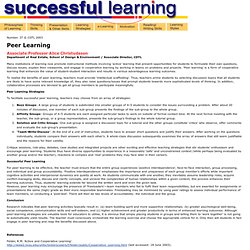 Many institutions of learning now promote instructional methods involving 'active' learning that present opportunities for students to formulate their own questions, discuss issues, explain their viewpoints, and engage in cooperative learning by working in teams on problems and projects. 'Peer learning' is a form of cooperative learning that enhances the value of student-student interaction and results in various advantageous learning outcomes. To realise the benefits of peer learning, teachers must provide 'intellectual scaffolding'.
Successful Learning: Peer Learning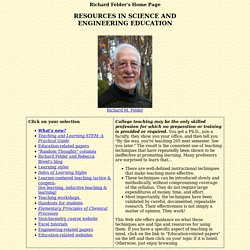 Richard Felder: Resources in Science and Engineering Education
Richard Felder's Home Page Richard M. Felder
Dr. Felder discusses several aspects of his teaching philosophy in a September 2010 interview in the "ChE Thoughts" journal of the Bangladesh University of Engineering and Technology.
Richard Felder's Education-Related Publications
CLChapter.pdf (Обект application/pdf)
Какви да станем? – сайт за избора на кариераwww.KakviDaStanem.bg
Фондация на бизнеса за образованието
Деца учат в класна стая – земно кълбо
Петокласници от ОУ"Васил Левски"-Разград учиха география и екология в класна стая с формата на земно кълбо с диаметър 7 метра. Уроци в надуваемата класна стая ще имат всичките 640 ученика от школото. Това е подарък от училищната управа за талантливите ни ученици за патронния празник - обясни директорът на училището Диана Първанова.
Choice Point: Align Your Purpose - A Documentary Film by Harry Massey
Research Upends Traditional Thinking on Study Habits
"When students see a list of problems, all of the same kind, they know the strategy to use before they even read the problem," said Dr.
Interns - Tutor/Mentor Connection
Компании | Социалната отговорност намалява рисковете в компанията | Интервю с Марина Стефанова, изпълнителен директор на Българската мрежа на Глобалния договор на ООН
Г-жо Стефанова, как се зароди идеята за магистратура по корпоративна социална отговорност? - Идеята е на Висшето училище по застраховане и финанси (ВУЗФ) и CSR Bulgaria. ВУЗФ е член на Българската мрежа на Глобалния договор на ООН и това е причината да бъде подкрепен от нас, още повече че той е един от университетите, които са най-близо до бизнеса и реагират най-бързо на нуждите на пазара.