Free Online Courses
It can be hard to keep up with the ever-growing list of free educational sites out there, much less distinguish which ones will best meet your needs and help you learn skills you really need without shelling out big bucks.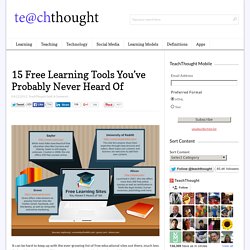 Sean Michael Morris – Broadcast Education: a Response to Coursera
Most of the best schools or colleges, in the world are sharing their classroom recorded video lectures through youtube. Some of theses courses are not just video lectures but has assignments, slides, quizzes as well. Universities include MIT, Yale, NPTEL, UC Berkeley, Stanford, McGill and many more.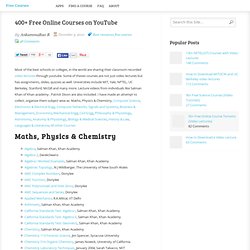 Learn For Free (Full Curriculum and Learning Resources)
MITx Opens for Enrollment (and Certification - For Now - Is Free)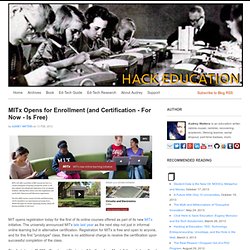 MIT opens registration today for the first of its online courses offered as part of its new MITx initiative. The university announced MITx late last year as the next step not just in informal online learning but in alternative certification.