Business
Sidewalk, The easiest way to gather and analyze customer information
Frequently Asked Questions
Why do tick timers change? Timers lower on the auctions randomly to keep it fun and interesting for everyone. We do this throughout the day and evening.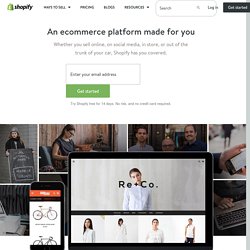 You don't need to have any technical or design experience to easily create a beautiful online store. Simply choose a stylish ecommerce website design, easily customize your online store, add products, and you're pretty much ready to accept payments. Got a question?
I've been thinking about starting a business for years, and find myself thinking about it more and more every day now. Any suggestions or advice? I realize that is pretty open-ended, so let me throw a couple more things out: 1.
Entrepreneurship: Interested in starting a new business - need advice...
Startups: Executive Hiring Challenges or Beware of the Suits| Zoli's Blog
Web Innovators Group
The Web Innovators Group (aka "WebInno") started as an informal gathering of a dozen people in 2005, and it has now blossomed into a regular event which draws nearly a 1000 people from Boston and beyond. United by a common excitement about internet and mobile innovation, our community includes varied set of entrepreneurial-minded attendees with a shared interest in seeing the latest startups and in networking together. Our open quarterly events also provide a forum for entrepreneurs from early-stage startups to present new services to their peers, as well as an opportunity for everyone in the community to share and exchange ideas. The organization has been featured in publications such as The Boston Globe, Boston Herald, Xconomy, Network World, BostInno, and Mass High Tech / Boston Business Journal.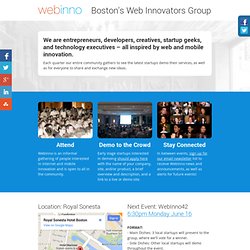 Welcome to Venture Voice, a podcast that explores how entrepreneurs build their businesses and live their lives. We're posting audio shows of our conversations on this site, along with notes on each interview. Enjoy! VV Show #60 - Larry Kramer of MarketWatch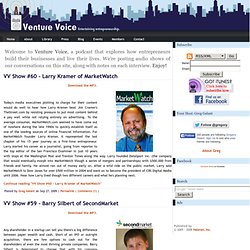 Venture Voice - podcast on entrepreneurship, venture capital, business
MUMBAI ANGELS