To sort...
26 December 2011Last updated at 01:47 GMT The Berlin Wall did not mark the end of grave clashes as many thought it would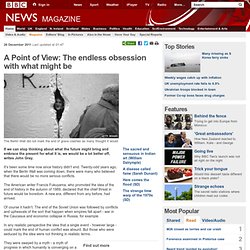 A Point of View: The endless obsession with what might be
John Quiggin and I have a piece on the eurozone mess in the new issue of Foreign Affairs.
Hard Keynesianism in the European Union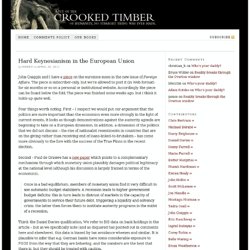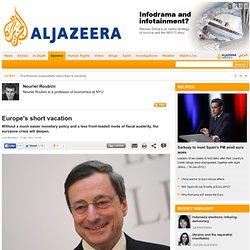 New York, NY - Since November 2011, the European Central Bank, under its new president, Mario Draghi, has reduced its policy rates and undertaken two injections of more than 1tr euros of liquidity into the eurozone banking system. This led to a temporary reduction in the financial strains confronting the debt-endangered countries on the eurozone's periphery (Greece, Spain, Portugal, Italy and Ireland), sharply lowered the risk of a liquidity run in the eurozone banking system, and cut financing costs for Italy and Spain from their unsustainable levels of last autumn.
Europe's short vacation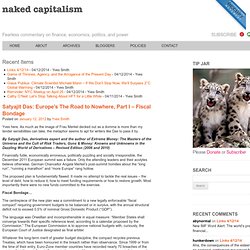 Satyajit Das: Europe's The Road to Nowhere, Part 1 – Fiscal Bondage
Yves here.
This "Modest Proposal" by authors Varoufakis and Holland outlines a three-pronged, comprehensive solution to the eurozone crisis that simultaneously addresses the three main dimensions of the current crisis in the eurozone (sovereign debt, banking, and underinvestment), restructures both a share of sovereign debt and that of banks, and does not involve a fiscal transfer of taxpayers' money.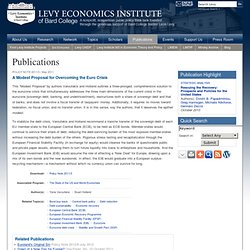 Publications | Levy Economics Institute of Bard College
How much does time cost? That depends what you need it for.
Delusions of the Euro Zone: The Lies that Europe's Politicians Tell Themselves - SPIEGEL ONLINE - News - International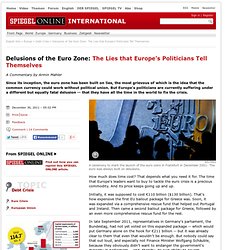 Exit from comment view mode.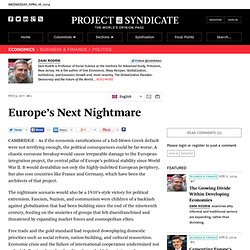 Europe's Next Nightmare - Dani Rodrik - Project Syndicate
The future of the EU: Two-speed Europe, or two Europes?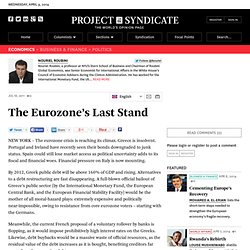 Exit from comment view mode. Click to hide this space
The Eurozone's Last Stand - Nouriel Roubini - Project Syndicate
Robert Barro: An Exit Strategy From the Euro
The eurozone's terrible mistake
The FT is reporting today that the new fiscal rules for the EU "include a commitment not to force private sector bondholders to take losses on any future eurozone bail-outs". If this principle really does get enshrined into some new treaty, it will be one of the most fiscally insane derelictions of statesmanship the world has seen — but it certainly helps explain the short-term rally that we saw today in Italian government debt. Right now, the commitment is still vague: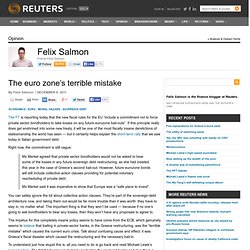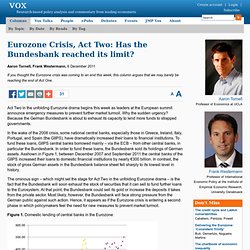 Act Two in the unfolding Eurozone drama begins this week as leaders at the European summit announce emergency measures to prevent further market turmoil.
Eurozone Crisis, Act Two: Has the Bundesbank reached its limit?
by Justin Fox | 3:32 PM December 8, 2011 It's always good to have a Plan B, and probably a Plan C and D as well. You can't cover every possible contingency, but having a set of options lined up in case things don't work out as expected is a basic rule of good risk management, entrepreneurship, negotiation, career planning, and all number of other endeavors. So why is it that the creators and subsequent managers of Europe's grand experiment with a common currency never came up with a contingency plan in case things didn't work out? It wasn't that they didn't know the risks: lots of economists were warning in the 1990s that a currency union with no mechanism for ironing out fiscal and trade imbalances between its members was doomed to fail.
Playing the Ultimatum Game with Merkozy - Justin Fox
The second death of politics
The recent rise of technocratic governments in Italy and Greece is the culmination of a process that has been unfolding in Europe over the last 20 years.
Europe – Be Greedy When Others are Fearful? « kelpiecapital
Exit from comment view mode.
The Euro in a Shrinking Zone - Robert Skidelsky - Project Syndicate
Understanding developments in the European crisis has become rather like Kremlinology, trying to figure out the meaning of subtle changes in wording and rearrangements of the Politburo on the podium for May Day parades. One example is Mario Draghi of the European Central Bank (ECB).
The Erosion of the EU
Is Europe About to Unravel?
Fed Watch: Is Europe About to Unravel?
Fighting (for?) Europe: How European Elites Lost a Generation - SPIEGEL ONLINE - News - International
Time for Plan B: How the Euro Became Europe's Greatest Threat - SPIEGEL ONLINE - News - International
Satyajit Das: "Progress" of the European Debt Crisis
Comment] It's time for countries to restructure their debts
Euro Statement Translated
Eurozone leaders still don't get it
Magical Thinking
The Crisis and the Euro
Eurointelligence
European Blue-Chip Stocks Look Favorable Despite Debt Fear