Eco-issues
The world as we know today has a very diverse ecology, with macro, micro and nano ecosystems playing out their individual roles. These roles in toto make up the delicate balance that help us thrive or perish. We as humans sometimes play roles in the nurture or wanton destruction of these ecosystems that play so vital a role in keeping our planet with its fauna and flora intact, either unwittingly or for pecuniary gains.

I believe that activism in the form of raising voices, signing petitions and addressing issues with authorities against practices that go against the tenets of maintainence of a healthy ecosystem, should we ever encounter evidence of interests wanting to tamper with the checks and balances that keep our ecosphere ship-shape, wherever in the world it be, would be the goal of Team Eco-issues. Any whimper in the dark speaks more volumes than the defeaning silence of abject acceptance of a wrongdoing, wouldn't it ? cybermyth Feb 19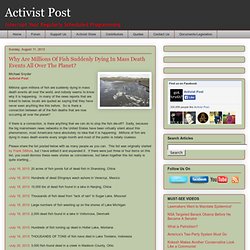 Why Are Millions Of Fish Suddenly Dying In Mass Death Events All Over The Planet?
Michael SnyderActivist Post
The "Fiscal Cliff" Avoided says the News One has to question exactly where our World community is heading when our leaders, collectively, offer very little incentive for their fellow men and women to adopt more enlightened strategies.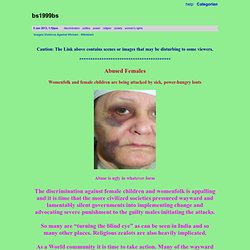 bs1999bs
CharlesMoore_2009U.mp4 (video/mp4 Object)
EU beefs up electronic waste recycling | Environment
European eletronic waste arrives illegally in Nigeria; the EU WEEE directive is designed to increase the collection of such waste. Photograph: Kristian Buus/Greenpeace
'They're killing us': world's most endangered tribe cries for help | World news | The Observer
Loggers strip trees from Amazonian tribe's territory Link to video: Loggers strip trees from Amazonian tribe's territory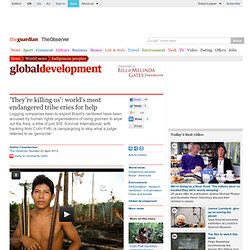 Global Warming Climate change
Ecology Conferences Worldwide Conferences in ecology and related fields
SmartPlanet - We Make You Smarter - People, Business & Technology
Journey to the Sinking Lands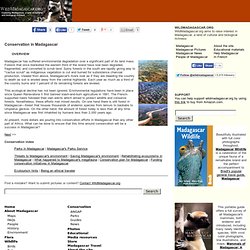 Madagascar has suffered environmental degradation over a significant part of its land mass. Forests that once blanketed the eastern third of the island have now been degraded, fragmented, and converted to scrub land. Spiny forests in the south are rapidly giving way to "cactus scrub" as indigenous vegetation is cut and burned for subsistence charcoal production. Viewed from above, Madagascar's rivers look as if they are bleeding the country to death as soil is eroded away from the central highlands.
Conservation in Madagascar
Home — The Amazon Conservation Team
Ecology Drives the Worldwide Distribution of Human Diseases
University/Academic Quagga (Dreissena rostriformis bugensis) and Zebra (Dreissena polymorpha) mussels University of California - Riverside. Center for Invasive Species Research. Identification/Description; Photographs; Introduction History; Impacts; Distribution Zebra Mussels - A Florida Perspective (PDF | 244 KB) Florida Sea Grant College Program.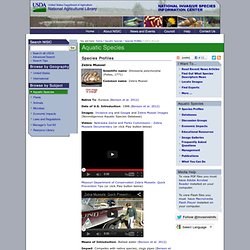 Aquatic Species - Zebra Mussel (Dreissena polymorpha)