Eco Gardening
Compost. Urban Gardening. Vertical Gardening. Meghalaya villagers create 'living' bridges by training roots across a river. By Daily Mail Reporter Updated: 15:35 GMT, 10 September 2011 Deep in the rainforests of the Indian state of Meghalaya, bridges are not built, they're grown.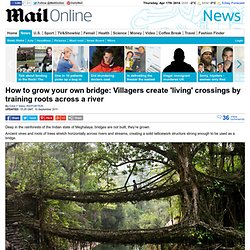 Ancient vines and roots of trees stretch horizontally across rivers and streams, creating a solid latticework structure strong enough to be used as a bridge. Permaculture Projects: Coppicing. Coppiced Basswood/Linden Trees I think there are two types of people in the world: those who know a decent amount about coppicing, and those who don't even know how to pronounce the word.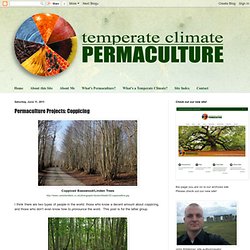 This post is for the latter group. Stand of Coppiced Sweet Chestnut Coppicing (pronounced: KAH-piss-ing) is an ancient practice of woodland management where trees are cut down while dormant and allowed to regrow from the stumps/roots for a number of years before cutting again. The new growth of trees/forest from these cut stumps is collectively called "coppice". Ecological Gardening - Happy Earth. Ecological Gardening Ecological gardening, like sustainable living, is about seeing ourselves, our homes and our gardens as important parts of local and global ecosystems.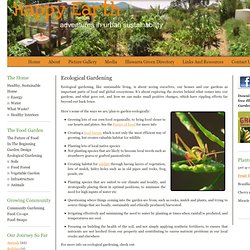 It's about exploring the stories behind what comes into our gardens, and what goes out, and how we can make small positive changes, which have rippling effects far beyond our back fence. Garden Organic - celebrating 50 years of organic growing - organic gardening, farming and food. The Silent Gardener - Home. About Us The Silent Gardener Ltd. has been providing organic, quiet, weekly grounds management services to Vancouver, British Columbia since 2000 for strata, estate and commercial properties.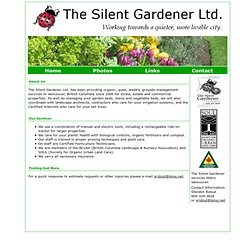 As well as managing your garden beds, lawns and vegetable beds, we will also coordinate with landscape architects, contractors who care for your irrigation systems, and the Certified Arborists who care for your tall trees. Our Services We use a combination of manual and electric tools, including a rechargeable ride-on tractor for larger properties. We care for your plants' health with biological controls, organic fertilizers and compost. No dig gardens - how to do no dig gardening by gardening the no dig way! GardenWeb - The Internet's Garden Community. The Occidental Arts and Ecology Center (OAEC) | Occidental Arts and Ecology Center.
Open Source Ecology Weblog. Learn2Grow. 101 PERMACULTURE DESIGNS, downloadable imgur album. Permaculture. Permaculture is a branch of ecological design, ecological engineering, and environmental design that develops sustainable architecture and self-maintained agricultural systems modeled from natural ecosystems.[1][2] The term permaculture (as a systematic method) was first coined by Australians Bill Mollison and David Holmgren in 1978.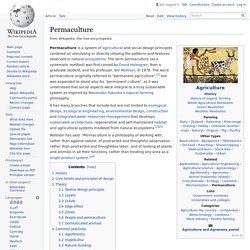 The word permaculture originally referred to "permanent agriculture" [3] but was expanded to stand also for "permanent culture," as it was seen that social aspects were integral to a truly sustainable system as inspired by Masanobu Fukuoka's natural farming philosophy. "Permaculture is a philosophy of working with, rather than against nature; of protracted and thoughtful observation rather than protracted and thoughtless labor; and of looking at plants and animals in all their functions, rather than treating any area as a single product system.
" - Bill Mollison [4] History[edit] Permaculture Association. Gardening & Foraging. Guerilla Gardening.
The Homesteader's Free Library. Homesteading Garden. Apiary. Bees & Beekeeping. Tending Produce. Eco Flora - Fair Trade and Organic Florist - Toronto.
---