Learning Management System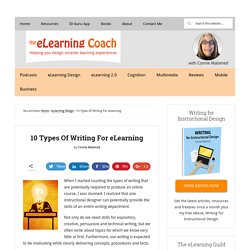 Sharebar When I started counting the types of writing that are potentially required to produce an online course, I was stunned. I realized that one instructional designer can potentially provide the skills of an entire writing department. Not only do we need skills for expository, creative, persuasive and technical writing, but we often write about topics for which we know very little at first. Furthermore, our writing is expected to be motivating while clearly delivering concepts, procedures and facts.
Digital Storytelling: Extending the Potential for Struggling Writers | Adolescent Literacy Topics A-Z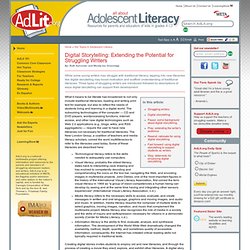 By: Ruth Sylvester and Wendy-lou Greenidge While some young writers may struggle with traditional literacy, tapping into new literacies like digital storytelling may boost motivation and scaffold understanding of traditional literacies. Three types of struggling writers are introduced followed by descriptions of ways digital storytelling can support their development. What it means to be literate has broadened to not only include traditional literacies, reading and writing print text for example, but also to reflect the needs of students living and learning in a digital world. The subsuming technologies of the computer — CD and DVD players, wordprocessing functions, Internet access, and other new digital technologies such as Web 2.0 applications (e.g., blogs, wikis, and RSS aggregators) — require the user to have new literacies not necessary for traditional literacies.
Discover new ways to empower students at NEXT this June in Denver. Experience the power of a global learning community. Build connections and collaborate with your peers. Schoology lets you manage your classroom, engage your students, find resources, and connect to other teachers anytime, anywhere. Schoology offers a dynamic, scalable learning management system that both teachers and administrators love to adopt. Schoology centralizes all your academic content and simplifies management so you can spend more time teaching and less time managing your classroom.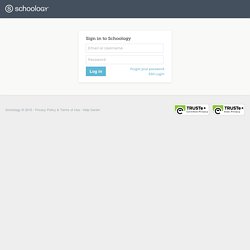 Triptico | Slow Writing