US Worldwide deployment
CIA's Drones, Barely Secret, Receive Rare Public Nod - Washington Wire
On his way out the door at the Pentagon, Robert Gates leveled with the military. A staggering $700 billion in defense R&D and gear since 9/11 led to only "relatively modest gains in actual military capability," Gates said on June 2. No giant robots, jet packs or sharks with lasers. But in a way, that made Gates' job easier, since the arch-realist was never about military fantasies, anyway.As Defense Secretary, Gates protected the military's huge budgets for four and a half years.
Killer Drones, Stealth Jets, Spy Planes: Bob Gates' Legacy in Military Tech | Danger Room
Pentagon cancels divisive Distinguished Warfare Medal for cyber ops, drone strikes
Joe Wolverton, II, J.D.New American Oct 12, 2012 Defense contractor Northrop Grumman, the Defense Advanced Research Projects Agency (DARPA), and NASA Dryden Flight Research Center reported on October 8 that they are moving closer to the day when drones can stay airborne indefinitely, refueled by other unmanned aerial vehicles without human assistance. The test flights conducted between January 11 and May 30 involved the use of two Global Hawk drones — "one configured as a tanker and the other as a receiver." The experiments were conducted at Edwards Air Force Base, California and reportedly resulted in the achieving of many milestones: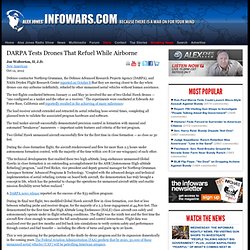 » DARPA Tests Drones That Refuel While Airborne Alex Jones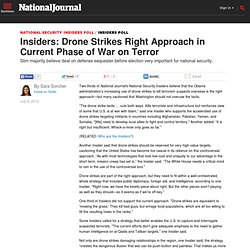 Another Insider said that drone strikes should be reserved for very high-value targets, cautioning that the United States has become too casual in its reliance on this controversial approach. "As with most technologies that look low-cost and uniquely to our advantage in the short term, mission creep has set in," the Insider said. "The White House needs a critical mind to rein in the use of this controversial tool." Drone strikes are part of the right approach, but they need to fit within a well-orchestrated, whole strategy that includes public diplomacy, foreign aid, and intelligence, according to one Insider. "Right now, we have the kinetic piece about right.
Insiders: Drone Strikes Right Approach in Current Phase of War on Terror - Sara Sorcher
US Drones Moving From Iraq to Turkey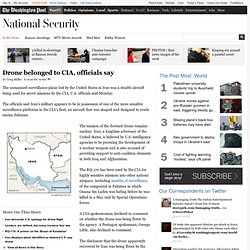 Drone (lost in Iran) belonged to CIA, officials say
The mission of the downed drone remains unclear. Iran, a longtime adversary of the United States, is believed by U.S. intelligence agencies to be pursuing the development of a nuclear weapon and is also accused of providing support to anti-coalition elements in both Iraq and Afghanistan. The RQ-170 has been used by the CIA for highly sensitive missions into other nations' airspace, including months of surveillance of the compound in Pakistan in which Osama bin Laden was hiding before he was killed in a May raid by Special Operations forces.
America's Secret Empire of Drone Bases
They increasingly dot the planet. There's a facility outside Las Vegas where "pilots" work in climate-controlled trailers, another at a dusty camp in Africa formerly used by the French Foreign Legion, a third at a big air base in Afghanistan where Air Force personnel sit in front of multiple computer screens, and a fourth at an air base in the United Arab Emirates that almost no one talks about. And that leaves at least 56 more such facilities to mention in an expanding American empire of unmanned drone bases being set up worldwide. Despite frequent news reports on the drone assassination campaign launched in support of America's ever-widening undeclared wars and a spate of stories on drone bases in Africa and the Middle East, most of these facilities have remained unnoted, uncounted, and remarkably anonymous -- until now.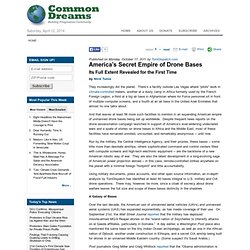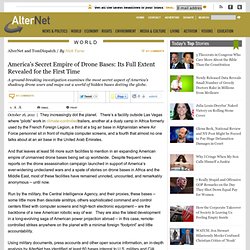 America's Secret Empire of Drone Bases: Its Full Extent Revealed for the First Time | News & Politics
October 16, 2011 | Like this article? Join our email list: Stay up to date with the latest headlines via email. They increasingly dot the planet.