Citizen United
Samuel Alito, Supreme Court Justice, Takes On Citizens United Critics
HUFFPOST FUNDRACE -- Justice Stevens on Citizens United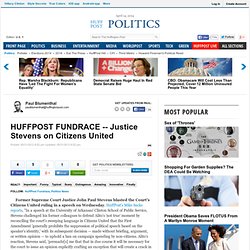 Former Supreme Court Justice John Paul Stevens blasted the Court's Citizens United ruling in a speech on Wednesday . HuffPost's Mike Sacks reports , "In a speech at the University of Arkansas' Clinton School of Public Service, Stevens challenged his former colleagues to defend Alito's 'not true' moment by reconciling the court's sweeping language in Citizens United that the First Amendment 'generally prohibits the suppression of political speech based on the speaker's identity,' with its subsequent decision -- made without briefing, argument, or written opinion -- to uphold a ban on campaign spending by non-citizens. Alito's reaction, Stevens said, 'persuade[s] me that that in due course it will be necessary for the court to issue an opinion explicitly crafting an exception that will create a crack in the foundation of the Citizens United majority opinion.'
Note: The PDF files on this web site may be viewed or printed using Acrobat Reader from Adobe . Documents marked [Word] may be read using Microsoft Word from Microsoft . On March 27, 2002, President Bush signed into law the Bipartisan Campaign Reform Act of 2002 (BCRA), Public Law No. 107-155. The BCRA contains many substantial and technical changes to the federal campaign finance law. The Commission's implementation of BCRA included rulemakings (listed below) on the following topics: Most of the changes became effective November 6, 2002; however, changes involving contribution limits took effect with regard to contributions made on or after January 1, 2003.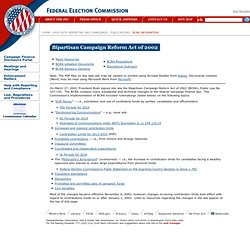 Bipartisan Campaign Reform Act of 2002
How citizens can unite to undo Citizens United. By Laurence H. Tribe - How Can We Fix the Constitution?
By Laurence H. Tribe | Posted Wednesday, June 13, 2012, at 01:55:06 PM ET Casino tycoon Sheldon Adelson and family contributed $20 million to Newt Gingrich's super PAC, Winning Our Future.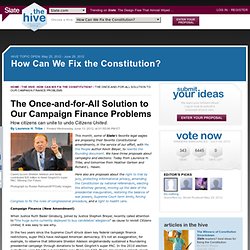 Cour suprême des États-Unis, liberté d'expression et financement
Obama reproche à la Cour suprême la levée des limites au finance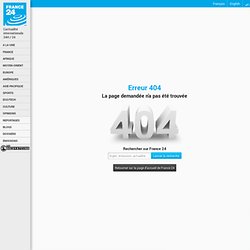 AFP - La Cour suprême des Etats-Unis a levé jeudi les limites au financement des campagnes électorales nationales par les entreprises, une révolution dans la loi électorale américaine qui limitait ce droit depuis vingt ans immédiatement dénoncée par Barack Obama. La décision a déjà fait l'effet d'une bombe aux Etats-Unis où des élections législatives sont prévues en novembre 2010. Le président américain Barack Obama, dont l'administration avait plaidé pour le maintien de l'ancienne loi, a déploré dans un communiqué l'"irruption brutale" de l'argent des groupes de pression dans les campagnes électorales. "Il s'agit d'une victoire majeure pour les grandes compagnies pétrolières, les banques de Wall Street, les sociétés d'assurance-maladie et tous les intérêts puissants qui oeuvrent chaque jour à Washington pour retirer toute voix au peuple américain", a-t-il estimé, en annonçant qu'il allait "travailler immédiatement avec le Congrès" pour contrer la décision de la Cour.
States back Montana in Citizens United campaign finance fight | Law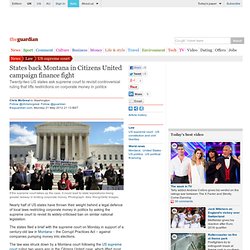 If the supreme court takes up the case, it could lead to state legislatures being greater leeway in limiting corporate money. Photograph: Alex Wong/Getty Images Nearly half of US states have thrown their weight behind a legal defence of local laws restricting corporate money in politics by asking the supreme court to revisit its widely-criticised ban on similar national legislation. The states filed a brief with the supreme court on Monday in support of a century-old law in Montana – the Corrupt Practices Act – against companies pumping money into elections. The law was struck down by a Montana court following the US supreme court ruling two years ago in the Citizens United case, which lifted most restrictions on corporations spending money on political advertising. However, the Montana supreme court has since upheld the state law, putting it in conflict with the Citizens United ruling.
Citizens United II - opinion