drama
Get flash to fully experience Pearltrees
Please read this first: These research pages represent work that was done in 2002 as a defense of theater in an educational environment. The research became the original primary draw for this website. All of the pages are presented in their original form, and are best read in order starting with this page . Why drama indeed! There are two primary questions we need to be concerned with. Click on either question to begin the discussion.
Lesson and Teaching Ideas for Primary and Secondary School Drama Teachers If you are looking for Drama teaching ideas for key stage 1 and performance art pointers for key stage 2 then the links to free lesson plans and classroom ideas on this site can help you. For KS3 drama teachers there are wonderful free teaching resources from the Royal Shakespeare Company and key stage 4 students will love the range of monologues, improvisations and plays as well as some fun theatrical games. Drama lessons entail numerous topics and activities including: body movement analysis, facial expression exercises, stage placement, script analysis, script writing, performance techniques and much more. How teachers can use free lesson ideas to enhance their classes
Drama enables pupils to negotiate situations both in and out of role. By engaging in a range of dramatic activities, they develop their understanding of the world. Using creative and imaginative role play situations, pupils can explore their own and others' feelings about a range of cultural and human issues.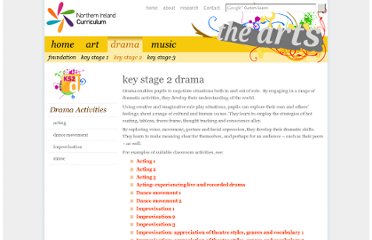 Mantle of the Expert (MoE) involves the creation of a fictional world where students assume the roles of experts in a designated field. Mantle of the Expert is based on the premise that treating children as responsible experts increases their engagement and confidence. They can perceive a real purpose for learning and discovering together in an interactive and proactive way – providing them with skills and knowledge they can apply to their everyday lives.