Dotcom bubble 2.0 - 2011, the next dotcom bust?
Chris dixon: Giving up 1% of your marke... Instagram's Buyout: No Bubble to See Here. Instagram's billion-dollar sale to Facebook raised eyebrows Monday, renewing cries of a new tech bubble.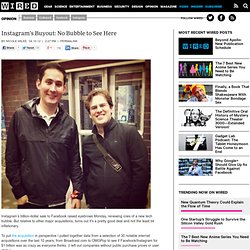 But relative to other major acquisitions, turns out it's a pretty good deal and not the least bit inflationary. To put the acquisition in perspective I pulled together data from a selection of 30 notable internet acquisitions over the last 10 years, from Broadcast.com to OMGPop to see if Facebook/Instagram for $1 billion was as crazy as everyone thinks. (I left out companies without public purchase prices or user stats.) The spreadsheet below captures the acquisition date, dollar amounts, and ballpark counts of the users and employees at the time of acquisition. Facebook buys Instagram.
Chris dixon: Bubble? Price/Earning rat... Chris dixon: Everyone talking about a b... Y Combinator's Graham Doesn't See `Bubble' in Technology: Video. Marc Andreessen Says There's No Bubble. But He's Happy if You Think There Is. – AllThingsD. Marc Andreessen doesn't buy the bubble talk.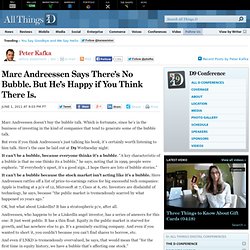 Which is fortunate, since he's in the business of investing in the kind of companies that tend to generate some of the bubble talk. But even if you think Andreessen's just talking his book, it's certainly worth listening to him talk. Here's the case he laid out at D9 Wednesday night: Marc Andreessen on the Dot-Com 'Bubble' Contrary to all the recent hype about a bubble, you've said that tech companies are actually undervalued.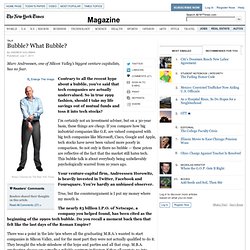 So in true 1999 fashion, should I take my life savings out of mutual funds and toss it into tech stocks? I'm certainly not an investment adviser, but on a 30-year basis, these things are cheap. Peter Thiel Knows Bubbles, And This Is 'Not A Bubble' - Venture Capital Dispatch. Debating the Tech Bubble with Steve Blank: Part II. This post originally appeared as my rebuttal to my friend Steve Blank's opening statement in our debate in The Economist.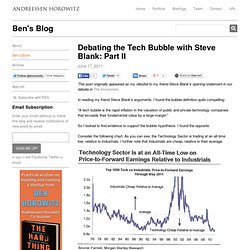 In reading my friend Steve Blank's arguments, I found the bubble definition quite compelling: "A tech bubble is the rapid inflation in the valuation of public and private technology companies that exceeds their fundamental value by a large margin. " Thiel: Tech Bubble? What Tech Bubble? There has been lots of chatter about a technology bubble in Silicon Valley.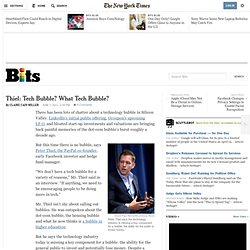 LinkedIn's initial public offering, Groupon's upcoming I.P.O. and bloated start-up investments and valuations are bringing back painful memories of the dot-com bubble's burst roughly a decade ago. David Paul Morris/Bloomberg NewsPeter Thiel says the technology industry is missing a key component for a bubble: the ability for the public to invest money. LinkedIn CEO: No Web bubble. The Endless Bubble Debate: Kedrosky Vs. Wadhwa. Tech Boom or Bubble? Take a Look at the Data! By Josh Rampant speculation.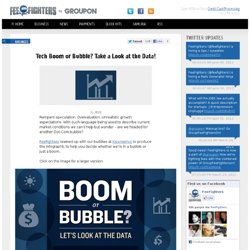 Overvaluation. Unrealistic growth expectations. With such language being used to describe current market conditions we can't help but wonder – are we headed for another Dot-Com bubble? FeeFighters teamed up with our buddies at Kissmetrics to produce the infographic to help you decide whether we're in a bubble or just a boom. Trifling Twitter. When a member of the old guard barges into their cozy backyard, the Digerati jump up and strike indignant poses.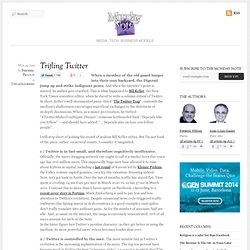 And when the intruder's point is missed, its author gets crucified. This is what happened to Bill Keller, the New York Times' executive editor, when he dared to write a column critical of Twitter. In short, Keller's well-documented piece, titled "The Twitter Trap", contends the medium's shallowness encourages superficial exchanges to the detriment of in-depth discussions. Are We In an Internet Bubble? Part 94 - Tech Europe. No.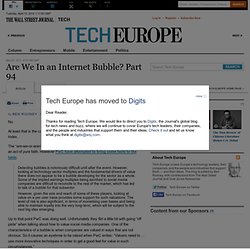 At least that is the conclusion of PricewaterhouseCoopers in their latest Valuation Index. The "are-we-or-aren't-we" question comes up so often now that it is almost becoming an act of pure faith. This Tech Bubble Is Different. What Year Is It? Try 1996... Posted by Tom Foremski - April 26, 2011 History does not repeat itself but it does rhyme, as Mark Twain noticed.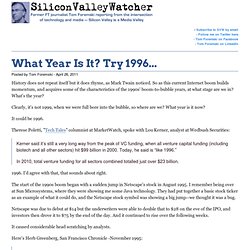 So as this current Internet boom builds momentum, and acquires some of the characteristics of the 1990s' boom-to-bubble years, at what stage are we in? What's the year? We're In The Middle Of A Terrible Blubble! If you're an early stage venture capitalist or angel investor there is no time like the present to declare a bubble, say valuations are out of control and predict the demise of the tech industry in the very near future.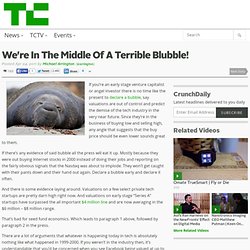 Since they're in the business of buying low and selling high, any angle that suggests that the buy price should be even lower sounds great to them. If there's any evidence of said bubble all the press will eat it up. Mostly because they were out buying Internet stocks in 2000 instead of doing their jobs and reporting on the fairly obvious signals that the Nasdaq was about to implode. They won't get caught with their pants down and their hand out again. The Word Bubble. In all the posts over the past year or so outlining my thoughts on the financing and valuation environment in the internet sector, I've avoided using the word Bubble. It is intentional. For me Bubble will always be inexorably linked to what went down in 1999 and 2000 in the internet sector. And I agree with Mike Arrington that what is going on now is different. Henry Blodget: Here's my take on the "tec... Robert Scoble: Contrarian view: what if t...
Tech bubbles, tides, and earthquakes - What you should know. Are we in a tech bubble? Yes. When will it burst? I have no idea, and neither does anyone else. Mike Arrington, founder of Techcrunch, has a great story today "We're In A Terrible Blubble". IS THERE A NEW TECH BUBBLE? No. But There Are Other Things To Worry About... Options and Startup Common Equity Value (Bubble Talk) - Continuations. I Encourage Entrepreneurs To Ignore The Word "Bubble" "Double, double toil and trouble; Fire burn, and caldron bubble." – Macbeth Every time I hear the word "bubble" I think of that quote from Macbeth.
I also think of Tulip Mania and the South Sea Company which purportedly was the source of the concept of an economic bubble. And then I remember Charles Mackay's classic book "Extraordinary Popular Delusions & the Madness of Crowds." Are We in a Bubble? That was the question I got asked the most during my time in Austin and San Francisco this month. Perhaps it's become the new ice-breaker at networking events. But also people are genuinely curious and unsure about whether the tech scene has entered another bubble. My answer to that perennial question over the years has never been focused on money and the valuation of companies.
That's the way most commenters have addressed it over the past couple of months. Rather, I look at the state of product innovation in startups and big Internet companies. Is There a New Technology Bubble? Ben Horowitz Doesn't Think So. | Ben Horowitz | Voices | AllThingsD. Veteran Investor Defends Start-Up Boom. Veteran VC says 'no bubble" in Silicon Valley. Lee Hower - Blog - Boom or Bubble Redux. Empirical data from Crunchbase. Interview: Index Ventures Says This Is Not a Bubble: Tech News and Analysis « Are we in a bubble? « The Equity Kicker. Cloud Computing Bubble Looks Like Dot-Com Bubble, Warns UBS. Is this the start of the second dotcom bubble? | Business | The Observer. It's Not a Bubble, People; It's a Pyramid Scheme. Y Combinator founder: there is no tech bubble. Froth or famine? What factors led to the bursting of the Internet bubble of the late 90's. (Founder Stories) Fred Wilson On Frothy Valuations. Why Social Gaming Is No Bubble - Tech Europe.
Will there be a tech sector crash in the near future. Doesn't feel like a bubble. Venture Capitalist: Cloud Bubble Has Arrived (But Don't Panic) (1) While the value of social networking and mobile app startups is getting insane, what could make the second dotcom bubble burst, and when. (1) Is there another dot-com bubble building right now. Silicon Valley Bubble Shows Signs of Reinflating. Xmas 2009: Are Startups Getting Crazy, Or Just IPO Crazy? Xmas 2010: It's A Mad, Mad, Mad, Mad, Mad App World. Ten Years After the Dot Com Bust, Tech Is Booming Again. Why Google Dropped Groupon and Local Just Doesn't Scale - Advertising Age - Digital. (1) Is Path's launch evidence of a second dot-com bubble. 2011 preview: The internet peak comes into view - tech - 28 December 2010. Internet Adoption. 2011 preview: The internet peak comes into view - image 2 - tech - 28 December 2010.
---
cloudexplorer Jul 16 2011

Just a word of Advice, If you use a cool looking icon for your pearltrees your views will blast off. Thats what I did & I got so many views it's insane. Just a Thought, thats all! Nice to see your working hard here & nice to meet ya.

PED Jan 5 2011

My take: nop. Just look at fundamentals: ad online market, cash in tech giants, time spent on the Internet > TV for the first time this year
---