Domotique
The Future of Social Objects. The Internet of Things, when real world objects are connected to the Internet, has been slow to attract the attention of budding entrepreneurs.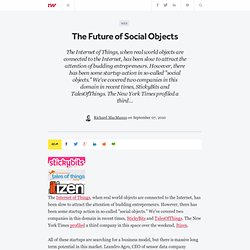 However, there has been some startup action in so-called "social objects. " We've covered two companies in this domain in recent times, StickyBits and TalesOfThings. The New York Times profiled a third company in this space over the weekend, Itizen. Screw the thermostat! InThrMa brings building climate to the Web. Pretty much everything is moving to the cloud these days.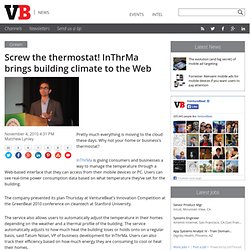 Why not your home or business's thermostat? InThrMa is giving consumers and businesses a way to manage the temperature through a Web-based interface that they can access from their mobile devices or PC. 5 Gadgets That Will Transform Your Home. I live in a somewhat futuristic home.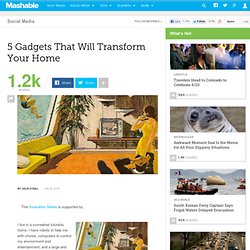 I have robots to help me with chores, computers to control my environment and entertainment, and a large and growing number of glowing screens that serve me an infinite variety of content. Most of the gadgets that make for truly transformative modern living are surprisingly affordable, and they're changing our homes month by month and year by year into something that resembles our fantastic visions of "the future. " Here are five gadgets you can buy now (or a couple months from now) that will change the way you live, work and play. 10 Internet of Things Blogs To Keep An Eye On. Everyday objects with their own IP addresses may soon be the norm.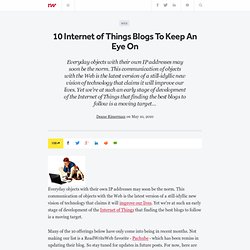 This communication of objects with the Web is the latest version of a still-idyllic new vision of technology that claims it will improve our lives. Yet we're at such an early stage of development of the Internet of Things that finding the best blogs to follow is a moving target. Many of the 10 offerings below have only come into being in recent months. Not making our list is a ReadWriteWeb favorite - Pachube - which has been remiss in updating their blog. Finally: A Good Use For The iPad. We've all watched enough YouTube clips to know that the iPad is simple enough for a toddler or 99-year old woman to use, and that cats love iPads while they send dogs running for the door.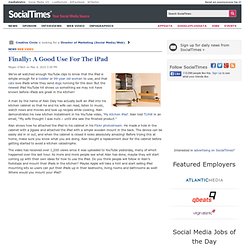 But the newest iPad YouTube hit shows us something we may not have known before–iPads are great in the kitchen! A man by the name of Alan Daly has actually built an iPad into his kitchen cabinet so that he and his wife can read, listen to music, watch news and movies and look up recipes while cooking. Alan demonstrates his new kitchen installment in his YouTube video, 'My Kitchen iPad'. Alan told TUAW in an email, "My wife thought I was nuts – until she saw the finished product." Alan shows how he attached the iPad to his cabinet in his Flickr photostream.
---