Santé
Catastrophe nucléaire de Fukushima: et déjà les premiers cas de cancers apparaissent... Les Marines US qui participèrent au sauvetage de Fukushima atteints de cancer. Ils m'hallucineront toujours, ces militaires étasuniens ¡ Leur gouvernement les envoie vers la mort, vers l'incurable maladie cyniquement, sans scrupules.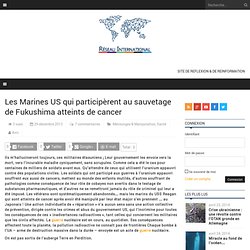 Comme cela a été le cas pour centaines de milliers de soldats avant eux. Qu'attendre de ceux qui utilisent l'uranium appauvri contre des populations civiles. Les soldats qui ont participé aux guerres à l'uranium appauvri souffrent eux aussi de cancers, mettent au monde des enfants mutilés, d'autres souffrant de pathologies comme conséquence de leur rôle de cobayes non avertis dans le testage de substances pharmaceutiques, et d'autres ne se remettront jamais du rôle de criminel qui leur a été imposé. U.S. sailors say Fukushima radiation made them sick. After Japan was pummeled by an earthquake and tsunami in 2011, the U.S.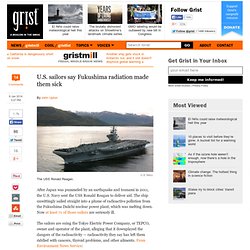 Navy sent the USS Ronald Reagan to deliver aid. The ship unwittingly sailed straight into a plume of radioactive pollution from the Fukushima Daiichi nuclear power plant, which was melting down. Now at least 71 of those sailors are seriously ill. The sailors are suing the Tokyo Electric Power Company, or TEPCO, owner and operator of the plant, alleging that it downplayed the dangers of the radioactivity — radioactivity they say has left them riddled with cancers, thyroid problems, and other ailments. From Environment News Service:
Childhood thyroid cancer: comparison of Japan and B... [Endocr J. 1998. AM - High thyroid cancer rates detected in Fukushima children 05/11/2013. TONY EASTLEY: One of the terrible legacies of the radioactive fallout from the Russian disaster at Chernobyl is now being visited upon people in Japan.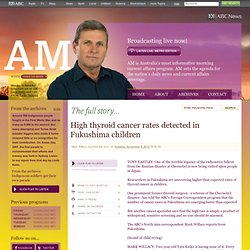 Researchers in Fukushima are uncovering higher than expected rates of thyroid cancer in children. One prominent former thyroid surgeon - a veteran of the Chernobyl disaster - has told the ABC's Foreign Correspondent program that the number of cancer cases in Fukushima are emerging faster than expected. But another cancer specialist says that the high rate is simply a product of widespread, sensitive screening and no-one should be alarmed. The ABC's North Asia correspondent Mark Willacy reports from Fukushima. (Sound of child crying) Japan: Chernobyl Doctor Akira Sugenoya Offers Fukushima Children His Town.
Girls in Fukushima have a moderately increased risk of thyroid cancer following the nuclear disaster (Reuters) A doctor in Japan who performed surgery on over 100 children after the Chernobyl disaster in 1986 has offered to take in children living in Fukushima to ensure their safety.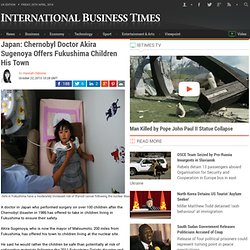 Akira Sugenoya, who is now the mayor of Matsumoto, 200 miles from Fukushima, has offered his town to children living at the nuclear site. He said he would rather the children be safe than potentially at risk of radioactive materials following the 2011 Fukushima Daiichi disaster and subsequent leaks from the nuclear plant. "If my fears turn out to be unfounded, nothing would be better news. But if they become reality, then there is little time before it's too late," he said.
Japan gov't fails Fukushima children - News. Akira Sugenoya, mayor of the city of Matsumoto on the Japanese island of Honshu, has been calling for children's relocation from the areas.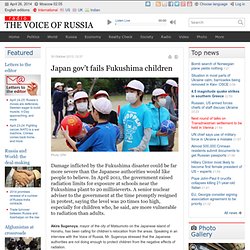 Speaking in an interview with the Voice of Russia, Mr. Sugenoya stressed that the Japanese authorities are not doing enough to protect children from the negative effects of radiation. Archive | CITIZEN OF THE YEAR. He relinquished his job as an assistant professor of Shinshu University School of Medicine in 1996 to take up a new post in Belarus, leaving his family in Japan.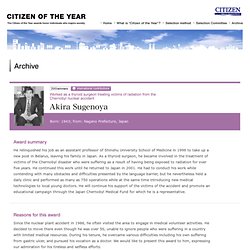 As a thyroid surgeon, he became involved in the treatment of victims of the Chernobyl disaster who were suffering as a result of having being exposed to radiation for over five years. He continued this work until he returned to Japan in 2001. He had to conduct his work while contending with many obstacles and difficulties presented by the language barrier, but he nevertheless held a daily clinic and performed as many as 750 operations while at the same time introducing new medical technologies to local young doctors. Cancer Statistics in Japan; Table download. 451_457.pdf. Survey Results: Proceedings of the 12th Prefectural Oversight Committee Meeting for Fukushima Health Management Survey.
"Le risque sanitaire du nucléaire est encore mal évalué" LE MONDE | • Mis à jour le | Propos recueillis par Stéphane Foucart et Pierre Le Hir Alors que Tepco, l'opérateur de la centrale nucléaire japonaise de Fukushima, vient d'annoncer que 1 973 salariés ont été fortement irradiés à la suite de l'accident du 11 mars 2011, Nicolas Foray, radiobiologiste à l'Institut national de la santé et de la recherche médicale (Inserm) et chercheur au Centre de recherche en cancérologie de Lyon, souligne que les effets des expositions répétées à des radiations et les facteurs individuels ne sont aujourd'hui pas pris en compte dans le calcul des risques.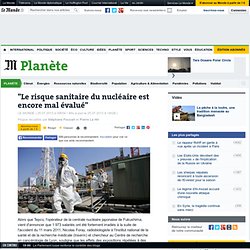 Près de 2 000 travailleurs de Fukushima ont subi des radiations supérieures à 100 millisieverts (mSv). C'est considérable… Fukushima_NYC_March_2013.pdf. Rosy Fukushima health report faulted by experts.
The health impact of Fukushima: warnings and recommendations by Michel Fernex. Following the publication of an article in the newspaper Mainichi Daily News, here is the reaction of Michel Fernex, professor emeritus at the Medical Faculty of Basel, former member of the steering committees of TDR (Tropical Diseases Research) in the WHO and President of the Association of Children of Chernobyl Belarus from 2006 to 2010.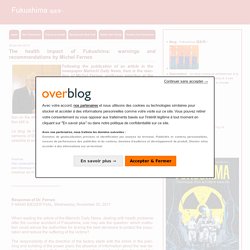 This text created quite a stir on the Internet in Japan. This goes to show how insufficient the basic information on the effects of radiation on health and the ways to fight internal contamination still is. Le blog de Fukushima, by posting the following English, Japanese and French versions of Dr. Michel Fernex's vital information and advice, wishes to make it accessible to everyone. Timothy Mousseau | Papers - Academia.edu. Fukushima nuclear plant worker in coma after collapsing at site.
---