Santé
Catastrophe nucléaire de Fukushima: et déjà les premiers cas de cancers apparaissent...
i 5 Votes Ils m'hallucineront toujours, ces militaires étasuniens ¡ Leur gouvernement les envoie vers la mort, vers l'incurable maladie cyniquement, sans scrupules.
Les Marines US qui participèrent au sauvetage de Fukushima atteints de cancer
U.S. sailors say Fukushima radiation made them sick
After Japan was pummeled by an earthquake and tsunami in 2011, the U.S. Navy sent the USS Ronald Reagan to deliver aid.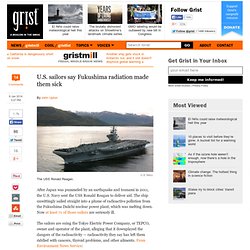 Childhood thyroid cancer: comparison of Japan and B... [Endocr J. 1998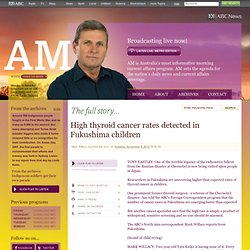 AM - High thyroid cancer rates detected in Fukushima children 05/11/2013
TONY EASTLEY: One of the terrible legacies of the radioactive fallout from the Russian disaster at Chernobyl is now being visited upon people in Japan. Researchers in Fukushima are uncovering higher than expected rates of thyroid cancer in children.
Girls in Fukushima have a moderately increased risk of thyroid cancer following the nuclear disaster (Reuters) A doctor in Japan who performed surgery on over 100 children after the Chernobyl disaster in 1986 has offered to take in children living in Fukushima to ensure their safety.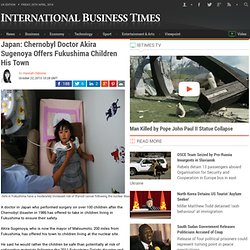 Japan: Chernobyl Doctor Akira Sugenoya Offers Fukushima Children His Town
Akira Sugenoya, mayor of the city of Matsumoto on the Japanese island of Honshu, has been calling for children's relocation from the areas. Speaking in an interview with the Voice of Russia, Mr. Sugenoya stressed that the Japanese authorities are not doing enough to protect children from the negative effects of radiation.
Japan gov't fails Fukushima children - News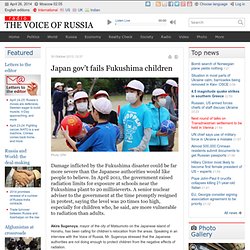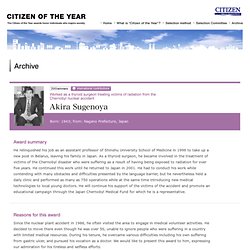 Archive | CITIZEN OF THE YEAR
He relinquished his job as an assistant professor of Shinshu University School of Medicine in 1996 to take up a new post in Belarus, leaving his family in Japan.
Cancer Statistics in Japan; Table download
451_457.pdf
Survey Results: Proceedings of the 12th Prefectural Oversight Committee Meeting for Fukushima Health Management Survey
LE MONDE | • Mis à jour le | Propos recueillis par Stéphane Foucart et Pierre Le Hir Alors que Tepco, l'opérateur de la centrale nucléaire japonaise de Fukushima, vient d'annoncer que 1 973 salariés ont été fortement irradiés à la suite de l'accident du 11 mars 2011, Nicolas Foray, radiobiologiste à l'Institut national de la santé et de la recherche médicale (Inserm) et chercheur au Centre de recherche en cancérologie de Lyon, souligne que les effets des expositions répétées à des radiations et les facteurs individuels ne sont aujourd'hui pas pris en compte dans le calcul des risques. Près de 2 000 travailleurs de Fukushima ont subi des radiations supérieures à 100 millisieverts (mSv). C'est considérable…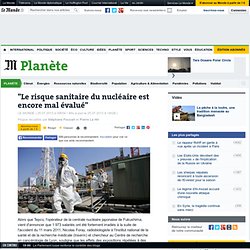 "Le risque sanitaire du nucléaire est encore mal évalué"
Fukushima_NYC_March_2013.pdf
Rosy Fukushima health report faulted by experts | The Japan Times
The health impact of Fukushima: warnings and recommendations by Michel Fernex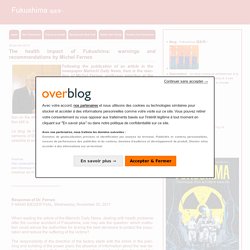 Following the publication of an article in the newspaper Mainichi Daily News, here is the reaction of Michel Fernex, professor emeritus at the Medical Faculty of Basel, former member of the steering committees of TDR (Tropical Diseases Research) in the WHO and President of the Association of Children of Chernobyl Belarus from 2006 to 2010.
Timothy Mousseau | Papers - Academia.edu
Fukushima nuclear plant worker in coma after collapsing at site