Docudrama: le réel romancé. Based on a true story
Omar m'a tuer (2011)
Kika 1993 (1994 en France) / Espagne, France / El Deseo S.A. et CiBy 2000 / 114' / Comédie dramatique Réalisation : Pedro Almodóvar Scénario : Pedro Almodóvar / Photographie : Alfredo Mayo / Montage : José Salcedo / Distribution : Verónica Forqué (Kika), Peter Coyote (Nicholas), Victoria Abril (Andrea Caracortada), Àlex Casanovas (Ramón), Rossy de Palma (Juana), Santiago Lajusticia (Pablo)… Résumé : L'auteur américain Nicholas fait venir la jeune maquilleuse Kika à son domicile afin qu'elle maquille le cadavre de son beau-fils Ramon, avant même que les autorités n'aient été informées de son décès.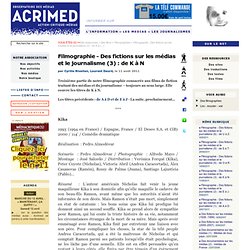 Fictions sur les médias et le journalisme
Tora! Tora! Tora! (1970)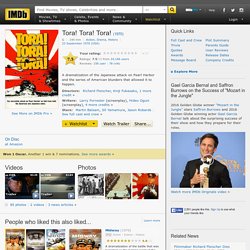 Edit Storyline In 1941 the Japanese are at odds with the United States on a number of issues which they are attempting to resolve via their Washington embassy. In case this diplomacy fails, the military are hatching plans for a surprise early Sunday morning air attack on the U.S. base at Pearl Harbour.
Edit Storyline Based in part on Robert F. Kennedy's book, "Thirteen Days," this film profiles the Kennedy Administration's actions during the Cuban Missile Crisis.
The Missiles of October (TV 1974)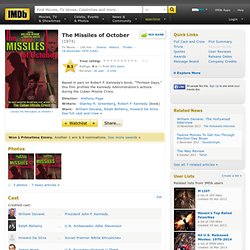 Elephant Man (1980)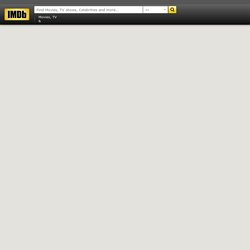 Edit Storyline John Merrick (whose real name was Joseph, as this is based on a true story) is an intelligent and friendly man, but he is hated by his Victorian-era English society because he is severely deformed. Once he is discovered by a doctor, however, he is saved from his life in a freak show and he is treated like the human being that he really is.
Baraka (1992)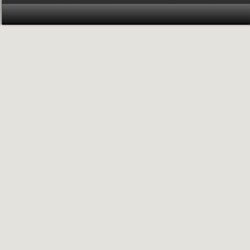 Edit Storyline Without words, cameras show us the world, with an emphasis not on "where," but on "what's there." It begins with morning, natural landscapes and people at prayer: volcanoes, water falls, veldts, and forests; several hundred monks do a monkey chant. Indigenous peoples apply body paint; whole villages dance. The film moves to destruction of nature via logging, blasting, and strip mining.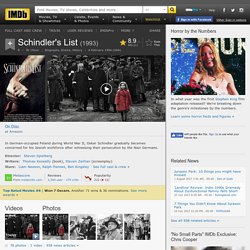 Edit Storyline Oskar Schindler is a vainglorious and greedy German businessman who becomes unlikely humanitarian amid the barbaric Nazi reign when he feels compelled to turn his factory into a refuge for Jews. Based on the true story of Oskar Schindler who managed to save about 1100 Jews from being gassed at the Auschwitz concentration camp.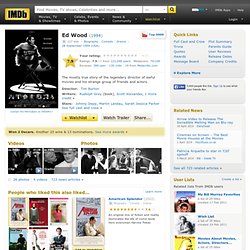 Edit Storyline Plot Summary | Plot Synopsis Taglines: Movies were his passion.
Ed Wood (1994)
Quotes Kurt Potter : Wha... how did you do this? Erin Brockovich : Well, um, seeing as how I have no brains or legal expertise, and Ed here was losing all faith in the system, am I right? Ed Masry : Oh, yeah, completely. No faith, no faith...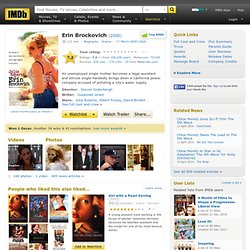 Erin Brockovich (2000)
The Road to Guantanamo (2006)
Vol 93 (2006)
Edit Storyline On September, 11th 2001, two American Airlines and two United Airlines domestic U.S. flights are hijacked by terrorists.
Edit Storyline Struggling private investigator Louis Simo treats his work more as a means to make a living than a want to do right by what few clients he has. Through connections with the investigation firm for which he used to work, Simo is hired by Helen Bessolo to investigate the death of her son, actor George Reeves . Reeves was best known for his title role in Adventures of Superman , a role which he always despised, in part since it typecast him as a "cartoon", despite it bringing him a certain fame. His June 16, 1959 death by a single gunshot wound while in his bedroom in his Los Angeles home was ruled a suicide by the police, the death which occurred when the house was filled with people.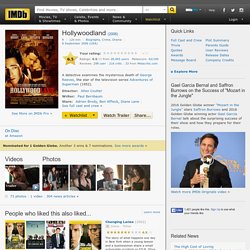 Hollywoodland (2006)
Bobby is a 2006 American drama film written and directed by Emilio Estevez . The screenplay is a fictionalized account of the hours leading up to the June 5, 1968 shooting of U.S. Senator Robert F. Kennedy in the kitchen of The Ambassador Hotel in Los Angeles following his win of the 1968 Democratic Party presidential primaries in California.
Bobby (2006)
Agent double (2007)
Trivia In the movie, Robert Hanssen ( Chris Cooper ) is obsessed with Catherine Zeta-Jones . In reality, Cooper and Zeta-Jones won their respective Best Supporting Actor/Best Supporting Actress Oscars at the same Academy Awards ceremony in 2003. See more » Quotes
Che (2008)
Che is a two-part 2008 biopic about Ernesto "Che" Guevara directed by Steven Soderbergh and starring Benicio del Toro . Rather than follow a standard chronological order, the films offer an oblique series of interspersed moments along the overall timeline. Part One is entitled The Argentine and focuses on the Cuban Revolution from the landing of Fidel Castro , Guevara, and other revolutionaries in Cuba to their successful toppling of Fulgencio Batista 's dictatorship two years later. Part Two is entitled Guerrilla and focuses on Guevara's attempt to bring revolution to Bolivia and his demise. Both parts are shot in a cinéma vérité style, but each has different approaches to linear narrative , camerawork , and the visual look. Filmmaker Terrence Malick originally worked on a screenplay limited to Guevara's attempts to start a revolution in Bolivia.
Edit Storyline This is the story of the last few years of the notorious bank robber John Dillinger. He loved what he did and could imagine little else that would make him happier. Living openly in 1930s Chicago, he had the run of the city with little fear of reprisals from the authorities.
Public Enemies (2009)
Edit Storyline Tells the story of the man who became King George VI, the father of Queen Elizabeth II. After his brother abdicates, George ('Bertie') reluctantly assumes the throne. Plagued by a dreaded stammer and considered unfit to be king, Bertie engages the help of an unorthodox speech therapist named Lionel Logue. Through a set of unexpected techniques, and as a result of an unlikely friendship, Bertie is able to find his voice and boldly lead the country through war.
Fair Game (2010)
Inside Job (2010)