Accesories
Longstitch Bookbinding Tutorial for a Leather Journal | tortagialla.com - the creative journal of Artist Linda Tieu. The most common type of sewn bookbinding that I often default to, falls into the category of longstitch binding.
It's really a general categorization for many different methods of sewn binding. People have invented their own patterns and techniques and have probably called it something else as well. Suffice to say, it's a general way to denote sewing your paper to the cover of your book. I'm sure you've noticed journals out there with exposed sewing in the binding in a variety of patterns and designs. They are all technically longstitch binding techniques, but in different patterns. Ribbon flowers. DIY Spike Comb. We first fell in love with Jennifer Behr's dinosaur headbands after seeing them on the runway at Fendi.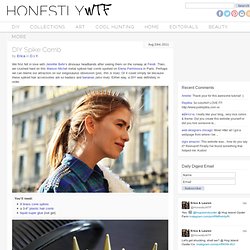 Then, we crushed hard on this Maison Michel metal spiked hair comb spotted on Elena Perminova in Paris. Perhaps we can blame our attraction on our stegosaurus obsession (yes, this is true). Or it could simply be because these spiked hair accessories are so badass and bananas (also true). Either way, a DIY was definitely in order. You'll need: Six paper flowers. It got into my head that I needed to make some paper flowers.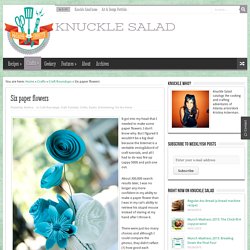 I don't know why. But I figured it wouldn't be a big deal because the Internet is a veritable smörgåsbord of craft tutorials, and all I had to do was fire up Lappy 5000 and pick one out. About 300,000 search results later, I was no longer any more confident in my ability to make a paper flower than I was in my cat's ability to retrieve his stupid mouse instead of staring at my hand after I throw it. There were just too many choices and although I could compare the photos, they didn't reflect (1) how good each tutorial was, (2) how closely my flower would resemble the picture, or (3) which flowers would look nice together.
How to Make a Simple Bow. These little bows are so simple and fun-- I make them all the time.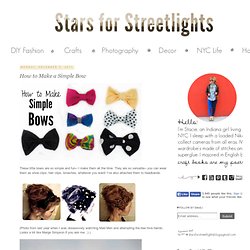 They are so versatile-- you can wear them as shoe clips, hair clips, broaches, whatever you want! I've also attached them to headbands. (Photo from last year when I was obsessively watching Mad Men and attempting the bee hive hairdo. Looks a bit like Marge Simpson if you ask me. ;) ) The Southern Institute: Mini Memo Book Covers from Larissa at mmmcrafts. Welcome to The Southern Institute, I'm so glad you're here!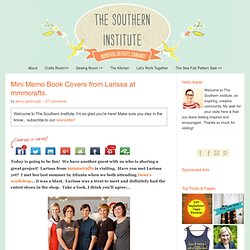 Make sure you stay in the know... subscribe to our newsletter! Today is going to be fun! We have another guest with us who is sharing a great project! Vintage & Thrift Clothing, Blog, Stores & Toronto Maps- My Vintage Secret. B is for Bows.
---