Disney
If you love Disney, here are resources to make you happy. wdw96 Jun 27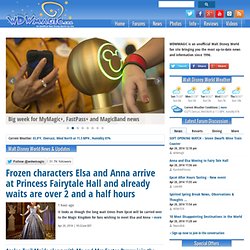 WDWMAGIC
Get the latest news and construction photos from Disney Springs Spice Road Table review - our thoughts on Epcot's latest Disney releases new information & concept art for AVATAR land New Disney Festival of Fantasy coming to the Magic Kingdom Get the latest news and construction photos from Disney Springs Spice Road Table review - our thoughts on Epcot's latest WDWMAGIC is an unofficial Walt Disney World fan site bringing you the most up-to-date news and information since 1996. Walt Disney World Weather Fri 57|44°
Meet the Magic
Walt Disney World is full of restaurants and places to grab a good alcoholic drink (Magic Kingdom excluded, of course). Some drinks are pretty standard Disney cocktails that you can find at most restaurants, others are a little more unusual and are specific to the restaurant. Here are some of my favorite drinks to get when visiting the World. #10: Campari and Strawberry (Todd English's bluezoo @ Walt Disney World's Dolphin Resort) – This drink is a apertif concoction of Campari (a bitter liquor made in Italy), Sweet Vermouth, muddled Strawberries and lemon juice topped with Ginger Beer. It's an usual drink because it combines the bitterness of Campari with the sweetness of strawberries. This drink has a very interesting flavor and I highly recommend trying it if you are looking for something unusual and aren't afraid of a little bit to your drink.
Disney Top 10 Alcoholic Drinks at Walt Disney World | Disney Top 10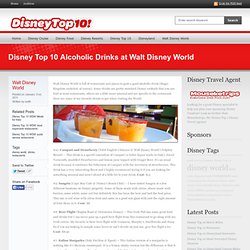 Disneygeek
"Back, back, over the falls!!" Basic World Showcase is the second themed area of Epcot, after Future World. Nine of the pavilions opened with the park's opening on October 1, 1982. Morocco opened in 1984, and Norway in 1988.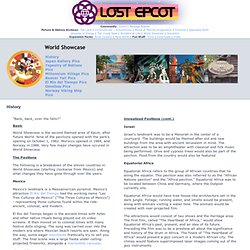 LOST EPCOT - World Showcase - History
There are new things popping up every day at the Walt Disney World Resort and Universal Orlando Resort. Join us every week to read about "What's New" in in Walt Disney World and Universal Orlando! This week features a new Muppet-themed scavenger hunt at Epcot, multiple Easter happenings at Walt Disney World, plus a glimpse at the Hogwart's Express, live shows and concerts at Universal Orlando and more! What's New This Week?
Couponing to Disney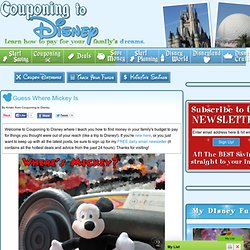 Disney Links
Disney Every Day | We'll Take You to Disney Every Day!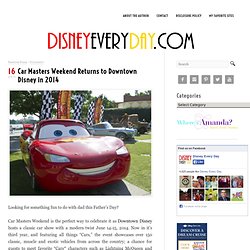 Ah, the 2014 Walt Disney World Family Fun Run 5K. I haven't run an official 5K since the 2013 Expedition Everest Challenge. I always refer to the 5K as the gateway drug. It's what got me started on my path to the Marathon.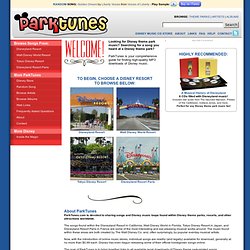 About ParkTunesParkTunes.com is devoted to sharing songs and Disney music loops found within Disney theme parks, resorts, and other attractions worldwide. The songs found within the Disneyland Resort in California, Walt Disney World in Florida, Tokyo Disney Resort in Japan, and Disneyland Resort Paris in France are some of the most interesting and ear-pleasing musical works around. The music found within these areas are both created by The Walt Disney Co. and, often surprisingly, by popular everday musical artists. Now, with the introduction of online music stores, individual songs are readily (and legally) available for download, generally at no more than $0.99 each. Disney has even begun releasing some of their official homegrown songs online.
Disney on Gowalla
Walt Disney World Menus
This series focuses on the individual food booths of the 2013 Epcot Food and Wine Fest. In this episode we take a look at Hops and Barley. It is located in the American Adventure Pavilion and features New England themed menu items. This series focuses on the individual food booths of the 2013 Epcot Food and Wine Fest. In this episode we take a look at Italy. Even tho the Italy booth in no way has any reflection on Italian architecture, the food represents the cuisine very well.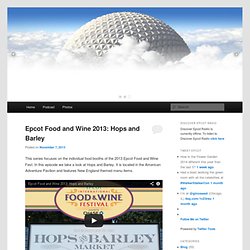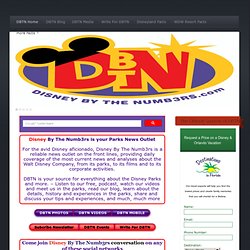 Disney By The Numb3rs
Disney By The Numb3rs is your Parks News Outlet For the avid Disney aficionado, Disney By The Numb3rs is a reliable news outlet on the front lines, providing daily coverage of the most current news and analyses about the Walt Disney Company, from its parks, to its films and to its corporate activities. DBTN is your source for everything about the Disney Parks and more. – Listen to our free, podcast, watch our videos and meet us in the parks, read our blog, learn about the details, history and experiences in the parks, share and discuss your tips and experiences, and much, much more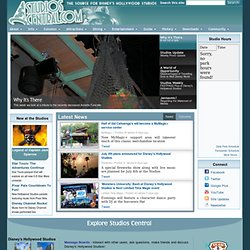 StudiosCentral.com
Message Boards - Interact with other users, ask questions, make friends and discuss Disney's Hollywood Studios! Picture of the Week - Each week we take a picture of a random place in Disney's Hollywood Studios and you try guessing where it's from! Hollywood Studios Restaurants - Reviews of all the counter and table service restaurants in Disney's Hollywood Studios. Hollywood Studios News - Catch up on the latest news and rumors happening right now at Disney's Hollywood Studios.
LOST EPCOT - World Showcase - History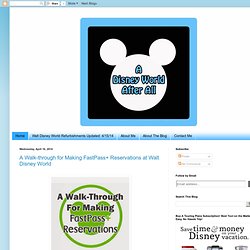 The Disney Details are one of the most important parts in making Walt Disney World s stand out among the rest. They are little touches or experiences that they don't have to include, but the parks would feel somewhat naked if they weren't there. It's time to take a look at some of the smaller details that can be found in probably one of the most themed lands in all of Walt Disney World, Adventureland.
Disney's PhotoPass - Add some Disney magic to your memories
Disney World Go! Blog l Fan page with tips for you next Disney World vacation
Welcome, Foolish Mortals... to DoomBuggies - a Tribute to Disney's Haunted Mansion > Free email, fan forums, multimedia and more...
Walt Disney World - Disney World Vacation Information Guide - INTERCOT - Walt Disney World Inside & Out
INTERCOT- the INTERnet Community Of Tomorrow, is your personal guide to Walt Disney World featuring news and information about the "most magical place on earth" with "more information per square megabyte" than any other Disney World site on the Internet. January 2, 2014 INTERCOT Insider Live Disney Podcast - Episode 58: Ian's Got A Toque On, Gary's Got The Anorak The long anticipated Episode 58 is finally online despite a bevy of technical issues that would have kept a lesser podcast down!
StupidGuestTricks.com
Links HasBeens.com A place for US based Disney Cast to reunite with former co-workers. Alfred Muller Our own in-house Stand-up Comedian, Weeble, has his own website. Very funny guy!
the Disney Driven Life
LaughingPlace.com: Walt Disney World, Disneyland and All of Disney
ZannaLand | Delivering Pixie Dust Daily! | A Magical Blog of News and Reviews
Agents of S.H.I.E.L.D. preview, episode 17 – Turn, Turn, Turn When I left the theater on Saturday after watching "Captain America: The Winter Soldier," one of my first thoughts was, "What are Tuesday nights going to look like from now on?" Last week, it turns out, our team was right in the middle of the events of the movie. Simmons and Tripp are at the Triskelion and the rest of the team is on the bus no longer trusting each other as the bus is mysteriously redirected and heading straight for Victoria Hand, who may or may not be the Clairvoyant (though I'm guessing she's got her own agenda). This week's episode starts right where the last one ended as the team continues to fall apart in mistrust and the truth about S.H.I.E.L.D. is revealed. Between the story-lines that they've been building since the show started and the aftermath of The Winter Soldier, Agents of S.H.I.E.L.D. has a lot of going on and I am looking forward to it.
Anyone want $1 million? Well, Walt Disney Studios is prepared to give that much money away as part of the world premiere of its new movie "Million Dollar Arm," in which a sports agent (played by Jon Hamm) concocts a scheme to find a young cricket pitcher he can turn into a Major League Baseball star. Walt Disney Studios is staging a contest on April 25th and 26th to find a real-life "million dollar arm" by offering guests (you have to be age 18 and over with no prior professional baseball experience) the chance to throw the fastest strike. Here's how it works: Participants at three locations;­ Walt Disney World Resort, Disneyland Resort and New York City, get three chances to throw a baseball as fast as possible.
Walt Disney Parks and Resorts Online Jobs
MiceChat | A Different Look At Disney…
Disneyland Paris Update January 04, 2014 at 12:01 am | 1 Comment I apologize that we're a little late with our Weekend Update articles.
Only WDWorld
The Unofficial Disney Vacation Planning Guide - Walt Disney World, Disneyland and Disney Cruise Line
Disney World - The Largest Unofficial On-Line Guide to Disney World, Walt Disney World